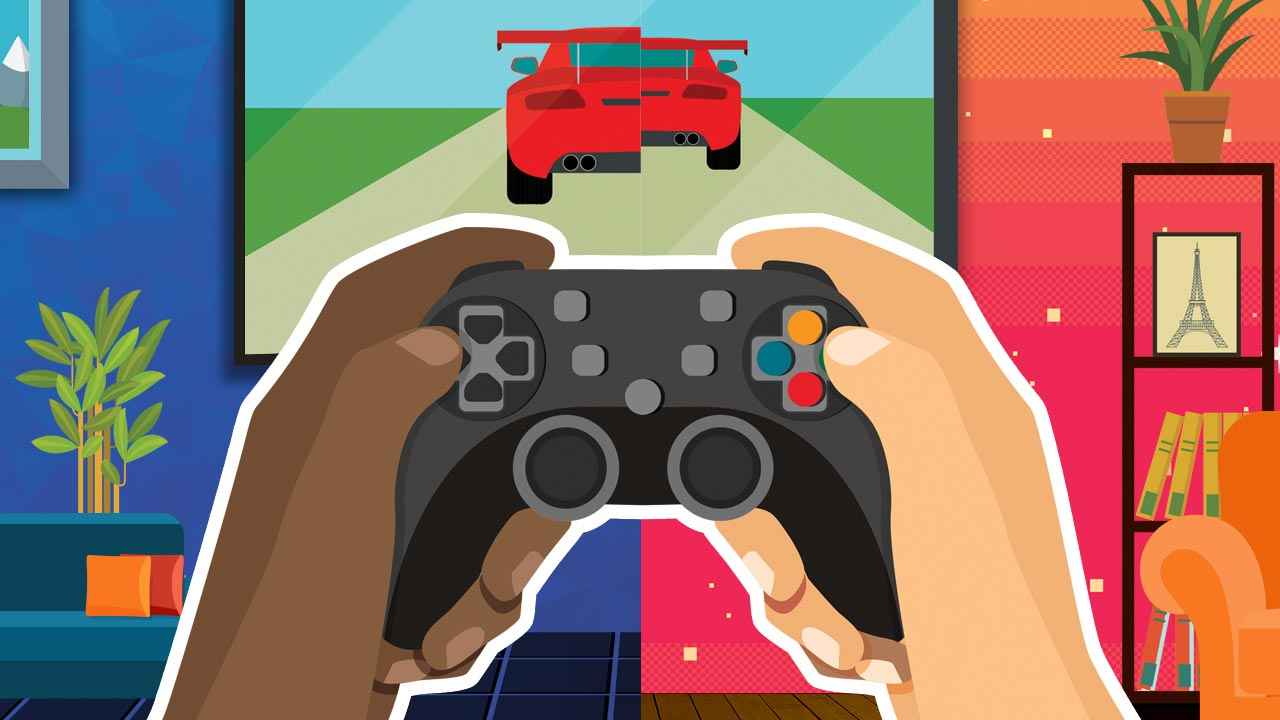 When we think of multiplayer or online games we usually think of games like CSGO or Dota, or even MMOs like World of Warcraft. Gone are the days when multiplayer was good old local split-screen gaming, or simply friends hanging out and playing games together on a single couch. What we've got here are co-op games that you can boot up and play with your friends, without actively needing to compete against them or other opponents. That means none of the games on this list are PvP games, or at least, they weren't created with the intention of being PvP games. It's all you and your buddies vs the world. So let's get cracking!
Portal 2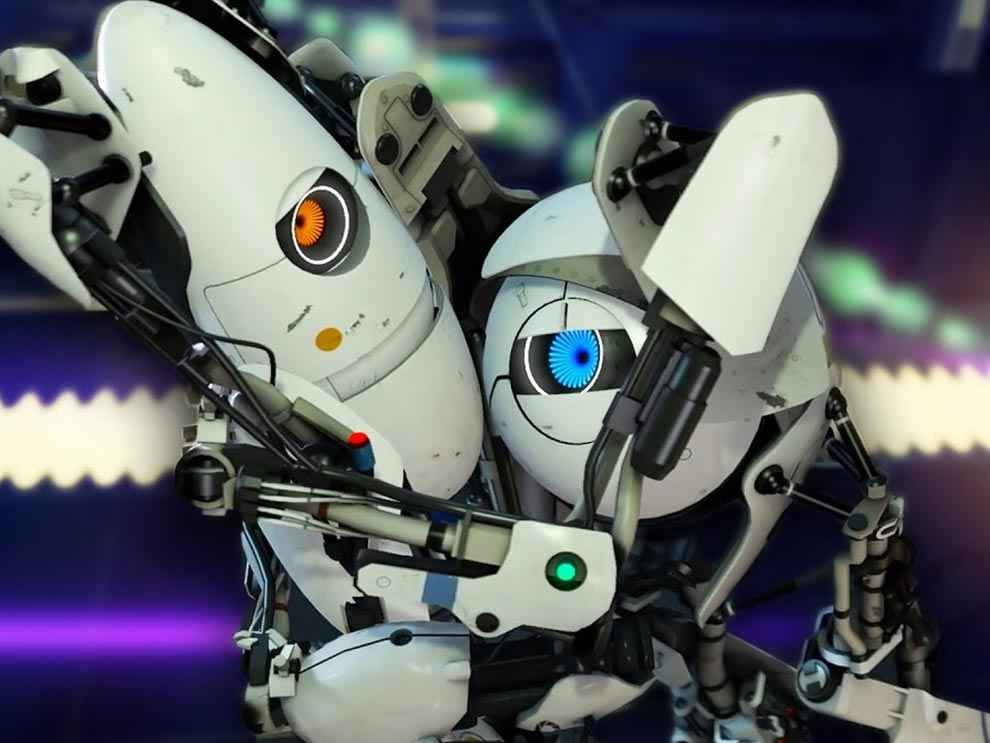 The (often) undisputed king of co-op games, Portal 2, is a masterpiece. The portal-based puzzle game was pretty fantastic, but then they added another player and doubled everything, now it's double fantastic. The game was confusing enough with two portals, with four well, reality starts warping. There's plenty of variety in the puzzles, with pretty much all of them requiring co-operation of some kind or the other. Of course, that doesn't mean flawless co-operation is what ensues afterward. There's going to be plenty of sabotaging going around, the fun kind of course. However, both parties have to make it to the exit to succeed, and communication is often key to make that happen. The characters and their personlities are great and are one of the many reasons this game is considered a masterpiece. Portal 2's co-op experience is the kind that only comes around once, and if you haven't experienced it yet, you're really missing out.
Warhammer: Vermintide 2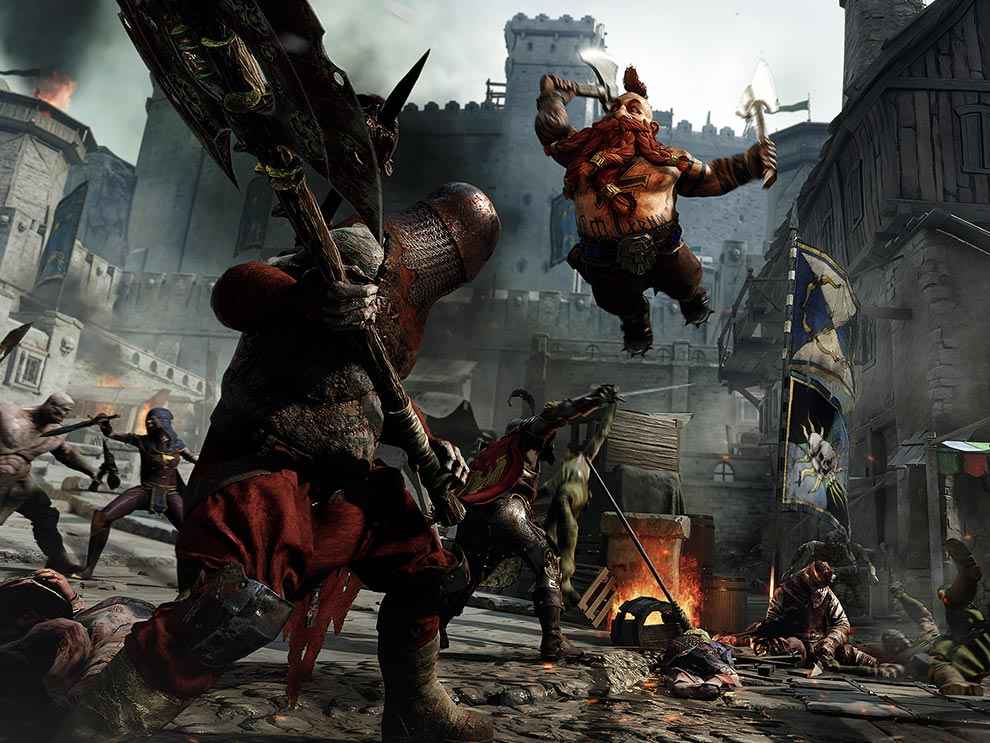 Left 4 Dead 2 and Warhammer: Vermintide 2 are very similar co-op experiences, in Left 4 Dead you face off against hordes of undead zombies, in Vermintide you face off against, well, a tide of vermin. In both games, you've got different kinds of enemies that need to be dealt with differently. While Vermintide may initially come across as a L4D knock-off, it's got a lot going for it. The enemies – them humanoid rat looking things, aka, vermin – are a lot smarter than their undead counterparts in L4D. This makes fighting them more challenging, and fun. The game has five different classes, each with their own abilities and weapons, and working together provides the best results. There's a lot more variety in enemies as well, with a nice sprinkling of bosses and swarms of enemies to keep things fresh. Plus, the game's melee combat is pretty fantastic. The best part, you need zero knowledge of the Warhammer universe to get into the game.
Overcooked 1 & 2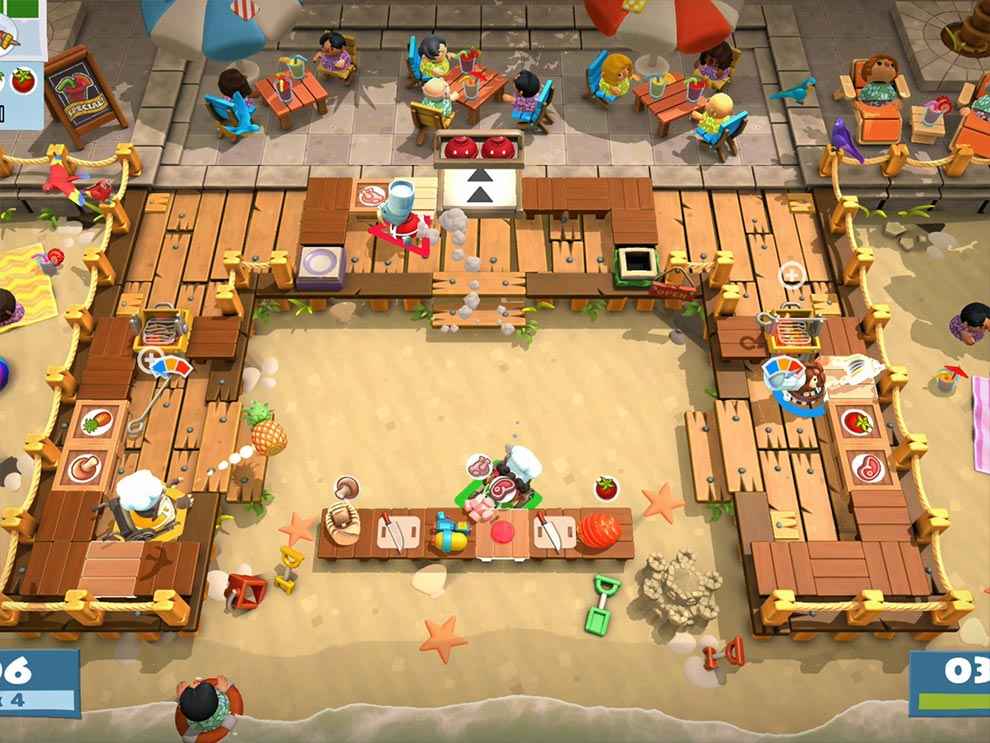 Overcooked and Overcooked 2 are both (unrealistic) kitchen simulators that are a lot of fun for the 2-4 players/cooks playing, and not so much fun for the poor customers waiting on their food. The goal of the game is pretty simple, you've got food orders to complete which require you to prepare and combine certain ingredients. In order for that to work, everyone needs to do their part ASAP, like a well-oiled machine. Yeah, that's never happening.
Overcooked keeps things interesting by constantly throwing obstacles your way. Obstacles in a kitchen? We see you asking. Well, the kitchen layouts are constantly changing depending on the level you're playing. Heck, they change even during levels. They're designed to ensure that you're constantly stepping on each other's toes, and sometimes whole sections of the kitchen can become inaccessible! Think on your feet and beat the chaos, don't let your customers leave unhappy.
Viscera Cleanup Detail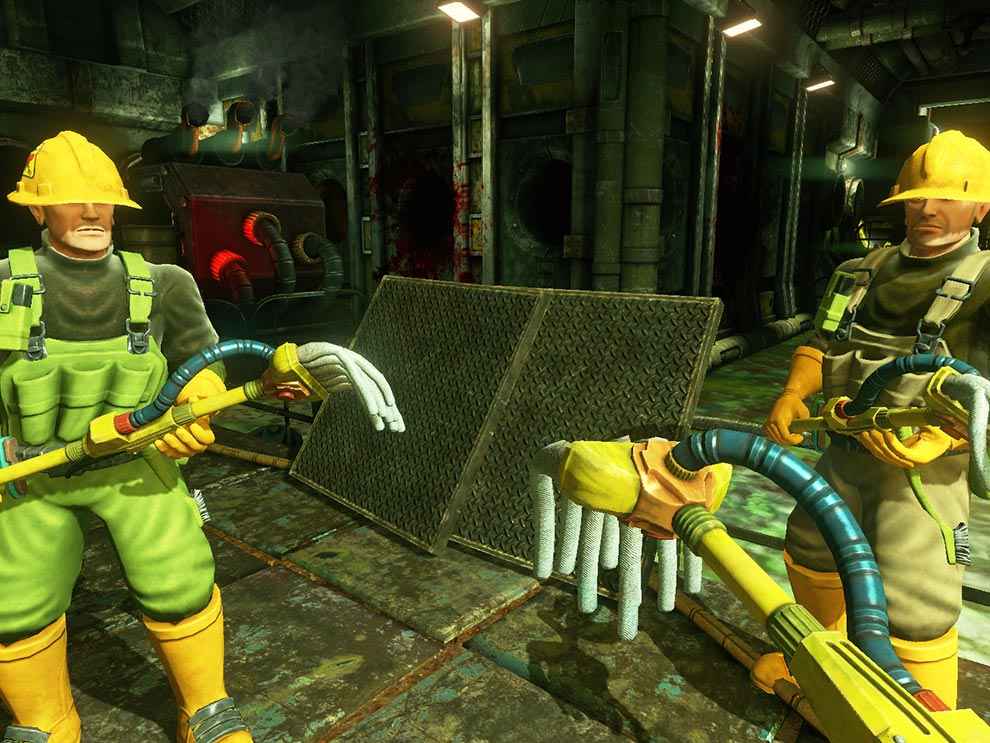 Viscera Cleanup Detail is a unique game right from its premise. Imagine this, the protagonist has just made their way through the level, with a pile of corpses behind them, broken everything they possibly could for loot and whatnot, and have now moved on to the next level. Enter the Viscera Cleanup crew, who need to clean the level up before the next player passes through. Now imagine a crew of up to 32 players trying to work together to clean up the level. Hint: no cleaning gets done. What you do get however, is a lot of fun and chaos. Cleaning entails mopping up the blood, incinerating body parts lying around, refilling potion containers etc. Just know that things never go according to plan. There will always be someone knocking over a bucket of bloody goop all over the place, and someone else walking right over it and tracking bloody footsteps everywhere. Sigh.
It Takes Two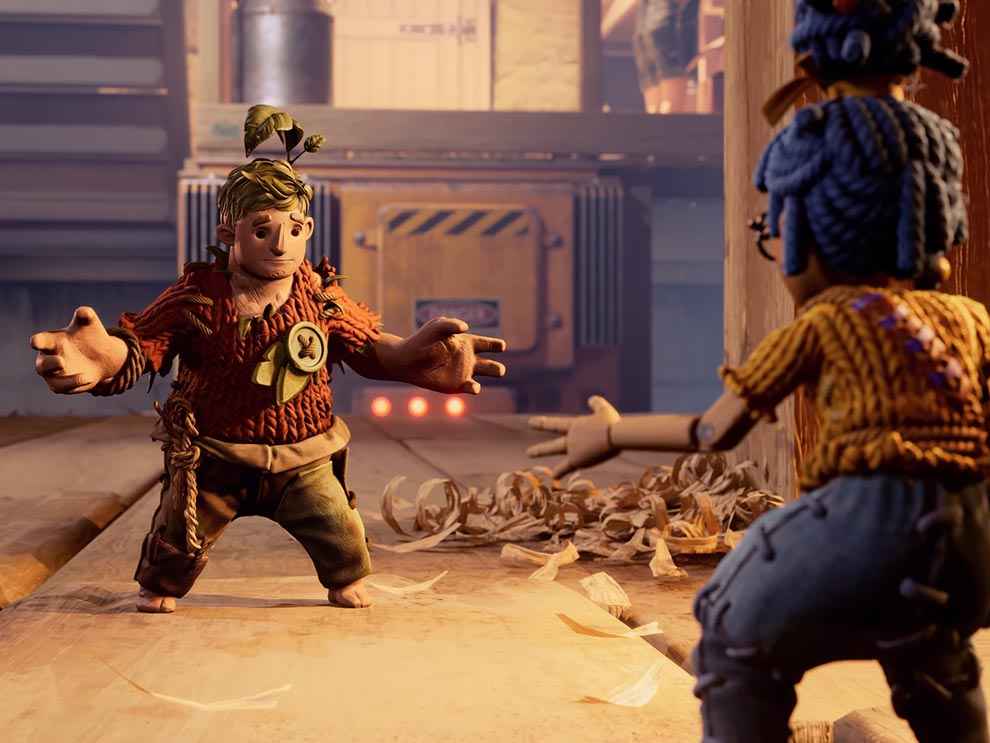 Hazelight is no stranger to making co-op games (check out A Way Out), and their latest, It Takes Two (review) is their best yet. It's so good in fact, we rated it one of the best co-op games you can play today. Some of the games on this list can be played solo (but they're no fun alone), but It Takes Two, well, takes two. There's no two ways about it. The game features a heartfelt story but really, it's the fantastic co-op gameplay that you want to play it for. The puzzles are great, with plenty of variety, featuring a solid mix of working together, and friendly competition constantly keeping things fresh. The best part is you don't even need to buy two copies of the game to play, every copy comes with a free friend pass for player two!
Deep Rock Galactic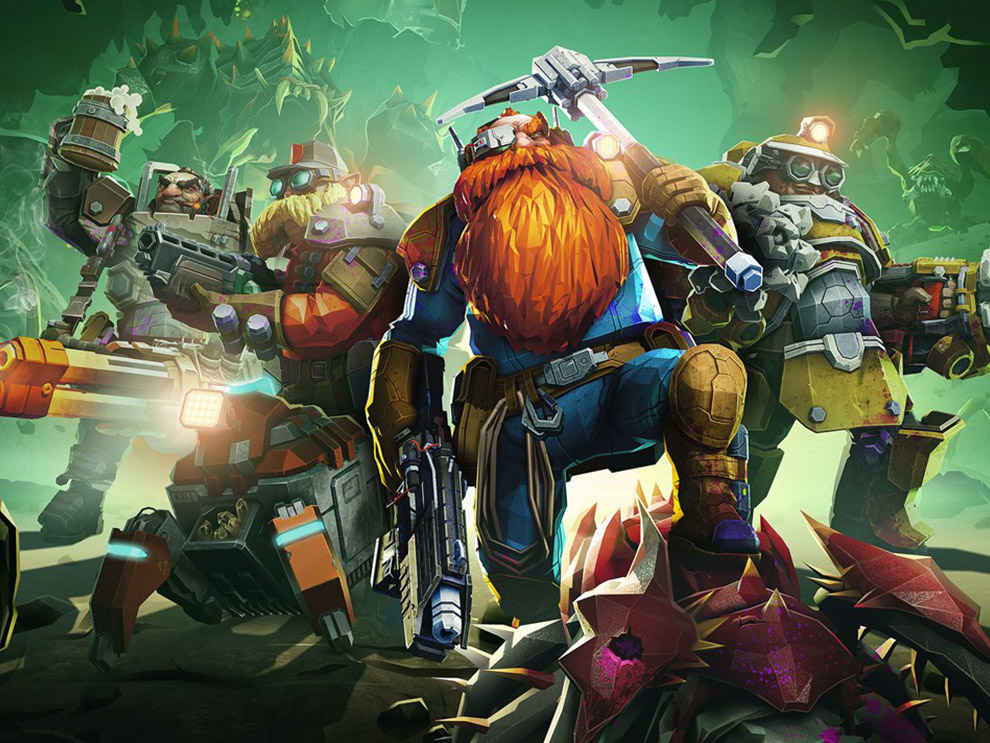 Deep Rock Galactic (review) is a game about space dwarves who enjoy mining asteroids for shinies, while simultaneously blasting critters who probably want to eat them. The goal is simple, a group of dwarves land on an asteroid. Said dwarves then fill their pockets with the materials they've mined and now need to hightail it to the pickup point within the time limit or get left behind and eaten by the critters.
We mentioned in our review for Deep Rock Galactic that it was a co-op game first, and everything else later. This is because your enjoyment goes up tenfold when you play this game with a group of friends. The game is designed so that you excel when you've got multiple people in the party, all fulfilling different roles with the different classes available in the game. The game forces you to adapt and think on your toes as you attempt to navigate the asteroid, mining your way through a 3D and fully destructible environment. Oh and of course, the adrenaline rush you and your friends experience when you need to rush to the pick up point is something not many games on this list can provide.
Monster Hunter World
The first "mainstream" Monster Hunter game, Monster Hunter World (review) is the most accessible of the lot, and comes with a lot of QoL features, and guidance for newer players, that the previous Monster Hunter games don't have. This is a game about hunting monsters, and hunting monsters is serious business, learning about them, the ecosystems they live in, crafting all the stuff you'll need to begin your hunt etc. Bring friends along to quadruple the fun, and the reward. The game is designed to be a co-op game, as can be seen by some of the weapons in the game which are designed to be support oriented. But it's not just the hunting you'll be doing together, once you've teamed up, you'll all meet up in the tavern, enjoy a nice meal together, prepare for your hunt together and head out together to take down your target. It's a hard game to get into, but it's definitely worth the effort.
Human Fall Flat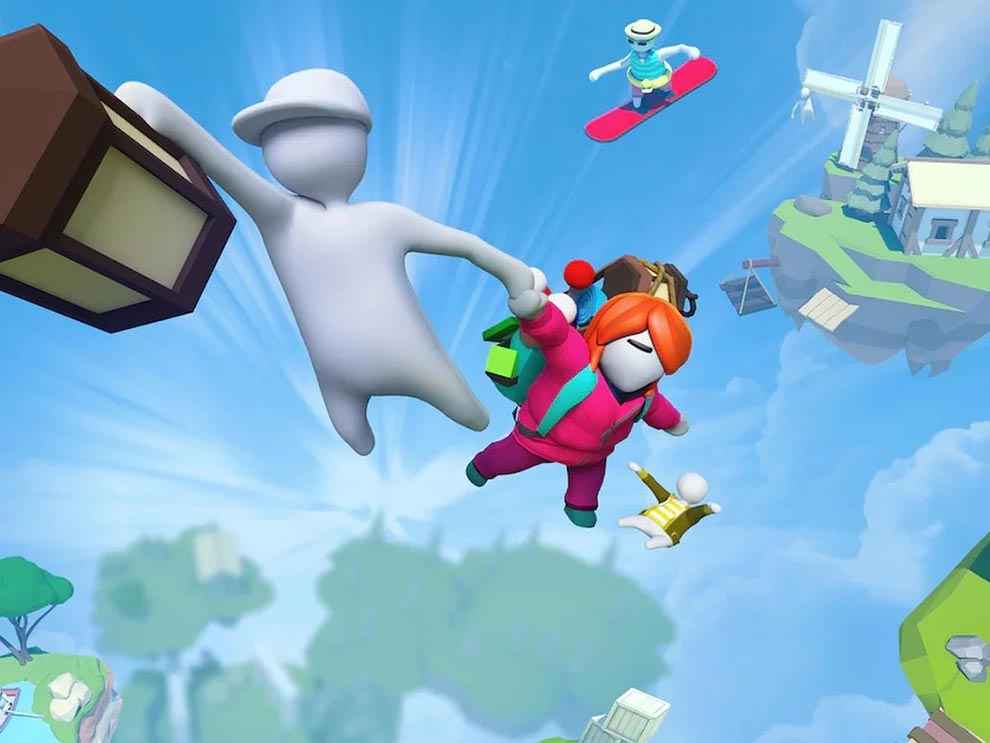 When Human Fall Flat first dropped on Steam, it was a slightly amusing, physics-based puzzle platformer featuring blob-like characters that you played to maybe pass time for a bit – and then promptly forgot about. Then, the developers decided to add co-op and there was no going back. This included both two-player local co-op and up to eight players online. If you've played the game then you know how chaotic things can get. And it's the good kind of chaotic, trust us. The goal of the game is simple, get your blobs towards the exit of the level. Getting there is where all the fun – and chaos – lies. Simple tasks like climbing onto ledges and jumping off can be a challenge in Human Fall Flat, adding other players to mix can only make things harder, or easier, depending on your friends. It's probably the former for 90 percent of everyone playing the game. Work together to figure out how to conquer the levels, or sneakily sabotage your friends and pawn off the blame.
Borderlands 2 & 3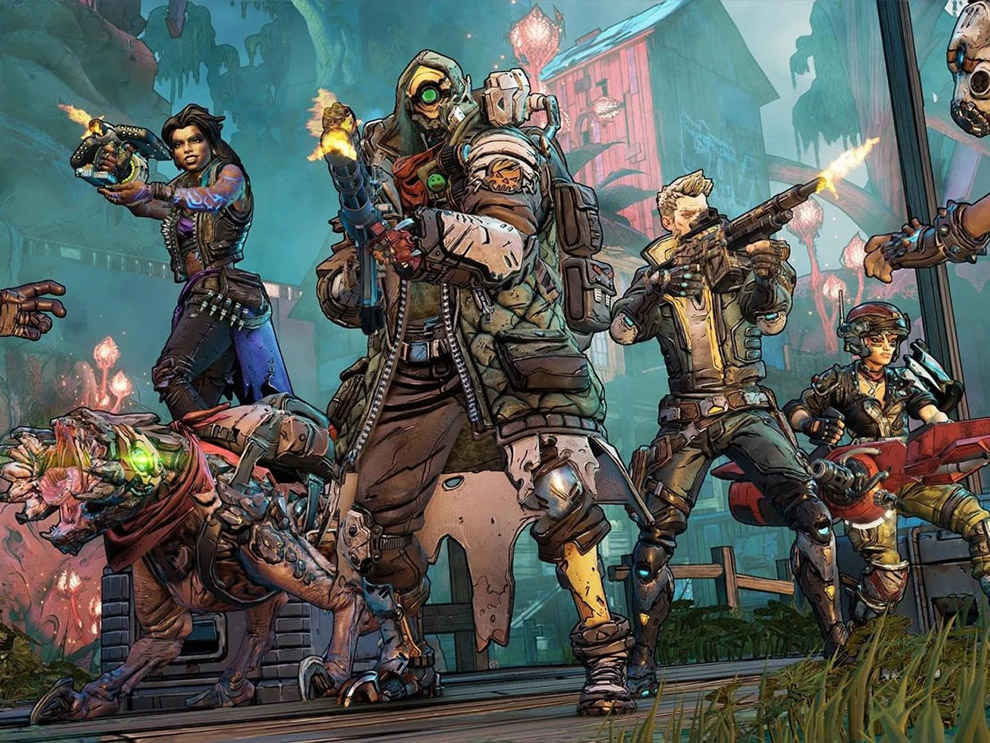 We had a blast playing Borderlands 2 co-op back in the day, and the same can be said about Borderlands 3 (review) as well. The first Borderlands not so much. Now while we can debate which is better between Borderlands 2 and 3, the co-op experiences in both are fantastic. Possibly even better in Borderlands 3, where they've added a bunch of QoL features such as difficulty scaling, instanced loot drops and whatnot. In addition to that, both Borderlands 2 and 3 feature a bazillion guns – with whacky personalities, and legs even – and plenty of chaotic fun. There's a nice variety in classes and within classes too, with many different play styles that you can opt for. Two people playing the same class might be rocking completely different builds. This is a fantastic FPS game to dive into, made even better with friends to join in the chaos.
Stardew Valley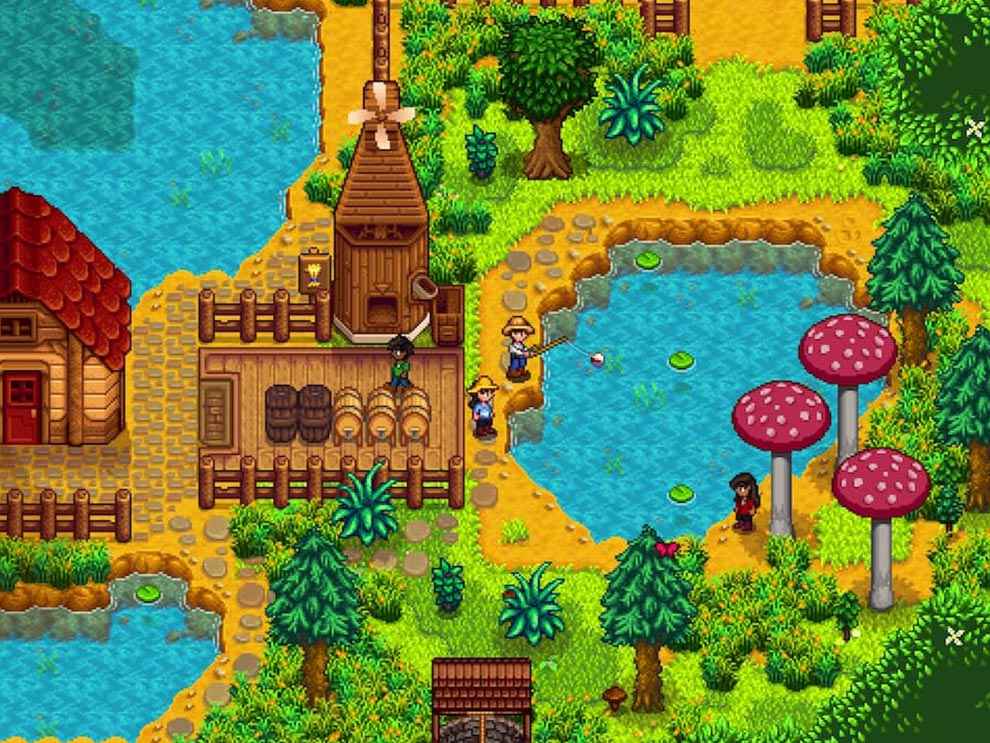 Stardew Valley is a relaxing game, all about escaping the world and hanging out in a farm. With the multiplayer update, you can now bring friends along to hangout with you. Unlike most of the games on this list, there's no challenge or objective here, everyone can do their own thing, or work together if they so please. The game is plenty good on its own, and feels alive even when playing alone. Adding more people to the mix just multiplies that feeling, and adds a whole new dimension to the already charming game.
Payday 2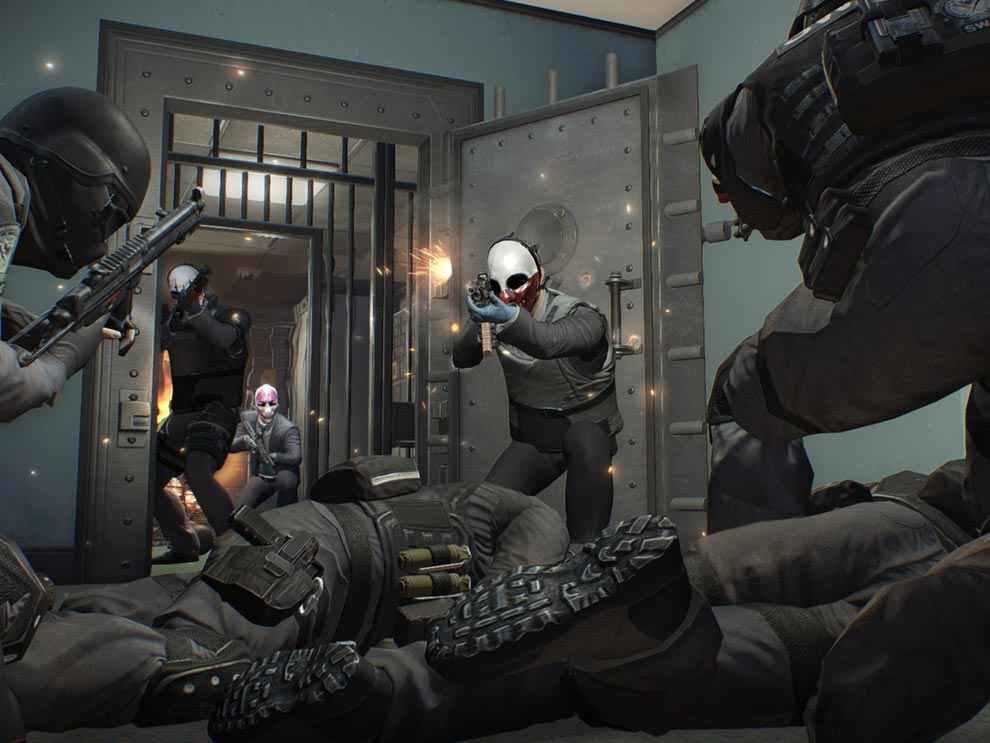 Payday 2 is all about pulling off the perfect heist. Imagine this, a group of four players set up for a heist, prepared with a plan, an exit strategy, the works. The time has come, you've arrived at the location, you split up and within seconds someone or the other fudged up and now you've got every police officer in the area after your arse.
At this point, the game's more like Vermintide or L4D, where you're dealing with hordes of cops, rather than a stealth/precision game. As you play, you advance through skill trees until eventually you might be at a point where you could possibly pull off at least one successful heist. Until that day comes though, you're hooked just by the thought of it.
Divinity: Original Sin 2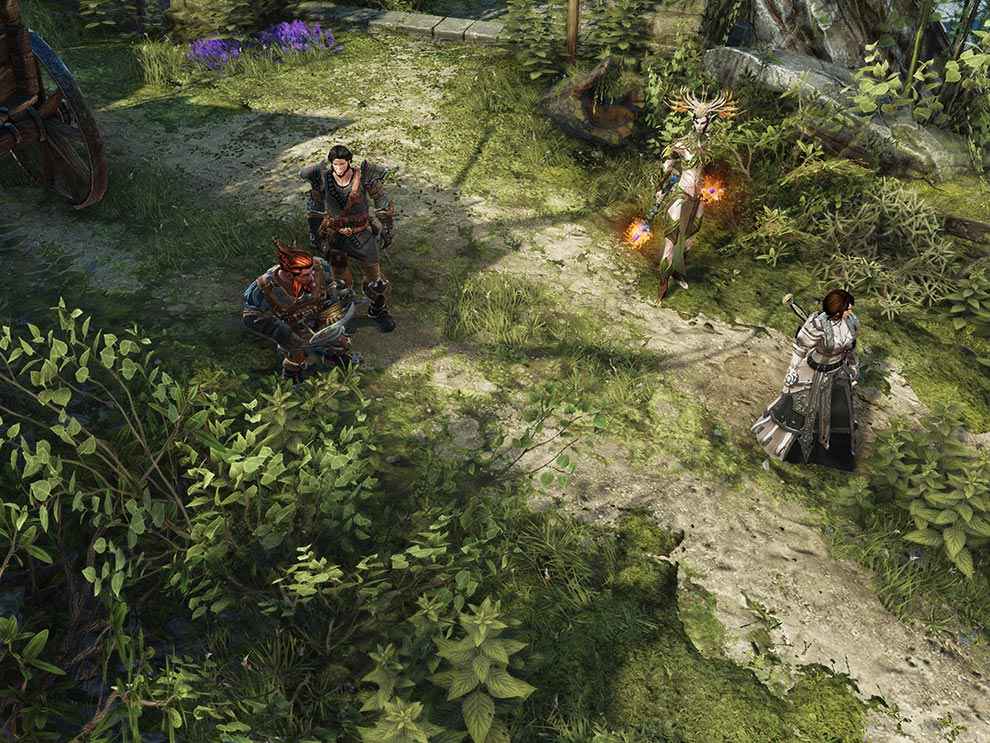 Divinity: Original Sin 2 is a great RPG, and it becomes even greater when you bring a friend (or three) along. Divinity: Original Sin 2 handles multiplayer in a unique way, your friends aren't simply joining you in your story, everyone's in their own story at the same time. And they don't necessarily have to be your friends (in-game we mean). Maybe their character hates your guts in the game, and they'll do everything they can to secretly sabotage you, including killing an important NPC you might need to talk to in the future. The possibilities are endless, and the game gives you the freedom to keep it that way. This unique approach to co-op gameplay makes Divinity: Original Sin 2 a brilliant game to play and experiment around in with friends. Or people you really want to annoy.
Diablo 3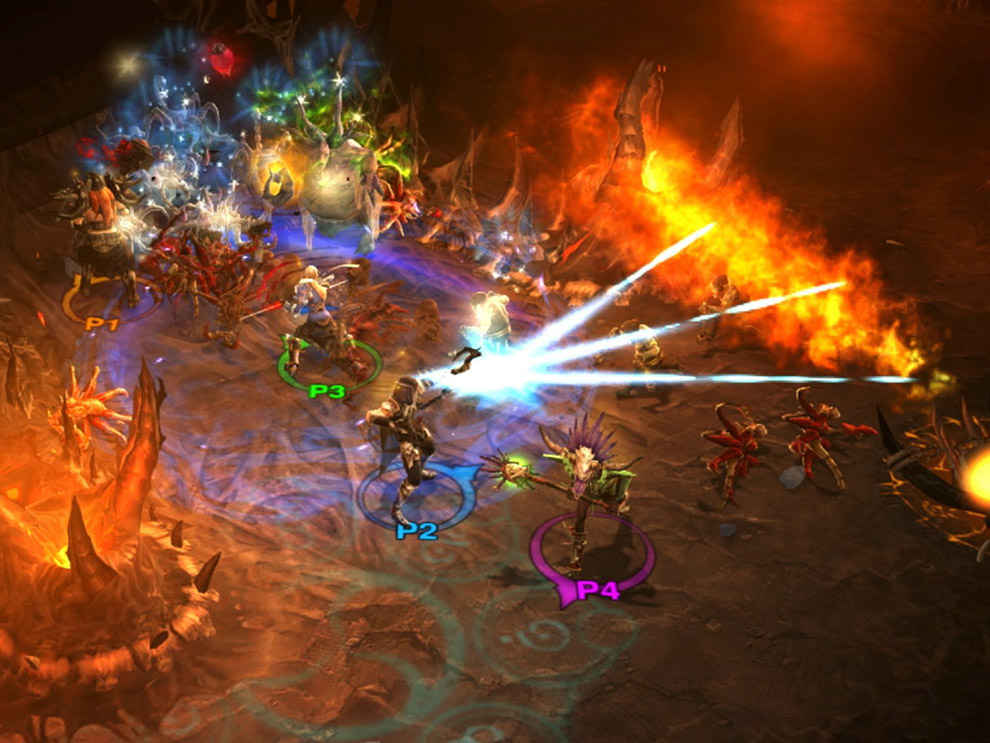 Diablo 3 is a massive game with boatloads of content and all of it can be enjoyed from start to finish with 3 other friends. This is a masterclass in ARPG, with tons of replayability thanks to the different classes available. All you and your friends need to do is decide on the class you're going to play and then jump in and start decimating your enemies. At lower difficulties it's mindless mashing, but as your crank up the difficulty, planning becomes essential and roles become important. If you're looking for a similar experience, albeit, free to play, check out Path of Exile, which is also a pretty fantastic ARPG, which can be played from start to finish with your friends if you so please. The co-op elements in PoE aren't quite as rewarding though.
Minecraft
Minecraft is one of those games that can fit on 'n' number of game genre lists, it's just that all-encompassing. The highest selling game of all time is many things, and it does all things really well. Anyone can jump in, it's not too difficult, but if you're looking for a challenge, you can still find it in the game. Jump in with a group of friends and work together or do your own thing. Compete for resources or see who makes a fancier base, or set up booby traps for your friends and try to anticipate when vengeance will come. Play the game as an RPG and work your way to the final boss, or just chill and farm. Do your thang. Or, check out alternatives to the classic here.