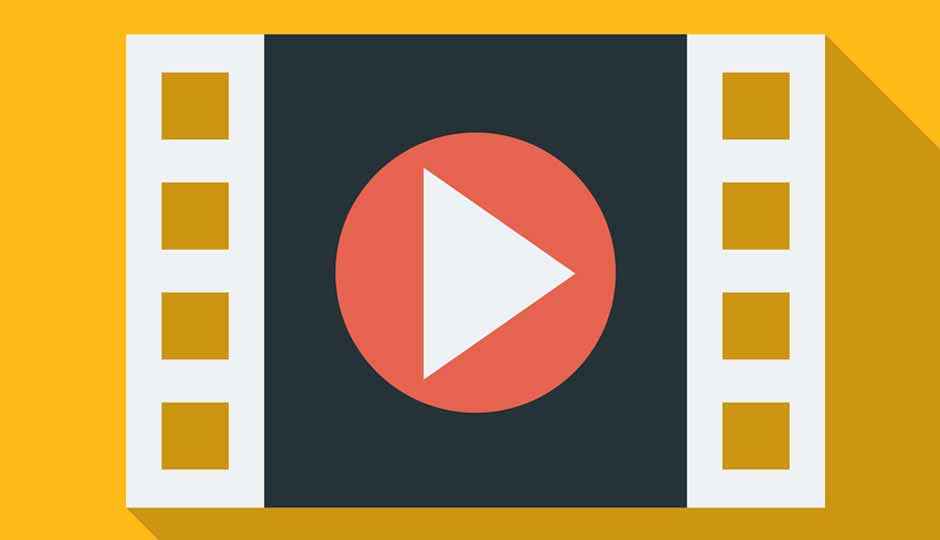 HIGHLIGHTS
Marketing videos smartly, you can promote your company or product with minimum investment and effort
The rise of video content is yesteryear's news, yet still an applicable description of today's scenario. Cisco predicts that video content will account for 69% of consumer internet usage by the year 2017. It's no secret that video is also the best medium to communicate to the masses of laymen and experts alike. The simultaneous popularity, availability and accessibility of platforms like YouTube and Vimeo allow the modern marketer to leverage a little proper effort and planning for possibly phenomenal reach. This means increased efficiency for the entrepreneur on a budget, who can himself handle an additional core aspect of the business. However, it is not necessarily easy to produce video content. This has led to a new type of business that caters to such businesses and individuals by solving a need, easy video content production. These software businesses quite often provide their services completely online, so there is no hassle of downloading and installing software.
Now it's easier than ever before to impress your customers or investors, gather eyeballs for your next product launch or just surprise your fans with a funky new product feature! Merely having a video on a webpage (with relevant content) has been known to increase traffic by up to 55%! It's so darn simple that it would be a shame not to make a few videos, just for the fun of it! All you need to get started is a medium to high resolution logo and your message.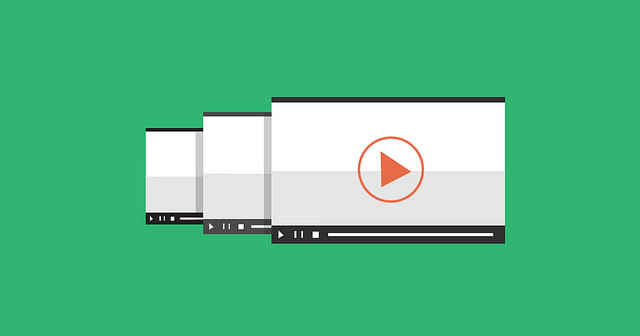 If you were doing this a couple of years ago, you'd need to hire (or become) highly skilled animators, investing a lot of money, time and effort into the simplest of renders. This doesn't even take into account the time it would take to acquire said skills, or the cost of professional video production software packages, to say the least. This makes it a no-brainer, to promote your company or product with minimum investment and effort, so make your videos the smart way!
The Easy Video Maker Market
While every business exists to make money, they also need to stand out by providing the most value. Nothing can be better for this than to give some value for free, which is what many of these businesses are doing with their offerings. Effortless production of video content that is tailor made for the viral generation. These online video makers help you spread your meme in the most effective package of your choosing. Of course, there are limitations on how much value or quality you get for the price of free, but it's very much better than nothing. In some cases it can be used to completely satisfy our requirements, with a bit of cheeky ingenuity of course! Here are the top picks from across the web:
PowToon
PowToon is the service that "Brings Awesomeness to Your Presentations". In fact the end product, which is a cartoon flavoured cross between a presentation and a video, is itself called a Powtoon. You can make your Powtoons with PowToon in the same way you're used to making presentations in Powerpoint or Keynote, except that you can choose different animations, transitions and effects which even come packaged in ready to use templates. Powtoons are effective at communicating information, as well as catchy and fun at the same time. Best of all, it's mostly free to use! They have a heavy interface with loads of options to customize your video exactly the way you want!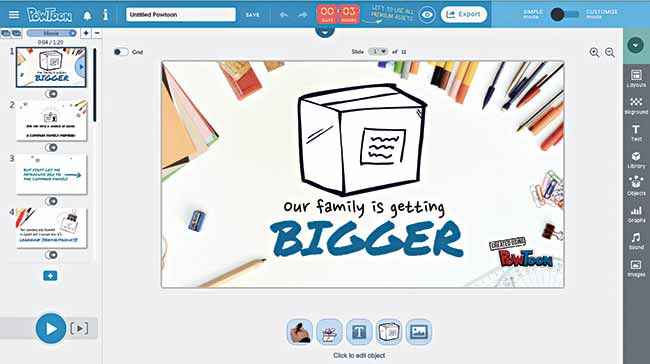 RenderForest
RenderForest offers a lot of variety compared to the common look across all Powtoons. They describe themselves as providers of "Free Tools that help you to create professional intros, animations, slideshows and music visualisations in minutes." Indeed, they have a good collection of templates. After selecting the template you like, you just need to replace the images and text in a few key frames. They also proudly proclaim on their website, "Web quality rendering on Renderforest is forever free without any editing limitations!" Although the free edition has watermarks, they have a useful pay-per-export feature for their higher quality offerings. With the free version, your videos will be stored with them as long as you have your account!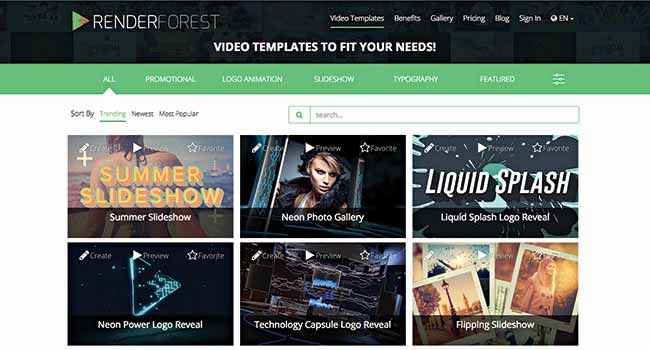 Biteable
Biteable is "The 3-Step Animated Video Maker". It's as simple as signing up, selecting the animation styles and having the video emailed to you in minutes! While signing up is simple enough, there are a lot of different animation styles to choose from, under the moniker of 'scenes'. Users also have the option of uploading their own footage and images if required. After selecting the scenes the process is similar to the other video makers, you just edit the required text into the required places and, voila! Your professional looking effortlessly made video is ready! Biteable is the simplest to use of the lot, with a clean, uncluttered and organised interface and no compromise on functionality.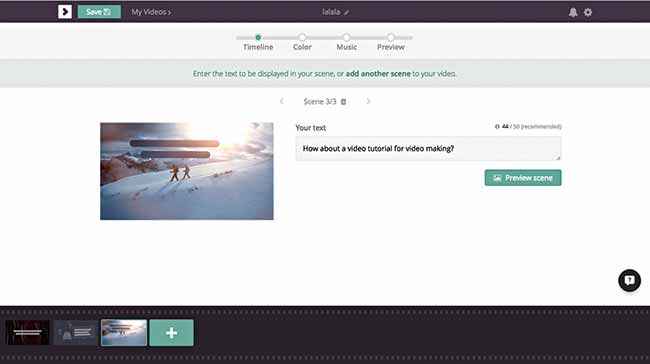 To pay or not to pay, that is the question.
Of course, as you've seen, the free versions of the software have their limitations. Watermarks, length constraints, and export options, there are many liberties which are culled in the name of free services. The cost of these liberties are included in the higher priced offerings, and only can be the judge of whether the price is worth the features. A little support does help the world go around, so if you like the product, it is a good decision to invest in it. That way, the people who made it can make it even better. That said, there are indeed a few ways of getting around the imposed limitations at no extra cost, if you find yourself unable or unwilling to part with your paisa.
Most of the techniques we are about to mention involve some form of extra software which is usually commonly available for computers, and some form of extra knowledge which is easily available via a quick internet search.
The most common method of constraining the free versions is via watermarks, which is usually just a translucent image of the company or business logo (of the service provider). If you mind giving them some free publicity or just don't want the watermark for any reason whatsoever, you could get your video cropped, using any free desktop (or mobile) software to create a smaller frame.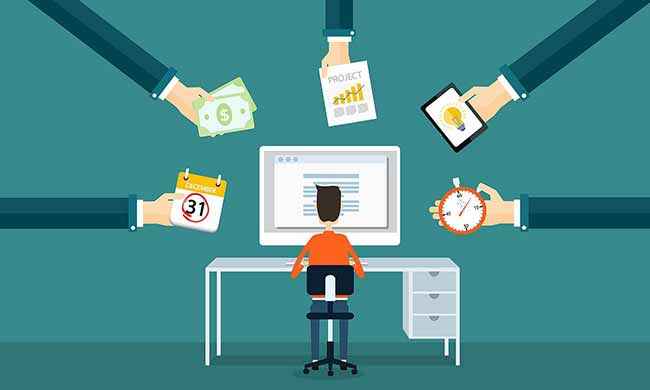 If they only attach a few seconds of their own content to the start or end of your video, you can just use any common free software (like Windows Movie Maker) to clip out the unwanted section of the video.
Another limitation is the inability to download the source file. If YouTube publishing is a free feature, you can download the file after publishing using your favourite video grabber. Else, you can record your screen while the video is playing, in order to save the video file. This may lead to a loss in quality though, so do remember to open the screen as large as possible if you have to do this.
Conclusion
They are usually groups of creatives who have a knack for creating the content that is digitally fittest for worldwideweb survival for a certain price.
Without endorsing, purely as a straw from a haystack, here's one such solution:
stagephod.com is a delivery service for people who need videos made. The minimum you'll have to spend on such a solution is Rs.15,000, that too just for a Product Explainer Video of a few minutes. However, the word around town is that you can negotiate to have the production company's logo placed at the end and knock off a sizable chunk of your expenditure. (If you find yourself extremely adept at any online tool, and want to earn with that skill, all you have to do is register your services here, as well as on sites like Fiverr.com and Freelancer.com offering to make videos of a your favourite type.)
That's still much more than free though, and the cost of most 'professional' quality videos goes up to lacs. Compared to that, the price of free reads favourably, if you possess the intent and imagination. Make videos the smart way.
Image: Flickr