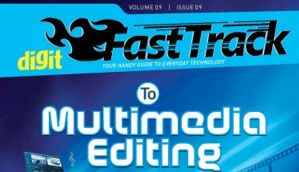 FastTrack To Multimedia Editing
Everyone today is a filmmaker. From videos taken at birthday parties to holiday trips, cell phone users produce more video footage per year than movie makers did in the first 50 years of filmmaking. However, given the awesomeness of the technology in their hands most users are still unfamiliar with how to edit the footage it creates. Combining all the different media created songs, videos, text and effects into a single polished product can truly make a difference to the quality of your memories.
Introduction
Multimedia editing is a broad term that covers the creation and manipulation of digital audio-visual files such as image files, audio files and video files. It can also include elements such as animation and graphics, but for the purpose of our discussion we'll only be focussing on the first three. Multimedia forms an ubiquitous part of our daily lives – from movies and television to our online existence. And with the ever-increasing ability of people to create their own digital content using simple tools such as their mobile devices, it stands to reason that the ability to edit and create unique content is only limited to skill. This Fast Track issue solves that problem.
In depth look at generic editing tools
As soon as the art and craft of multimedia editing transitioned to the computer world a lot of changes needed to be considered. The entire manual workflow needed to find an adaptable translation that would not only appeal to manually trained editors but also be inviting to amateurs. This required software makers to dissect the process and make it digital. After generations of innovation we have arrived at a fairly standardized system through which anyone can leverage the power of digital editing.
Playing with the big boys
In a recent online survey the broad community of multimedia editor's online were asked which their preferred non-linear editing platform is. The results were surprising to many old-school editors – the majority of users (63 percent) opted as users of Adobe Premier Pro based system. The distant second in this ranking was Apple Final Cut Pro systems (20 percent) and Sony Vegas Pro (14 percent) users. The last on the list was Avid Media Composer (3 percent) which was most surprising of all.
Free editing tools for the desktop
Clearly video editing is big business. The prices of even the most reasonable professional editing software can seem daunting. And although there do exist lesser priced options within the big brand families like Adobe's Premiere Elements (USD 80 or Rs. 4800/-) or Sony Movie Studio HD (USD 40 or Rs.2400/-), they are little more than watered down versions which restrict the real features most users would want. And even for basic users they can prove to be too expensive, after all why commit to thousands of rupees when you're not even sure you want to really give video editing a serious go?
Free editing tools for mobile devices
Every user has their own unique needs. And with a rapidly emigrating population thats discovering mobile devices as the core of their digital like, multimedia editing is no different. Most of the footage that is recorded today is overwhelming done so on mobile devices like cell phones and tablets. From music videos to full-fledged movies, mobile devices have become more and more media friendly with every generation. And with the significantly reduced prices of handsets with high quality recording features even the most basic of devices come with adequate sensors. The convergence of high definition video recording, internet connectivity and on-board app support makes it an obvious conclusion that a tablet or mobile can very easily become a unified location of recording, editing and releasing multimedia content.
Editing on the web
Today we find technology and application convergence where non-specialised hardware can take on even challenging work with the help of the cloud. In the world of multimedia editing this trend is no different. With a number of online based editing applications being freely available for users, we find no reason why even the simplest Chromebook can't edit high definition video. Letting go of the dependency of high system configuration and expensive proprietary softwares truly frees up the creative and commercial space for users to experiment with multimedia. Whether you're interested in making small adjustments to photographs or make fully fledged movies, there are tools for image, audio and video that work right in the browser. However given the range of difference in online storage costs, connectivity bandwidth and user interface, there is still a long way to go before anyone makes the next Groot on a Chromebook. Keeping those limitations in mind we check out the best web based programs that can help you get close for no cost.
Understanding multimedia editing
We love movies. Action, comedy, drama, thrillers, superheroes - they all capture our imagination through the wonder that is the moving picture. But how do these works of art (and sometimes farce) capture our attention and emotions? A lot of it of course has to do with the footage, the landscapes, the epic scenes, the close up of emotion, the beat of the music and the timing of the silences but that isn't all. It has to do with how all those elements of story are arranged - and that's where editing comes in to the picture.
Understanding audio editing
There are two three types of people who would want to record audio. One type does it for their home/short movies, one type does it because they're professional VO artists and the third type falls into the category of musician. While the ground work required to record samples is essentially the same, the nuances vary.
Editing - do's and don'ts
You've learnt virtually everything there is to learn when it comes to working with editing programs across platforms. As responsible tutors, we need to conduct a few sessions on ethics.