Payment has been a highly contested area in modern day innovative technology. But although numerous players are trying a number of ways to go beyond cash and cards, few have actually been successful in getting mass acceptance. There are a number of problems responsible for the same, some being internet connectivity, device incompatibility etc. The one app with the potential to solve all of these problems in one resonant stroke is ToneTag.
Taking contactless payments to another level, ToneTag uses sound to enable payments at the point of sale. Yes, you heard us right, Sound is what carries your money! Well, not literally. Apart from NFC, ToneTag incorporates encrypted sound emitted from the speakers of a phone or a POS device to generate a payment request, which a receiver with ToneTag can accept due to the microphone on their smartphone. Even when the Point of Sale terminal is not a smartphone, the service can use the sound created by the capacitors inside a POS device to detect the merchant. And just in case you're wondering, ToneTag also has an interesting way to work in the absence of POS terminals, just with feature phones.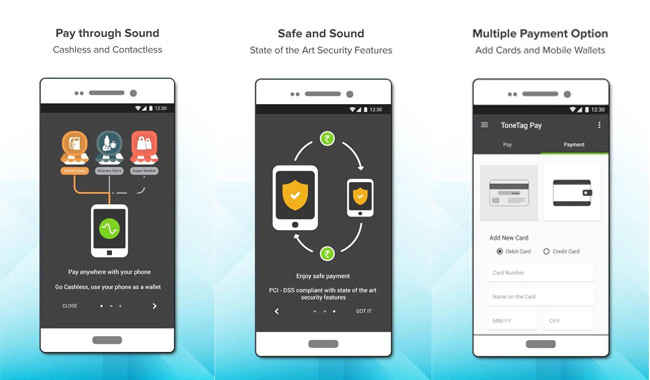 ​
You can initiate the payment on your smartphone, at which point, the merchant can call a specific toll free number from his feature phone. Once the call gets connected, the sound generated from your smartphone is detected and the payment is authenticated.
This method eliminates the need for good connectivity and simultaneously eliminates hardware dependency. That itself makes this app perfect to solve the problem of last mile connectivity in India where most retailers do not have the required infrastructure to process card payments or even NFC. But in this case, anyone with a phone can effectively utilise contactless payments.
The effectiveness of this app doesn't end with the basic nature of its unique product. The app has also implemented UPI capabilities and blockchain technology to remain technically relevant as well as extremely secure. For UPI, the encrypted sound wave is used to transfer the virtual payment address without actually sharing it with the merchant (or anyone else) making it more secure than it already is. The best part? ToneTag is also available as an API and can be integrated by any bank into their UPI app. In fact, it can be integrated into any payment solution. Head over to this link to check out the details of the API.
Amid the horde of mobile wallets and digital payment solutions, ToneTag is unique and is a good example of innovation in technology. If this is widely adopted, it would be a really interesting way to pay in the near future.