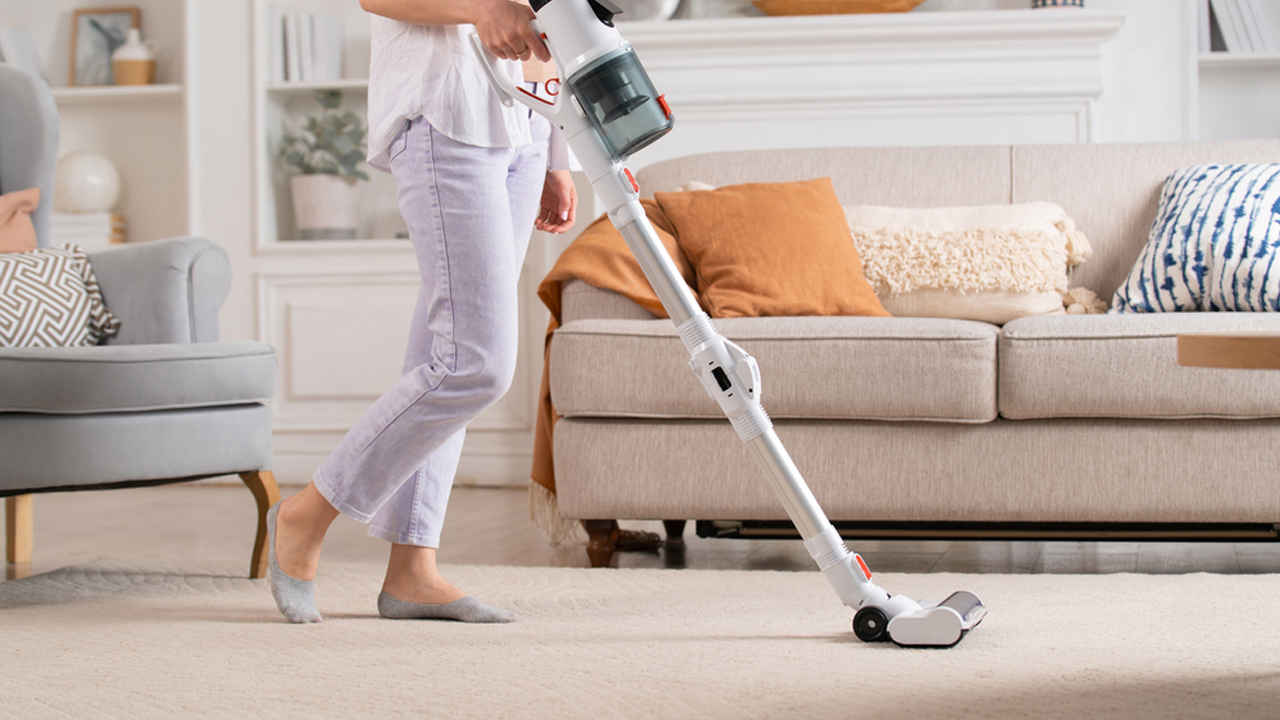 In today's fast-paced world, a vacuum cleaner can be a valuable asset in your cleaning arsenal, regardless of whether you use it regularly, intermittently, or for targeted cleaning purposes. With a number of vacuum cleaner options available, each boasting various features, it can become challenging to judge the essentials from the frills.
This vacuum cleaner buying guide aims to systematically deal with the nuances of choosing the perfect vacuum cleaner, equipping you with the fundamental knowledge needed to make a thoroughly informed decision.
Different types of vacuum cleaners
To begin, let's explore the various types of vacuum cleaners available. We'll also delve into the strengths and weaknesses of each type. This information will help you select the vacuum cleaner that aligns perfectly with your cleaning needs. We have also included specific models from popular vacuum cleaner brands known for their quality and reliability. These include Phillips, Eureka Forbes, Dyson, Xiaomi, Realme, Agaro, and Inalsa.
1. Canister vacuum cleaners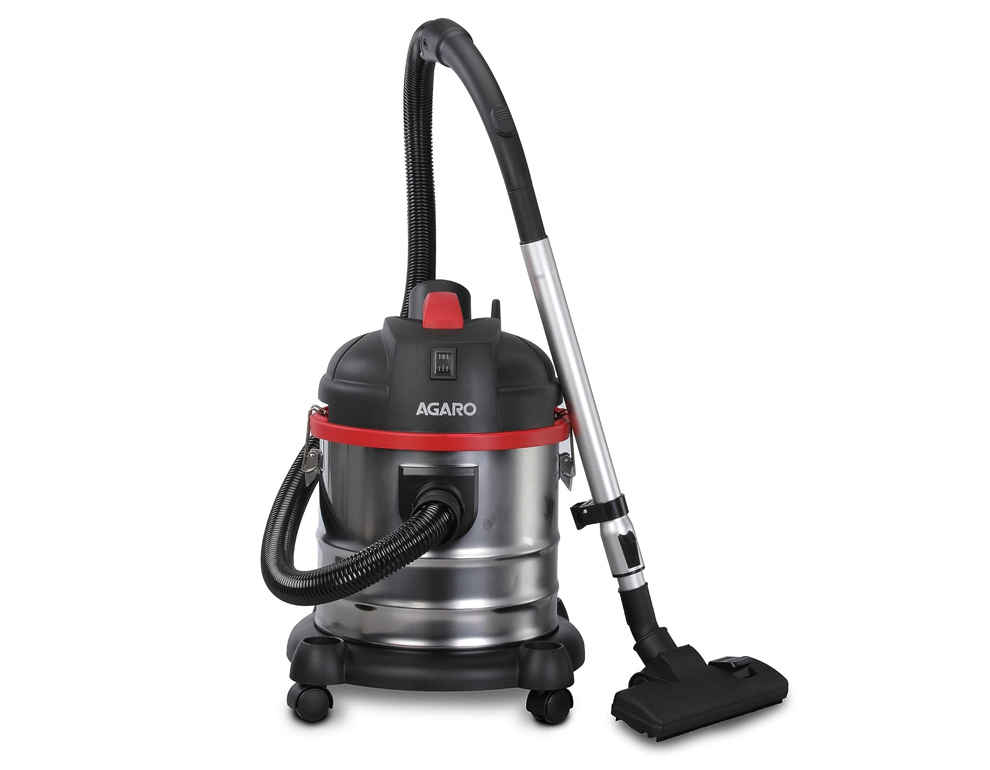 Canister vacuum cleaners are the most popular type of vacuum cleaners in India. These heavy-duty vacuum cleaners are generally quite versatile and durable. The suction motor and dust collection mechanism are present in a canister.
Most canister vacuum cleaners can also double as a blower for removing settled dust. The ease of mobility for these vacuum cleaners depends on the shape and size of the canister. when it comes to storage after cleaning, they typically require a considerable amount of space. Canister vacuum cleaners are known to offer strong suction and typically use a bag or a dustbin to collect the dirt they pick. They usually come with multiple useful attachments for floor and above-floor cleaning.
Key Takeaway: Canister vacuum cleaners are the most versatile and are usually quite dependable. Their portability depends on the size of the canister and the length of the cord.
Top canister vacuum cleaners to buy in India
2. Stick vacuum cleaners

Stick vacuum cleaners are lightweight and easily portable, making them a convenient choice for Indian homes. They are primarily cordless, offering the flexibility to clean hard-to-reach areas effortlessly. They typically come with useful attachments for cleaning floors, crevices, mattresses, and more.
Their light and portable design can also result in some compromises in terms of suction power. Most of the modern stick vacuum cleaners are battery powered which puts a cap on the duration of your cleaning session.
Key Takeaway: Stick vacuum cleaners are convenient for cleaning hard-to-reach surfaces, but most options are battery-powered, which can limit both suction power and the duration of a cleaning session.
Top stick vacuum cleaners to buy in India
3. Robotic vacuum cleaners
Robotic vacuum cleaners offer unparalleled convenience and most of them can be effectively controlled using a smartphone app or even voice commands. Once they've mapped your home, they can efficiently handle dry and wet cleaning tasks with minimal user intervention required.
These cleaners are useful for cleaning floors and can also clean hard-to-reach areas like the underside of your bed or couch. They're also really good at picking up pet hair, helping to keep your home clean and allergy-free
Key Takeaway: Robotic vacuum cleaners are highly convenient for maintaining clean floors but are not as effective for deep cleaning.
Top Robotic vacuum cleaners to buy in India
4. Handheld vacuum cleaners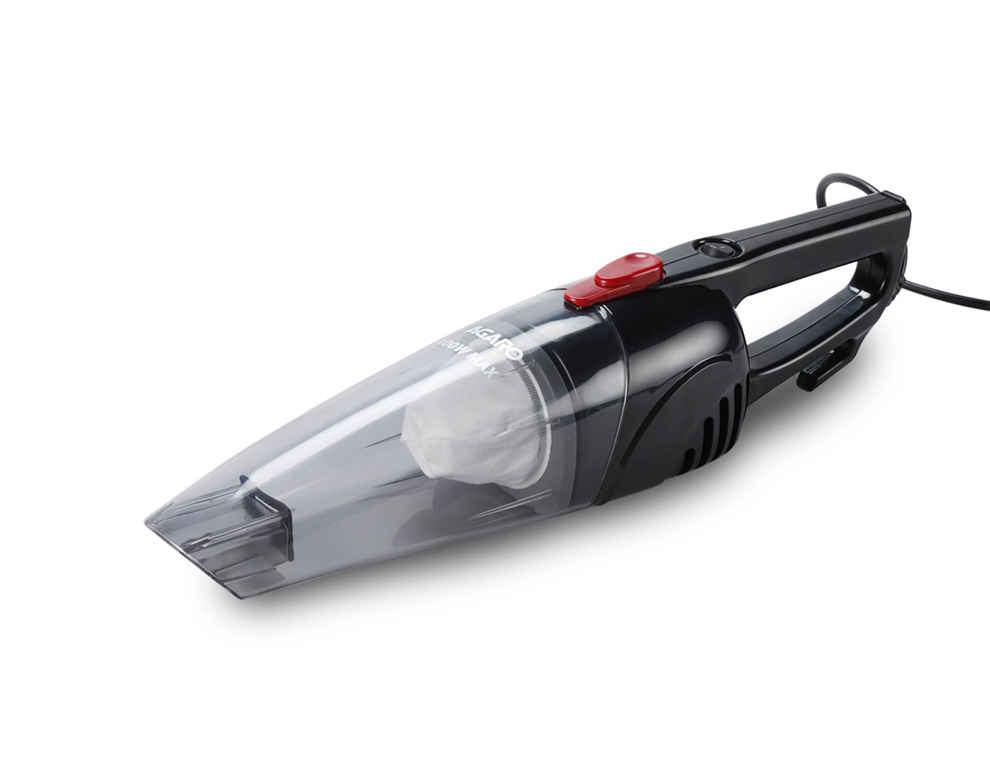 These super-portable vacuum cleaners are perfect for targeted cleaning, with excellent manoeuvrability in tight spaces, making them especially convenient for tasks like cleaning the interior of your car or upholstery fabric. Many stick vacuum cleaners can also be converted into handheld vacuum cleaners.
Key Takeaway – Handheld vacuum cleaners may not be the most powerful cleaners but they offer maximum portability.
Top handheld vacuum cleaners to buy in India
5. Upright vacuum cleaners
In India, upright vacuum cleaners are relatively less popular and thus we haven't mentioned specific models to choose from in this vacuum cleaner buying guide. These cleaners have their motor and fan positioned at the bottom, which enables them to provide robust suction capabilities, especially on carpets. Their design eliminates the need for users to bend while cleaning floors, making them effective and user-friendly. They are also relatively easier to store compared to canister vacuum cleaners.
Key Takeaway: Upright vacuum cleaners are not as popular in India. They are broadly considered the best for cleaning carpets.
Things you should keep in mind while buying a vacuum cleaner
Now that we have discussed different types of options in this vacuum cleaner buying guide, let's talk about things that you must consider before you buy a vacuum cleaner:
1. Know your cleaning needs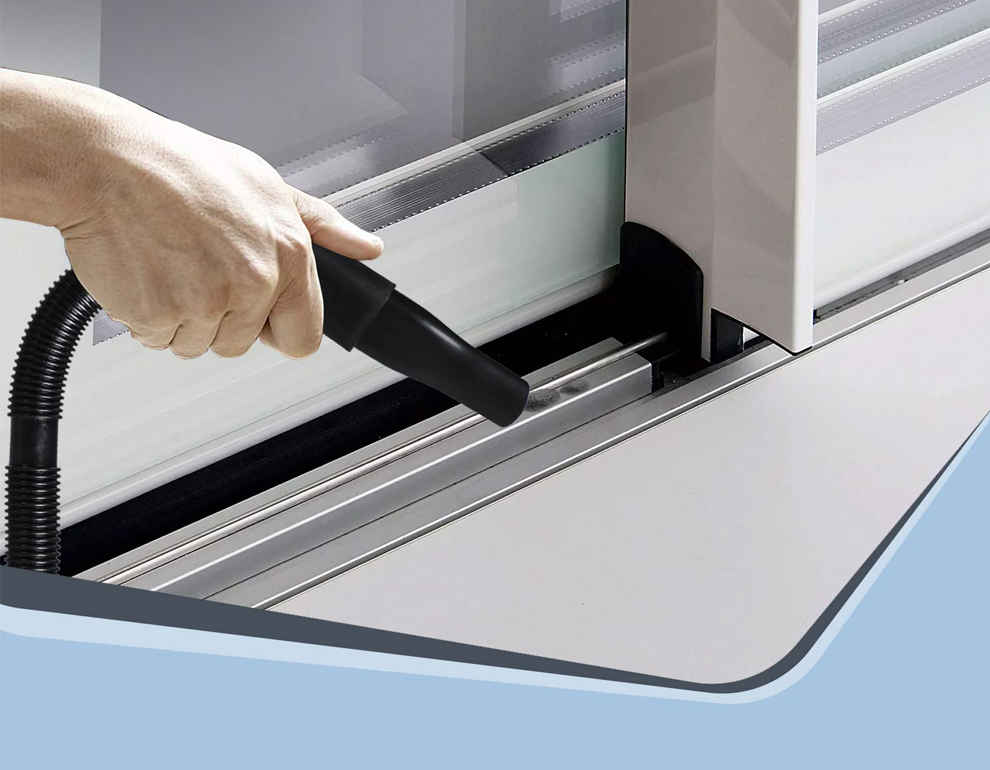 First and foremost, it's essential to identify your cleaning requirements and preferences. While we might wish for vacuum cleaners to work like magic wands, they can't instantly whisk away all dirt with a flick. Maintaining a clean home demands regularity and discipline in your cleaning routine.
Consider your cleaning requirements carefully. Are you primarily focused on floor cleaning, or do you need a vacuum cleaner versatile enough to handle various tasks? Perhaps you're looking for a vacuum that excels at deep-cleaning upholstery, curtains, and hard-to-reach corners in addition to floors. Or, if you have pets, you might require a robotic vacuum with specialized features to efficiently pick up pet hair and debris at regular intervals.
Answer these three fundamental questions before you start searching for a vacuum cleaner:
Where do you intend to use it?
How often do you plan to use it?
What type of debris are you aiming to remove?
2. Suction power
Suction power is one of the most important parameters in determining the cleaning ability and is usually measured in Pa, KPa or air watts. Apart from the powerful motor, the suction power of your vacuum cleaner depends on several other factors including its design, the design of attachments and nozzles, dirt collection mechanism and more.
The attachments need to be properly locked on the cleaning surface to harness the full potential of the cleaner. You also need to keep in mind that battery-powered vacuum cleaners can not function for long on their rated maximum suction capacity. Similarly, if the dust gets clogged in the vacuum cleaner, the suction power can be drastically reduced.
3. The balance between size and portability
A larger size allows more room for manufacturers to incorporate bigger batteries, larger bins, and more substantial motors. On the downside, large and heavy vacuum cleaners can be challenging to manoeuvre or carry around the house.
If you have a large home with a sizable cleaning area, it's better to prioritize portability. If you have compact spaces to clean, you can also consider larger/heavier cleaners that offer more power.
4. Wet and Dry vacuum cleaners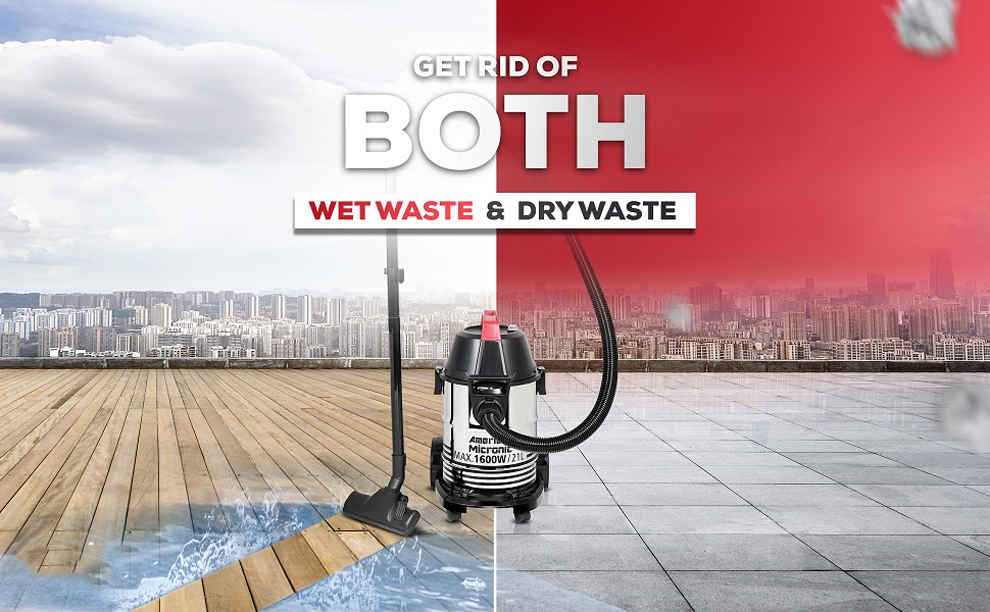 Dry vacuum cleaners are designed solely for picking up dry debris such as dust, pet hair, crumbs, and more. They collect these materials in a bag or dustbin, and it's important to note that water can potentially damage their internal components.
Wet and dry vacuum cleaners, on the other hand, have the capability to handle liquid spills effectively, making them particularly useful in humid regions. However, compared to dry vacuum cleaners, wet ones require more frequent cleaning and are generally heavier.
Additionally, some wet robotic vacuum cleaners offer the added convenience of mopping the floor after they've picked up dry debris.
Top wet and dry vacuum cleaners to buy in India
5. Bag or bagless: which is better?
Bagless vacuum cleaners are more popular these days. These vacuum cleaners usually employ a filtration system to trap dust in a bin that can be later emptied.
Some vacuum cleaners have bags for holding collected dust. These bags are easier to dispose of but require frequent changing. Cloth bags can be washed and reused several times. You will need to open your vacuum cleaner and check if the bag is full.
6. Cordless or corded vacuum cleaner: Which is better?
The cleaning time and suction power of wired vacuum cleaners are not limited by battery backup. However, you will always need to be in close proximity to a socket. The advantage is that you don't have to worry about keeping these vacuum cleaners charged.
Cordless vacuum cleaners rely on battery power. They are naturally easier to move around and can easily access tight spaces. They are increasingly gaining popularity, which is why we have included several popular models in this vacuum cleaner buying guide.
Therefore, wired vacuum cleaners are often better suited for deep cleaning of regular surfaces. Cordless vacuum cleaners, on the other hand, offer more convenience in operation. The choice between cordless and wired vacuum cleaners will depend on factors such as the size of your home, the frequency of vacuuming, and your personal preferences.
7. Accessories that matter
When selecting a vacuum cleaner, it's important to consider the included accessories. Diverse attachments can enhance the versatility of your vacuum cleaner. Remember, it's not only about the quantity of accessories but also the quality that counts. Depending on your specific cleaning requirements, you may want to seek out attachments such as those designed for upholstery cleaning, pet hair removal, or tackling tight crevices.
8. HEPA filter
Almost all vacuum cleaners have filters that help avoid releasing the collected dirt back into the air. Vacuum cleaners equipped with HEPA filters are exceptionally effective at capturing particles as minuscule as 0.3 microns. This makes them extremely useful for individuals suffering from dust allergies. Vacuum cleaners with HEPA filters are also quite useful for households with pets, as they efficiently trap pet dander and allergens, improving air quality and ensuring a cleaner and healthier living environment.
9. Energy efficiency
Different types of cleaners mentioned in this vacuum cleaner buying guide have different energy efficiency. How much power your vacuum cleaner consumes will depend on factors like its suction power, its type, cleaning features, and more. A power-efficient vacuum cleaner can save a lot of electricity and money in the long run.
10. Warranty and Customer support
When choosing a vacuum cleaner, it is crucial to consider the warranty being offered, ensuring that you have long-term protection for your investment. You must also check the quality of customer support, as you may need to contact the manufacturer in case of damage, whether it occurs within or outside the warranty period.
Hopefully, these valuable insights will help you identify your cleaning needs and understand different types of vacuum cleaners with their strengths and weaknesses. Go ahead and pick the best vacuum cleaner for your home.