The Oculus Rift VR headset is finally up for pre-orders. On its official blog, Oculus has said, "We're excited to announce that Rift is now available to pre-order for $599 USD on Oculus.com and it will ship to 20 countries starting March 28. People have been dreaming about immersive high-end VR for decades, and we're thrilled to share Rift with you this March. Rift will also be available in limited locations at select retailers starting in April." It was speculated that the price of the Oculus Rift would be close to $350, but it is much higher than that at $599 (Rs. 40,000 approx). Those who purchase the Rift will get the headset with built-in headphones and mic, sensor, and an Xbox One controller in the box, along with the Oculus Remote. The list of 20 countries where the Rift will launch includes Australia, Belgium, Canada, Denmark, Finland, France, Germany, Iceland and more. There is no mention of an India release date.
Speaking about the remote, Oculus' website reads, "The Oculus Remote is a new input device we designed to make it simple and intuitive to navigate VR experiences. With Remote, you can easily browse the Oculus store, explore 360 video content in Oculus Video, or experience a wide range of VR games and entertainment. It is the easiest way to introduce non-gamers to VR".
At E3 2015, Oculus introduced the Touch controls. The controller, however, has been delayed till late 2016. Those who pre-order the Rift will also secure a place in line for Touch pre-orders, later this year. All those who pre-order the Rift will also get Lucky's Tale by Playful, and CCP's EVE: Valkyrie (which is one of our most anticipated games of 2016), for free. Lucky's Tale looks like a platforming adventure game just like Mario or Crash Bandicoot. EVE: Valkyrie, on the other hand, is an immersive dog fighting game. 20 games are expected to launch for the Oculus Rift this year, including Rockband VR by Harmonix, Edge of Nowhere by Insomniac, and The Climb by Crytek.
If you are looking to invest in the Oculus Rift, here is a look at the PC system requirements, which Oculus recommends you have, to take advantage of the Rift.
Graphics Card: NVIDIA GTX 970/AMD R9 290 equivalent or greater
Processor: Intel Core i5-4590 equivalent or greater
Memory: 8GB+ RAM
Output: Compatible HDMI 1.3 video output
Input: 3x USB 3.0 ports plus 1x USB 2.0 port
Operating system: Windows 7 SP1 64-bit or newer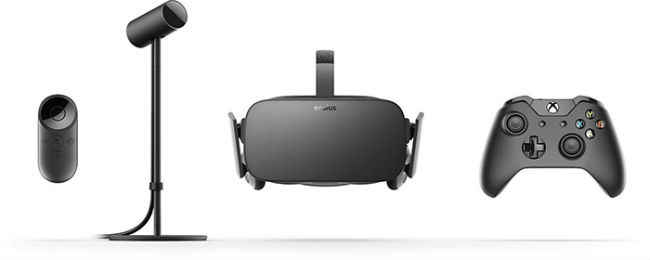 If you are looking to pick up a PC along with the Oculus Rift, then bundles that include an Oculus-ready PC and a Rift will be available for pre-orders in February, starting at $1499 (Rs. 1,00,000 approx).
Facebook bought Oculus VR last year for $2 billion. There are a few major players when it comes to VR gaming, with Steam and HTC joining hands to bring the HTC Vive. Sony has its own VR headset, which will work with the PS4, called the PlayStation VR. Microsoft, on the other hand, has taken the augmented reality route with the HoloLens. Apart from Oculus, no other AR or VR headsets have announced release dates or prices.