Huawei has announced a new range of werables including a smartwatch at the ongoing Mobile World Congress in 2015. The new devices unveiled by Huawei are: Huawei TalkBand B2, Huawei TalkBand N1 and Huawei Watch.
The Huawei Watch has generated a lot of buzz as the device debuts shortly before Apple's much awaited Apple Watch release. The Huawei smart watch features a 1.4-inch AMOLED scratch-proof and water-proof display, which has fully circular design at 42mm diameter. The watch body has metal that features a 316L corrosive-resistant, cold-forged stainless steel, taking on other luxury watches.
Running on Google's Android Wear, the smartwatch comes with a range of health tracking features including built-in heart rate monitor sensor, 6-Axis sensor, barometer sensor, touch motor and built-in microphone. The smartphone can be paired with Android 4.3 and higher devices. Like other normal smartwatches, the Huawei Watch gives you SMS, email, calender, app and phone call notifications. The smartwatch comes with 40 customisable watch faces, and is available in three colours – gold, silver and black.
The Huawei TalkBand B2, successor to B1 fitness tracker, has premium looks. The wearable features Bluetooth support, sleep tracking and music controls. The hardware is a combination of both wristband and a Bluetooth headset. The TalkBand B2 is equipped with dual-microphone, noise reduction technology. Huawei claims the TalkBand B2 gives battery performance of up to 5 days, support continuous call time up to 6 hours, and 12 days' standby time. The recommended retail price of premium version (with leather strap) is 199 euros and that of standard version (with TPU strap) is 169 euros.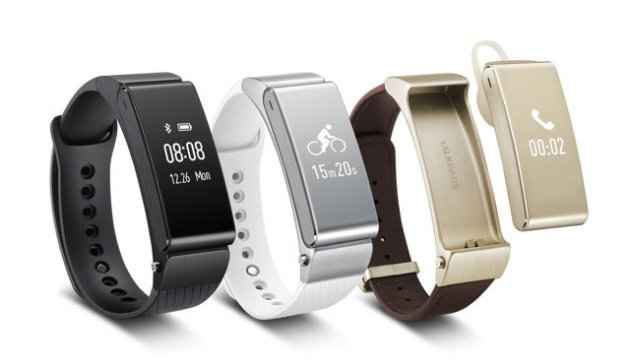 The Huawei TalkBand N1 is touted as the industry's first Hi-Fi stereo + Bluetooth headset featuring 4G of local MP3 storage for 1,000 songs, Bluetooth calling, and sports tracking. The TalkBand N1 weighs around 18 grams, and comes with an IP54 dustproof and waterproof level.
Also read:
Samsung Galaxy S6 and S6 Edge are now official