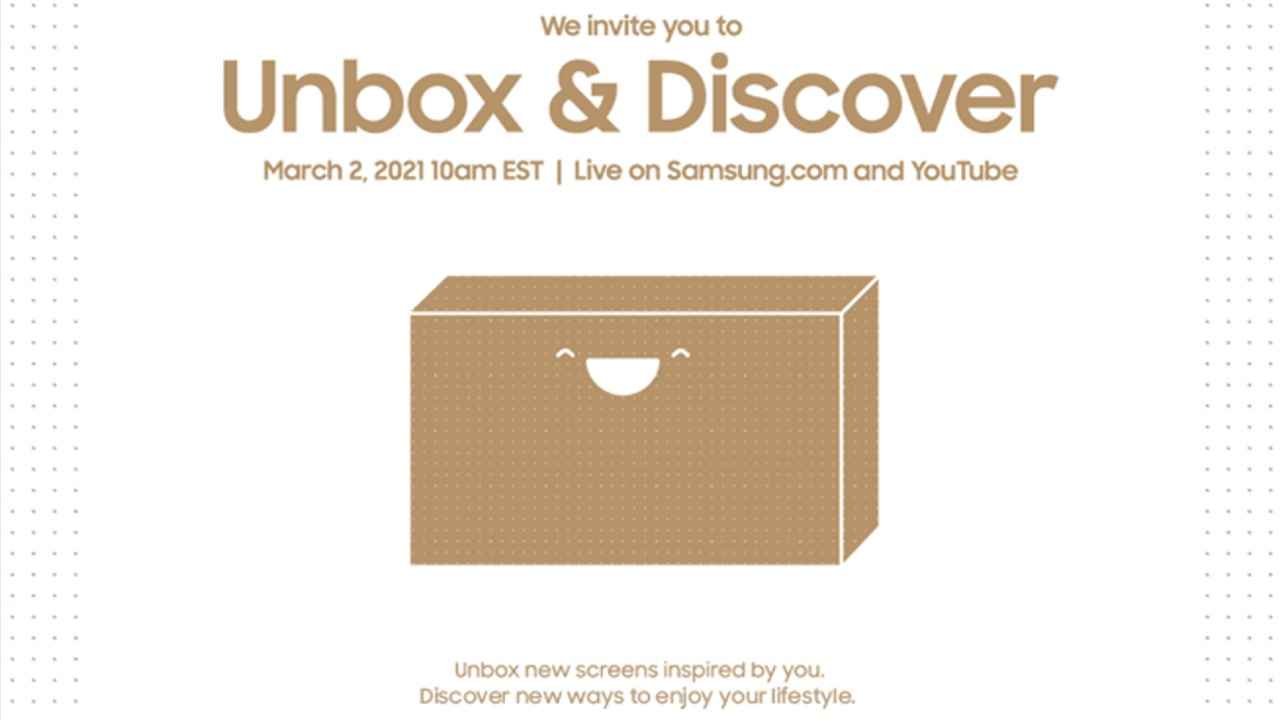 HIGHLIGHTS
The Samsung 'Unbox and Discover' TV event is scheduled for 10 AM EST which translates to 8 PM IST.

The invite reads, "Unbox new screens inspired by you".

Samsung showed off its 2021 TV portfolio during CES 2021.
Samsung is hosting its 'Unbox and Discover' event on March 2, 2021, at 10 AM EST, which translates to 8 PM India time. According to Samsung, the company, "will share its vision for how the company's latest innovative products are set to redefine the role of the TV through cutting-edge technologies, beautiful design and impactful partnerships". The invite reads, "Unbox new screens inspired by you". It isnt clear whether this will be the unveiling of some new products or availability announcements for Samsung's 2021 TV lineup.
At CES 2021, we got a glimpse at the future of TV technology, and Samsung showed off what customers can expect in 2021. Samsung has a wide range and portfolio of TVs for consumers to choose from including MicroLEDs, Neo QLEDs, standard QLEDs, LCD TVs and more. Samsung will introduce 8K TV and 4K TVs. For India's budget segment, we can also expect some new Budget 2021 models to make an appearance.
Samsung had an impressive year in 2020 with soundbars as well and it isnt clear if we will see Samsung's 2021 soundbars at the 'Unbox and Discover' event.
Tune in on March 2 @ 10am EST for the unboxing of new screens #UnboxandDiscoverhttps://t.co/VN3WgTqCNG

— Samsung Electronics (@Samsung) February 18, 2021
Samsung also introduced Object-Tracking Sound in 2020, and it looks like the company is expanding on the technology in 2021. The technology will be available in more models and more variants. It is possible we could hear something about Samsung's Object Tracing Sound in TV speakers at the event, buts pure speculation at this point. While TV speakers have been the Achilles heel for premium TV tech, technology like Sony's Accustic Surface does show potential for an enjoyable TV viewing experience without an external audio device. At CES 2021, LG also highlighted its Cinematic Sound OLED (CSO) which also vibrates the display to produce sound.
With the introduction of HDMI 2.1, premium TVs in 2021 will pack features that will cater to PC and console gamers in addition to cinema enthusiasts. Both Sony and LG have highlighted demoed brighter OLED panels, and it will be interesting to see how bright these new 2021 OLED's can get and how they deal with burn-in. You can learn about Sony's 2021 TV lineup here and LG's 2021 TV lineup here.