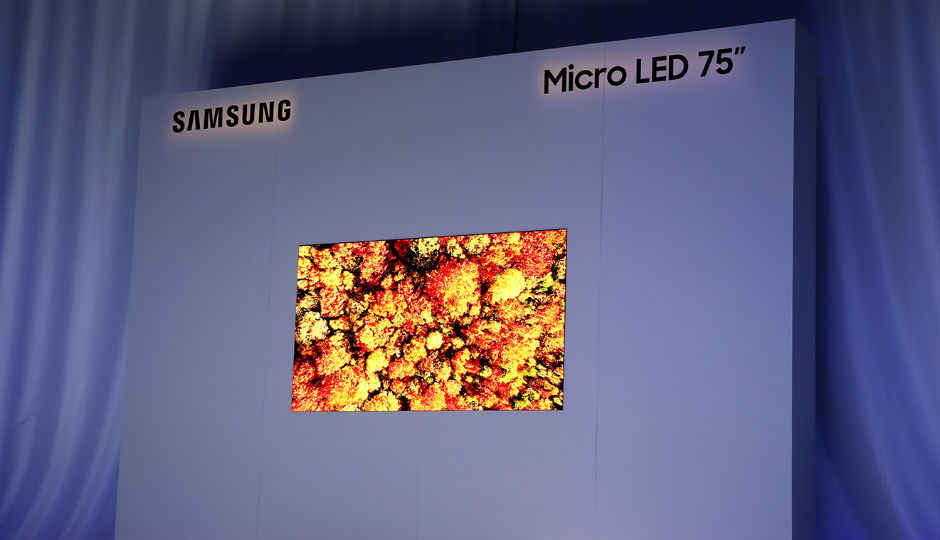 HIGHLIGHTS
Samsung aims to start selling MicroLED TVs in the US in 2019.
Highlights
Samsung shrunk The Wall TV down to 75-inches.
It is a MicroLED TV.
Samsung wants to ship MicroLED TVs to customers in the US in 2019.
At CES 2018 Samsung showcased a 146-inch MicroLED TV called The Wall. This year, the South Korean tech giant has shrunk the TV down to 75-inches. Samsung is betting big on MicroLED TVs and aims to ship them to customers in the US in 2019 itself. There is no launch window or model numbers, or even pricing announced for these TVs yet. As the name MicroLED suggests, the technology uses millions of MicroLEDs to create its image. The modular nature of the TV showcased at CES means that you can customise the size of the TV. MicroLED as a technology is expected to bring the benefits of OLED such as great black levels, improved viewing angles and more. However, MicroLEDs are not subject to the problems of OLED TVs like burn-ins. The first generation of The Wall was 80mm thick. This was ok for industrial use. But with the advancement in technology and focus on slim designs for home use, the Wall is now slimmed down to 30mm.
Apart from the 75-inch MicroLED TV, Samsung also showcased an even larger version of The Wall at CES 2019. The one on display is a whopping 219-inches. The new Wall panels also bring support for Google Assistant and Amazon Alexa. Samsung is also displaying TVs called "The Window". As the name suggests, these TVs are tall and narrow or short and wide representing the design of actual windows.
Samsung was the first to the market with the launch of its 8K TV called the Samsung Q900. The TV comes with Samsung's one connect box. The one connect box supports HDMI 2.0 out of the box but Samsung has said that the TV's one connect box can be upgraded to support HDMI 2.1. LG has announced that their line-up of flagship TVs will support HDMI 2.1 out of the box. Sony, TCL and more are yet to showcase their 2019 offerings at CES.
Moving away from CES, Xioami has teased a large TV which we presume is a 65-inch 4K TV set to launch in India. The launch date for the TV in India is January 10 11am and if history is to be repeated, then the TV will be a Flipkart exclusive. You can read more about the upcoming Xiaomi TV here.
Related Reads
CES 2019: LG's 2019 TV line-up boasts of Alexa integration, HDMI 2.1 support and will be powered by the second-generation Alpha 9 processor
iFFALCON 75 inches Smart Ultra HD 4K LED TV Review
Panasonic LED TV TH-55FX800D Review