Google TV's 'basic' mode will strip smart features from many TVs. This gives users direct access to only live TV and HDMI inputs. Users can rollback to the normal mode anytime.
We all have to agree that the introduction of 'Smart TV' has been one of the best things to have ever happen to the television box. There's nothing like using a good smart TV that is packed with awesome features and supports all the apps and services.
However, these smart features and the abundance of apps can be a bit overwhelming at times for some people. Plenty of people still just want a basic TV for simply accessing live TV or HDMI inputs for their gaming consoles like the PlayStation 5 or the Xbox Series X. Well, Google is cooking something for those users now.
9to5Google has reported about a feature that essentially dumbs down your smart TV. It's called the "Basic TV" mode, and it strips out a TV's smart features. In return, you get simple options that let you access your live TV and the HDMI inputs.
As of now, we don't know what this "Basic TV" interface looks like, but you can see that it will only let you access those two options. Here, check it out -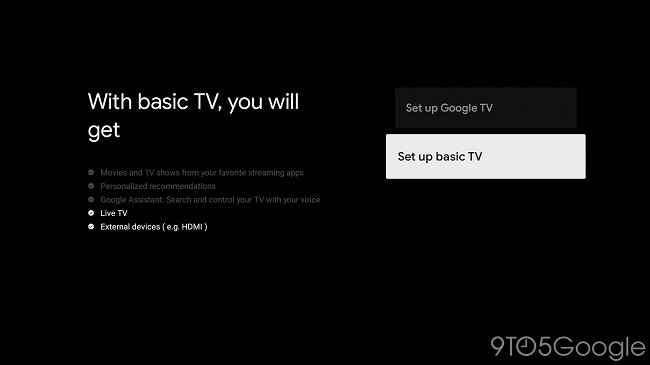 According to 9to5Google, selecting the "Basic TV" option will end up removing the OS apps, content recommendations from various OTT platforms, and even the Google Assistant support.
We believe this mode will also be quite a proposition for users who are extremely cautious about their privacy. However, it remains to be seen how this basic mode will affect data collection.
With all that being said, we do believe that there will be a lot of takers for this kind of feature even on a smart TV. Many users, as you may or may not know, rely on third-party set-top boxes like the ones from Apple, Amazon, etc. for streaming their content.
It's also a great way to improve performance on an old TV. A lot of smart TVs powered by Android are notorious for slowing things down quite a bit after an extended period of usage, and this is perfect for such old TVs.
Lastly, it's worth pointing out that users who opt for this experience can switch back to the full Google TV UI anytime using a shortcut that sits on the home screen as well as using a button in the settings menu.