Reliance Jio has regained its place as the fastest 4G network in India in the month of March. According to TRAI's latest data, Reliance Jio had the fastest 4G download speeda among all service providers in the month of February. The TRAI data comes at a time when Jio is opposing Airtel's TVC claiming to be the fastest network in the country. The TRAI data is based on speed test result accumulated from its MySpeed app. Reliance Jio had an average download speed of 15.0Mbps, while Idea and Airtel clocked 8.1Mbps and 7.8Mbps respectively in February. Vodafone and Reliance offered average download speeds of 5.8Mbps and 3.4Mbps respectively. While Jio was faster on the download front, its average upload speed was slower than Idea and Vodafone.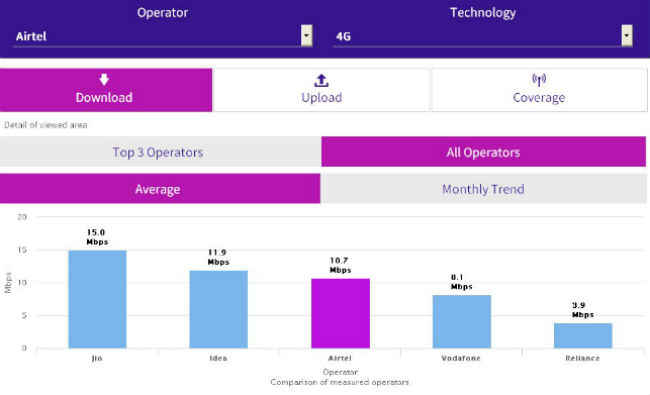 Data from TRAI's MySpeed app indicates Idea's average upload was 4.3Mbps, while Vodafone and Jio offered average upload speed of 3.4Mbps and 3.3Mbps respectively. Airtel was marginally slower than others with average upload speed of 3.2Mbps.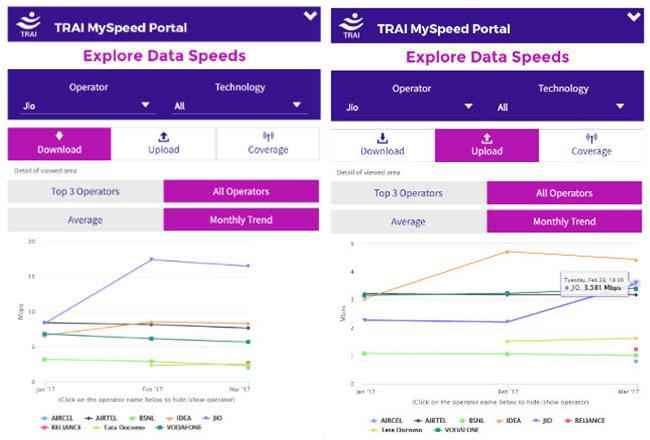 While the data from TRAI's MySpeed app does suggest that Jio is fastest among all service providers, the experience may vary across regions. The advertising watchdog ASCI has already declared Bharti Airtel's 'Fastest Mobile Network' ad as misleading due to lack of proper test methodology. It is also worth noting that monthly trend indicates Jio, Airtel and Vodafone's download speed declining while Idea seems to have gained in download speed from January 2017. The monthly trend also suggests that Idea is coming off its peak upload speed while Jio is slowly gaining from its lowest recorded speed in January.
To recall, Reliance Jio had recently announced that 72 million users have subscribed to the company's Prime Membership offer and extended the deadline till April 15. The company also announced that those subscribing to Jio Prime and availing a first recharge of Rs 303 or above will get the free offer till June 2017 under 'Jio Summer Surprise Offer'. Industry body, COAI says that Jio's Prime and free offer extension will continue to bleed the industry with aggressive data offers. Idea has already announced 1GB data per day offer for its postpaid subscribers at Rs 300, while state-owned telecom service providers MTNL and BSNL are also offering aggressive data plans.