Airtel has partnered with Google to get the Google Assistant onboard as a customer service agent for the telco. The new feature is part of Airtel's Project Next initiative. Airtel users will be able to have conversations with the Google Assistant in English as of now, and later in multiple regional languages, to ask a select set of questions regarding their prepaid balance, outstanding bills, data usage and more. Here are all the questions that Airtel prepaid and postpaid customers can ask the Google Assistant:
Prepaid

Postpaid

What is my data balance

Best Offers

What is my account balance

Recharge

What is my current outstanding?

Why is my bill so high?

Bill Summary, Pay bill

Current data usage?

What is my current plan? What are available Airtel Postpaid Plans?
The list of questions that can be asked seems pretty limited as of now, but could expand in the future. "Airtel will continue to track what questions customer are asking and enable responses to them via Google Assistant, thus improving the flexibility and robustness of the Airtel voice Action," the company said in a media release. It would have been great if the integration was deeper and could provide answers to more pointed questions rather than the basic stuff which one can even get from the telco's IVR or USSD service.
Sarang Kanade, Director, Customer Experience & Retail, Bharti Airtel said, "As part of our digital transformation journey, this is another yet innovation to empower our customers. With smartphones fast becoming the norm for every Indian, this will make digital self-care much more interactive and step up the customer experience. We will continue to bring more of such exciting solutions for 'Digital India'."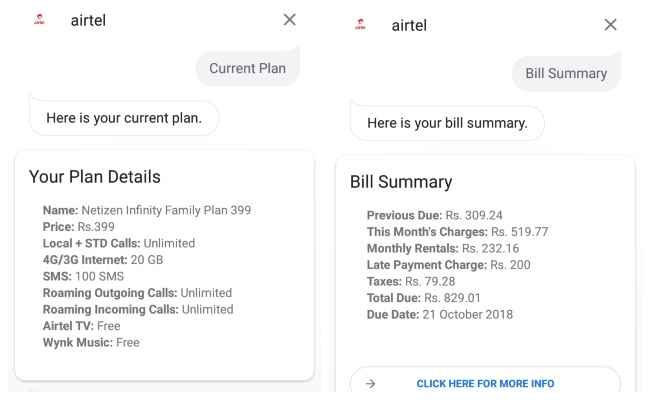 To ask Google Assistant Airtel-related questions, Android users would need to long press the home button or the dedicated Google Assistant button on their smartphones to launch a conversation with the Assistant. iOS users will need to have the Google Assistant app on their phones. Users would then need to tell the Google Assistant that they want to "Talk to Airtel", "Ask Airtel" or "Get Airtel". Airtel assistant will then open within the Google Assistant. For the first time, the Airtel Assistant within the Google Assistant will ask to link a customer's Airtel account with Google. After clicking 'yes', users will be asked to enter their mobile number and accept the Terms of Service. Once the terms are accepted, users will receive an OTP to complete linking the Airtel and Google accounts. Once the accounts are linked, Airtel customers can start asking the above stated set of questions.