India has overtaken the United States as the second largest smartphone market in the world. According to Canalys, India saw a strong recovery in the third quarter with shipments surpassing over 40 million units. China continues to be the largest smartphone market globally while India registered a 23 percent year-on-year growth in third quarter shipments.
Samsung and Xiaomi continue to be the major drivers of India's smartphone growth story. The Chinese smartphone maker is getting even closer to dethroning Samsung as the largest smartphone vendor in India. During the third quarter, Samsung shipped 9.4 million, registering a growth of 30 percent over same period last year. Xiaomi, on the other hand, saw a growth of 290 percent with its smartphone shipments reaching 9.2 million units. Samsung and Xiaomi now account for almost half of the total smartphone shipments in the country.
"Xiaomi's growth is a clear example of how a successful online brand can effectively enter the offline market while maintaining low overheads," said Canalys Analyst Rushabh Doshi.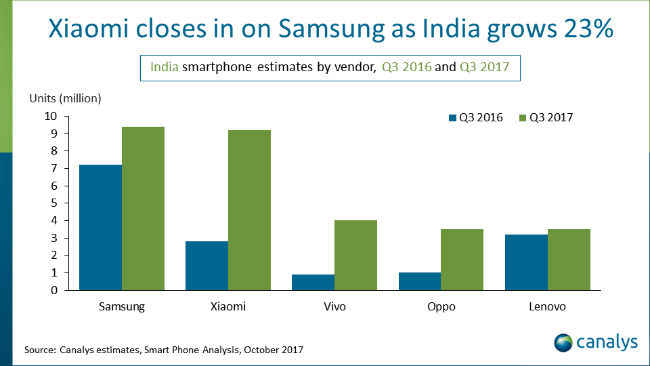 Vivo, Oppo and Lenovo also saw growth in their shipments. The three round up the top five smartphone vendors list in India. Vivo and Oppo continued to strengthen their position in the country with a strong focus on selling selfie-centric smartphones. Most of their sales come from offline retail channels. Canalys also highlights that the top five smartphone vendors account for 75 percent of total shipments in India
Xiaomi remains the market leader in the sub-Rs 15,000 smartphone segment but continues to struggle in the mid-range segment where smartphones are priced between Rs 15,000 and Rs 20,000. Samsung, Oppo and Vivo are considered strong players in the mid-range segment. "We predict Xiaomi's continued go-to-market innovations will allow it to overtake Samsung within a couple of quarters," Doshi added. Apple, a marginal player in the country, more than doubled its smartphone shipments in the third quarter. The growth is primarily owed to local production, which commenced early this year in collaboration with Wistron's local unit in Bengaluru.
Canalys says there are over 100 mobile device brands in the country and believes more brands will continue to enter every quarter. "India has one of the most complex channel landscapes, but with low barriers to entry. Growth will continue. Low smartphone penetration and the explosion of LTE are the main drivers," said Canalys Research Analyst Ishan Dutt.
Xiaomi recently announced that it sold over 4 million smartphones during the Diwali period, which should lead to a strong sale during the fourth quarter. With the company having launched flagship Mi Mix 2, Android One-based Mi A1 and a new selfie series launching next month, it will worth watching whether Xiaomi manages to beat Samsung as early as next quarter.