Want to modernise your banking loan application?
Build an application that analyses credit risk with #IBMCloud Pak for Data on #RedHat #OpenShift
Click here to know more
Advertisements
Recent news leaked from a Microsoft developer event in India has revealed some interesting information about the upcoming Tango update for Windows Phone, including wider support for languages, and possible C code support.
Tango was initially expected to be a minor update in Q2 2012, one that also lowered the minimum hardware requirements to enable low-cost Windows Phones. Now, with the possibility of C support and a new SDK, game developers could port apps that are better optimized for performance.
Windows Phone 7.5 Mango currently has support for 35 languages. The latest reports, if true, give Tango support for 120 languages – fitting right in with the aim to deliver lower-end devices across the globe; even more interesting when seen with the vision of low-cost Nokia Windows Phone devices.
In the meanwhile, another leak revealed a screenshot of Windows Phone Tango, showing Skype and Google Plus integration built into the messenger hub – a level of integration that was only expected by Windows Phone Apollo, the release scheduled after Tango.
The reports, if true, are certainly interesting, with Microsoft apparently working overtime to deliver both Skype and Google native support, with Google and Skype chat, and Skype video and voice calling.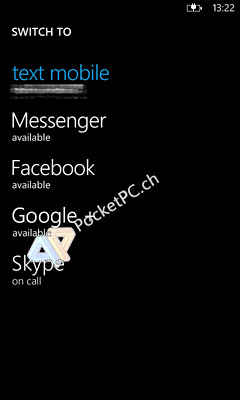 ThinkDigit gives you a chance to win a Windows Phone for free, as a guaranteed gift. Participate in the App developer contest and take home a Windows Phone!