OnePlus TV 32Y1 - Smarter TV
Android TV with superior craftsmanship and elegant design - Buy Now
Click here to know more
Advertisements
The Vivo Z6 5G is an upcoming 5G-enabled smartphone from the popular Chinese smartphone brand Vivo. According to posts shared by the company on Chinese social media platform Weibo, it is packed with at least two new gaming technologies, namely the Multi-Turbo 3.0 gaming acceleration engine and a PC-grade liquid cooling system. The Vivo Z6 5G was recently spotted on a TENAA listing and is expected to be made available for pre-orders in China starting from February 29.
Vivo has been demonstrating the advantages of its Multi-Turbo boosted gaming technology for quite a few months now. Multi-Turbo 3.0, which is the latest version of this technology, is expected to make its way to the Vivo Z6 5G. In its Weibo post, the company has not talked about how different the new version is when compared to the first two. The caption in the post refers to Multi-Turbo 3.0 as a "professional gaming mode", which is capable of delivering an "immersive gaming experience". We expect to learn more about this technology when Vivo makes it available for pre-orders later this month.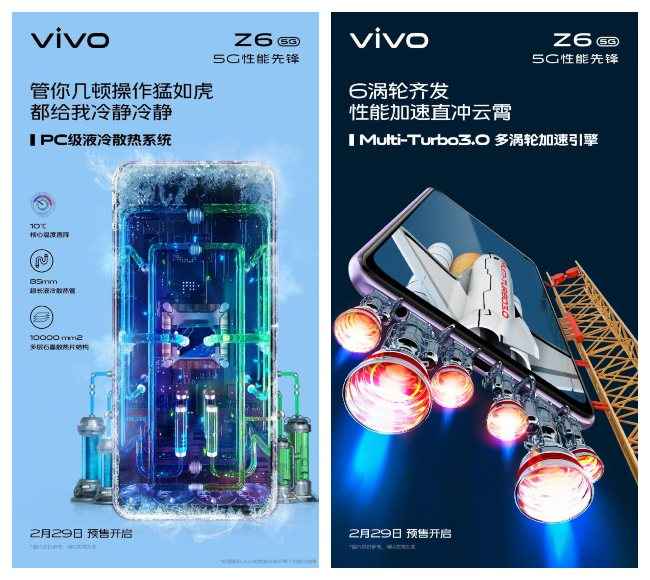 The Weibo post shared by Vivo talks about a liquid cooling tube inside the Vivo Z6 5G. The tube, which is apparently 85mm in length, is connected to a large multi-layer graphite heat sink and a copper foil using a thermal conductive gel. With this setup, the core temperature is expected to decrease by as much as 10 degrees Celsius when a user plays games on the handset. Vivo says the cooling system on the Vivo Z6 5G is comparable to that found in a professional gaming PC. The complete details of this cooling mechanism are yet to be explained in detail.
The Vivo Z6 5G is expected to be powered by a Qualcomm Snapdragon 765G chip that is 5G-enabled. On the inside, it should pack a 5000mAh battery that supports 44W fast charging. RAM options are said to include 6GB and 8GB, while storage options are said to include 64GB, 128GB, and 256GB. The handset's screen is expected to measure 6.57 inches and have a resolution of 1080 x 2080 pixels. On the back panel, the Vivo Z6 5G is expected to have as many as four cameras. We expect to learn more about this device as we approach its launch date.