It seems like Vivo may soon launch a smartphone that offers a whopping 10GB RAM. Leaks suggest that the company's upcoming flagship, the Xplay7 might offer 10GB RAM. In addition, the phone may offer 512GB internal storage. The phone is also tipped to be powered by a Qualcomm Snapdragon 845 SoC and on top of that, it may also offer a 4K OLED display. It should be noted that the predecessor of the phone, the Xplay6, was launched last year with dual rear cameras and dual curved displays and was powered by a Qualcomm Snapdragon 820 SoC, but it never made its way to India.
This isn't the first time Vivo is doing something out of the ordinary. The company was the first to showcase an in-display fingerprint scanner back at MWC Shanghai last year and became the first to launch a phone with the technology, the Vivo X20 Plus UD. The company has employed an in-display fingerprint technology made by Synaptics. The device is powered by a Qualcomm Snapdragon 660 and comes with 4GB of RAM. The phone features a dual 12MP camera and a 12MP camera at the front. It uses a 6.43-inch AMOLED display with a full HD+ (1080x2160 pixels) resolution. Back in 2016, the Vivo XPlay 5 Elite became the first smartphone to offer 6GB RAM.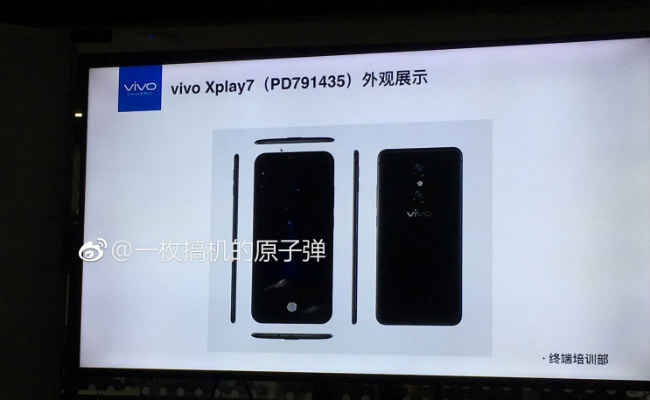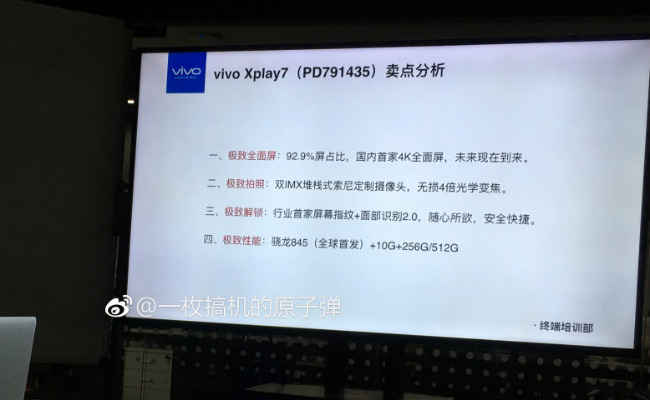 Coming back to the Xplay7, that the phone may feature the same Synaptics made in-display fingerprint recognition technology used in the X20 Plus UD. The leak also suggests that the phone might sports a dual-camera setup at the back with 4X lossless (optical) zoom as well as Face Unlock 2.0. The 4K OLED display is expected to have a 92.9 percent screen-to-body ratio. Besides the 512GB storage, the phone may also come in a 256GB storage variant. The leak did not reveal any details about the pricing or availability.