UPDATE: Afterdawn.com and Engadget are confirming with different sources that the new Nokia X6 does indeed have a capacitive touchscreen, perhaps marking an end to Nokia's adamant stand of going for the cheaper resistive displays at the cost of sensitive thumb-based navigation.
Oh Nokia World, you never disappoint us. The Finnish mobile phone giant has just unveiled a new series of phones under the 'X' label at the event in Stuttgart, Germany, after
the official launch
of the N97 Mini and the Booklet 3G mini-laptop.
We aren't sure if the 'X series' is going to replace the current XpressMusic line-up, as they both seem to be targeting music-oriented phones. As for now, the company has launched two phones under the new series, dubbed the X6 and the X3.
Nokia X6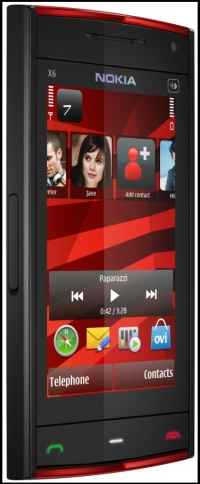 What would you get if you made the 5800 XpressMusic sleeker, slimmer, sexier and threw in a 5-megapixel camera? Why, the Nokia X6, of course!
Like its predecessor, the phone sports a 3.2-inch touchscreen that displays 16 million colours at a resolution of 320x640 pixels, and comes complete with accelerometer and proximity sensor. As of now, it is unclear whether this is a resistive or capacitive touchscreen, so more on that as we find out.
The 5-megapixel camera with Carl Zeiss optics boasts of geo-tagging, autofocus and dual LED flash, not to mention video light for VGA video recording at 30 frames per second.
As for storage, there is no expansion slot for a microSD card in this one. But would you really need it, considering it has 32GB of onboard storage? That's more than enough space to enjoy all your songs on the 3.5mm headphone jack; and well, you can listen to the radio too, if you really want to.
Of course, it still runs on the Symbian Series 60 5th edition OS, powered by the same 434MHz processor and 128MB RAM as the N97 and N97 Mini.
The X6 lets the user have any connectivity option he can think of, from 3G and Wi-Fi with UpnP to Bluetooth with A2DP and GPS with A-GPS.
The gaming features of the X6 are particularly impressive, with Spore, DJ Mix Tour and Asphalt4 coming pre-loaded on the phone. Nice!
The battery, as always, remains impressive as it clocks in 8 and half hours of talk-time, 35 hours of music playback, 4 hours of video playback and over 400 hours of standby time.
For a full specification sheet of the Nokia X6, click
here
; or check Nokia's
X6 page
for more details. And for a truckload of photos, check out the gallery below.
Nokia will be pricing the device at 459 euros (Rs 32,000 approx) – almost the same as the N97 Mini – when it releases in the fourth quarter of this year. Is this the Finnish giant's latest answer to the venerable Apple iPhone? We doubt Cupertino even noticed…
Nokia X3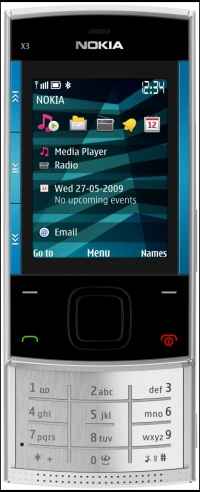 The other entry in the new X series of phones marks a first in a different way: The Nokia X3 is the first device to bring the Ovi Store to the S40 series of handsets, expanding the range of Nokia's apps to low-end phones.
The slider handset features a 2.2-inch TFT screen (256K colours, 240x320 pixels) that slides up to reveal a simple number-keypad. The phone sports dedicated music keys for the audiophile, along with a 3.5mm audio jack to fit in your favourite headphones.
Multimedia is still a priority in this one, as is indicated by the 3.2-megapixel camera with enhanced fixed focus and dual LED flash. Video recording, though, is a measly QCIF resolution at 15 frames per second.
It features 70MB of internal memory for phone-related tasks, but for actual data storage, users would have to rely on the 2GB microSD card that comes packaged with it. If that seems too little, you can always throw in your own card of up to 16GB in size.
Surprisingly, 3G and Wi-Fi are both given a miss here, making us wonder if this phone is destined for the shores of countries like India, where Internet connectivity on phones is still largely reliant on GPRS and EDGE. GPS has never taken off here either, so the lack of it and A-GPS doesn't surprise us.
Still, for connectivity to other devices, there's always Bluetooth with A2DP for wireless and a microUSB port for cabled connections.
The battery offers a solid 7.5 hours of talk-time, 26 hours of music playback and 380 hours of standby time.
For a full specification sheet of the Nokia X6, click
here
; or check Nokia's
X3 page
for more details. And as always, lots of pics await in the image gallery below.
And at a reported price of 115 euros, this one is going to create some ripples when it releases in the fourth quarter of 2009.