Want to modernise your banking loan application?
Build an application that analyses credit risk with #IBMCloud Pak for Data on #RedHat #OpenShift
Click here to know more
Advertisements
So what if Turing Robotics Industries had a few failed smartphone launches in the last few years, including the end-to-end encrypted Turing Phone? And so what if the California-based mobile technology company filed for bankruptcy earlier this year? That shouldn't mean it can't announce an insane smartphone design that shows off six cameras (yes, six!), three displays, and two chipsets under its new name, Turing Space Industries.
Christened the HubblePhone, after the famous space telescope and astronomer, the device is essentially two smartphones as we know them attached to each other with a swivelling arm. The main body of the two-part device is called the main deck and the smaller secondary body, flipping and swivelling out of the main body, is called the upper deck. The main body has a scroll wheel and separate button that can be user-programmed. If you were impressed by the 'Yoga' moves some laptops can pull off, you should see this device's moves, because it can fold, flip, and swivel in a lot of ways.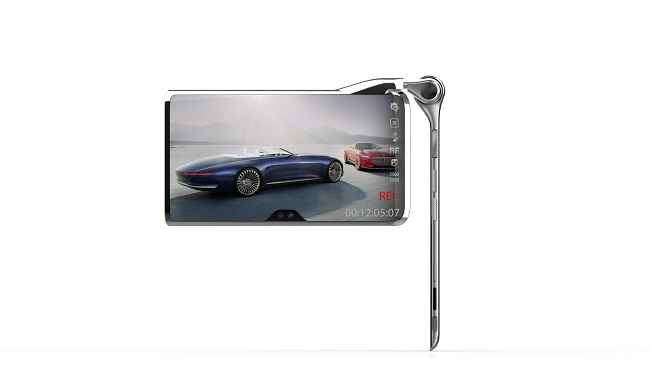 More Yoga than your laptop can manage
The main deck has a display that runs from one side of the phone to the other, covering the cylindrical bulge on its top. In total it measures 11.81 inches and is an AMOLED display of 4K resolution. The upper deck has a display on either side. One is 5.44 inches and the other is 5.41 inches. Both are Full HD AMOLED displays.
The main deck and upper deck have separate chipsets. Both get a Qualcomm Snapdragon 855 chipset each with an octa-core Kryo 385 CPU on each chipset. Naturally, there are two Adreno 630 GPUs as well. Each deck gets 8GB of RAM and 256GB of internal storage. Storage is expandable up to 512GB on each deck. Both decks get a hybrid dual SIM card slot, but only the main deck gets a 5G NR-capable modem. Both decks will run Turing's Keplerian OS based on Android P.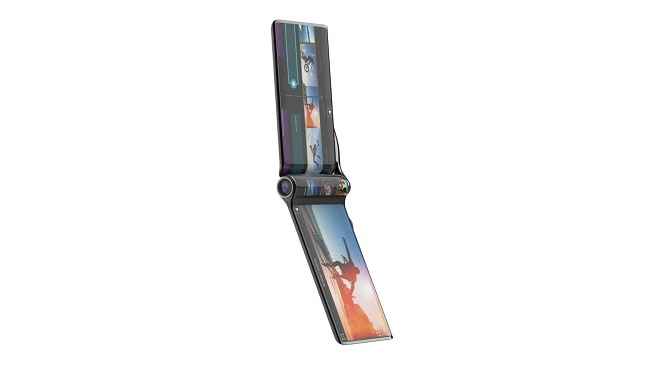 Clamshell phones are back!
The main deck's primary rear camera setup includes dual (12-megapixel + 12-megapixel) sensors with 2x optical zoom and an LED flash. The upper deck copies the exact same setup for its primary camera setup. The secondary camera setup on the upper deck includes a single 12-megapixel shooter with 2x optical zoom and an LED flash. The flagship main camera that sits inside the cylindrical top of the main deck is a whopping 60-megapixel sensor with 15x optical zoom and a circular LED flash. All in all, there are six cameras on the HubblePhone.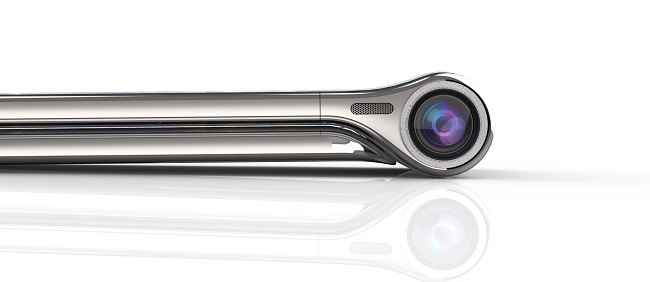 60-megapixel shooter with 15x optical zoom and a circular LED flash
Taking a look at the HubblePhone's long spec sheet shows us that it's got all sorts of PUs on it: multiple CPUs, GPUs, AI/AR PUs, and an EPU. While the sheer number of all these acronyms, along with Turing-advertised terms like "emotional machine-intelligence chip", may sound exciting at first, what real-world performance benefits they possess is a question that can only be answered when the device is in our hands.
This futuristic piece of technological amalgamation is expected to release in the US in June 2020, and in Europe, China, and the rest of the world eventually that same year. It's expected to cost a jaw-dropping $2,750 (Rs 1,89,000 approx) when it goes on sale. Whether this fantastic new device will see the light of day or go the same way as the Turing phones before it, only time will tell. One thing's for sure: we're absolutely kicked about it!