Qualcomm has already unveiled its flagship Snapdragon 845 SoC for 2018 but there were little details about other SoCs in the 2018 lineup. That changes today as specifications of Snapdragon 670, 640 and 460 have leaked online. While the names of these three chipsets have popped up in earlier reports, this new leak gives a more detailed breakdown of the three.
Going by the specifications given in the leak, all three chipsets seem to be using Qualcomm's own Kryo cores, which are derivative versions of ARM's Cortex cores. The Qualcomm Snapdragon 460 SoC, for example, which will be replacing the current gen Snapdragon 450 in the budget segment phones. It features Kryo 360 Silver CPUs which are a derivative of ARM's Cortex-A55 microarchitecture. The new SoC is suggested to be using an Octa-core setup with dual Quad-core clusters clocked at 1.8GHz and 1.4GHz. The chipset will be using an Adeeno 605 GPU along with a X12 LTE modem. The chipset will also support camera sensors upto 21MP.
The more powerful mid-range Qualcomm Snapdragon 670 and 640 use a combination of Kryo 360 Gold and 360 Silver cores but in different CPU configurations. The Snapdragon 670 is an Octa-core chip with dual Quad-core clusters whereas the Snapdragon 640 which is also an Octa-core SoC offers two Kryo 360 Gold CPUs clocked at 2.15GHz and six Kryo 360 Silver CPUs at 1.55GHz. On the other hand, the Snapdragon 670 uses 4 Kryo 360 Gold cpus are clocked at 2GHz and the Kryo 360 Silver CPUs are clocked at 1.6GHz. Both the 600 series Snapdragon SoCs use a dual 14-bit Spectra 260 ISP which can support one 26MP camera or two 13MP ones.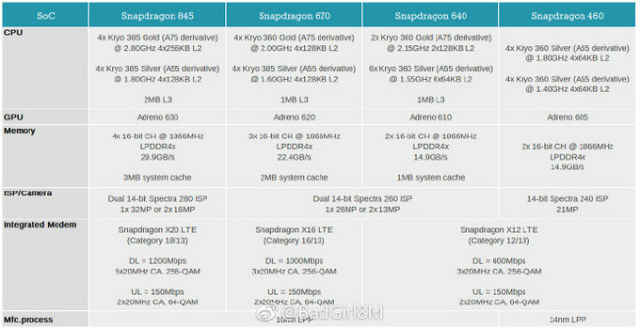 Qualcomm has further differentiated between the two SoCs, by using different modems on each. The Snapdragon uses the X16 LTE modem, which is the same modem currently used by the Snapdragon 835 SoC. The Snapdragon 640 on the other hand uses the same X12 LTE modem, also featured on the Snapdragon 460.
The Qualcomm Snapdragon 670 and 640 SoCs are manufactured using the new 10nm FinFET technology by Samsung, which puts them on the same 'nm' count as Snapdragon 845. Whereas the Snapdragon 460 will be manufactured using Samsung's FinFET 14nm technology.
All these new SoC are likely to makes their debut next year at MWC and we may see them in phone thereafter.