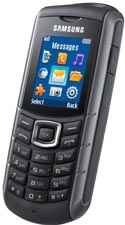 While most of the mobile manufacturers are busy providing new apps and operating platforms, Samsung is coming up with new technology that excels in power efficiency, in the form of the all new Xcover E2370 handset.
The Samsung Xcover is for those who don't require a cellphone for anything more than voice calls or text messaging, and would therefore like the longest possible battery backup time on their phones. Even if it sounds crazy, the Xcover backs up the user with an enormous 67 days of standby time, and the no less exciting 22-hour talk time. Apart from that, the Xcover E2370 has a sturdy body casing i.e. certified by IP54 for being dust and splash proof.
Xcover is going to be released across Europe next month for less than $100; we will just have to wait and see when Samsung will release this device in the Indian market.