Amid loud chatter at the Barclays Center in Brooklyn, New York, a video clip followed by an announcement silenced the people in attendance. Enters DJ Koh, Samsung's President and CEO of IT & Mobile Communications Division to finally pull the covers off of this year's second flagship smartphone, the Galaxy Note 9. He said that Samsung innovates keeping in mind the needs of the customers and its meaningful innovations make its customers' lives easy. The Galaxy Note 9 has been at the center of attention for months now and the phone has featured in scores of reports and leaks that have been making rounds on the internet. Just like previous years, the Galaxy Note 9 has first launched in the US, and is expected to be launched not much later in India. The event essentially attests to the specifications and features that have been leaked over last few months.
The Samsung Galaxy Note 9 will be available in four colours, Black, Copper and two new colours Ocean Blue and Lavender Purple. Carriers in the US, AT&T, Sprint, T-Mobile, U.S. Cellular, Verizon Wireless and Xfinity, will offer the 128GB Galaxy Note 9 for $999.99 and the 512GB Galaxy Note 9 at a price of $1,249.99 from August 24. The pre-orders will begin on August 10. The South Korean tech giant also launched the Galaxy Watch smartwatch, Galaxy Home smart speaker and a fast wireless charger that can charge two devices simultaneously.
Galaxy Note 9 Specifications and features
The Galaxy Note 9 has been announced to deliver two things: productivity and performance. Samsung introduced the phablet with some industry-first innovations such as the S-Pen with bluetooth capabilities. The phone has the largest battery ever in the Note series and the DeX software is now built into the phone so users will just need to plug-in a cable for a desktop-like experience.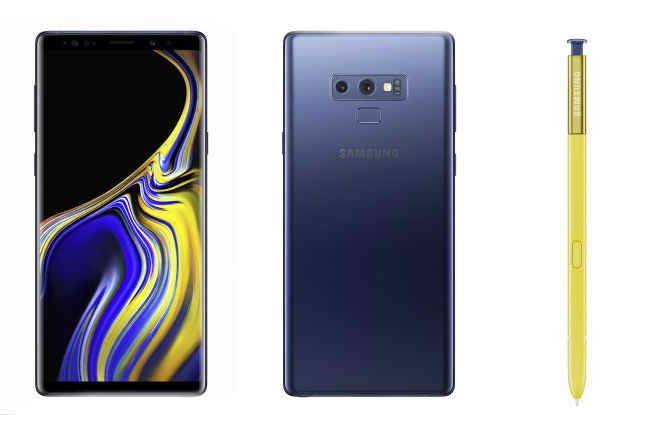 The Galaxy Note 9 sports a 6.4-inch Quad HD+ Super AMOLED display with a resolution of 2960x1440. The Galaxy Note 9's Infinity Display is complemented by stereo speakers, which are tuned by AKG and have the ability to support Dolby Atmos. It is powered by a Qualcomm Snapdragon 845 10nm 64-bit Octa-core processor and runs on Android Oreo 8.1. For countries outside the US, Samsung is expected to incorporate its Exynos 9810 chipset. The phablet includes Samsung's Water Carbon Cooling technology to keep the phones cool during intense gaming sessions. An on-device AI-based performance adjusts algorithm to deliver powerful and stable performance. The Galaxy Note 9 features a 4,000mAh battery which, the company claims, gives users all day power. The phone is available in two variants, 6GB RAM + 128GB storage and 8GB RAM + 512GB storage. Both the phablet variants support a 512GB MicroSD card support.
S-Pen with bluetooth: A signature feature of the Note series, the S Pen, now comes with bluetooth capabilities putting more control in the users' hands. With Bluetooth Low-Energy (BLE) support, users can click the button on the stylus and take selfies, group pictures, present slides, pause and play music, and more. Samsung said it is working with developers to find new ways to use the S-Pen more efficiently. Developers can even integrate the S Pen's new, advanced BLE functionalities into their apps later this year.
When it comes to optics, the Galaxy Note 9 comes with a dual-camera system with Dual OIS on the rear. Both the wide-angle and telephoto lens have a 12MP sensor. The wide-angle sensor has F1.5/F2.4 variable aperture and the telephoto lens has a F2.4 F-spot. The front camera has an 8MP sensor with F1.7 aperture. The phablet's camera uses intelligence to identify elements of a photo, such as scene and subject, to automatically classify it into one of 20 categories. It then optimises saturation, white balance, brightness, and contrast based on the category. The camera even does flaw detection. The phone lets the photographer know if there's something wrong, so that they can take another picture. The photographer gets an immediate notification if the image is blurry, if the subject blinked, if there is a smudge on the lens or if there is backlight impacting the quality of the image.
The Galaxy Note9 supports fast wireless charging and is IP68 rated. This means that the phone is water and dust resistant and can be submerged in 1.5 meter deep into the water for 30 minutes. The phablets ships with Samsung services such as Samsung Health and Samsung Pay. The Galaxy Note 9 also features Samsung's defense-grade Knox security platform. The biometric security options include - fingerprint scanning, iris scanning and facial recognition capabilities.
Samsung has partnered with Epic Games and Tim sweeney, CEO and Founder of Epic Games has announced that Fortnite game will be available on Android this week starting exclusively with the Galaxy Note 9 phones. The company is giving consumers pre-order a special offer. Those who pre-order Galaxy Note 9 between August 10 and August 23 can choose a pair of AKG noise-cancelling headphones ($299 retail value) or the Fortnite Galaxy skin with 15,000 V-bucks ($150 retail value), for free -- or get both for just $99 ($449 retail value).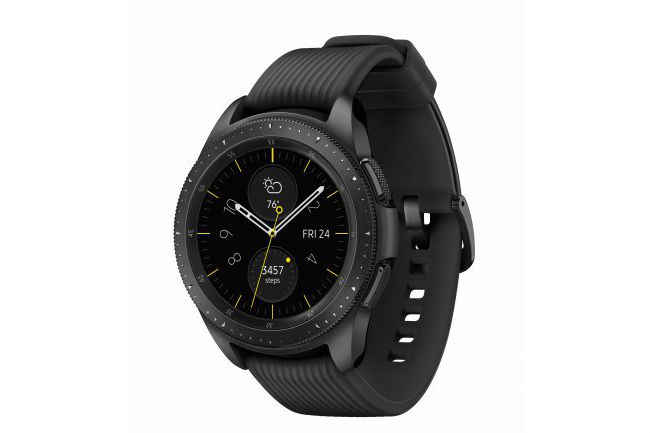 Samsung also introduced the Samsung Galaxy Watch with LTE connectivity, advanced wellness features and fitness tracking. It comes with with Samsung's signature rotating bezel in three colour finishes: Silver, Midnight Black and Rose Gold. The Galaxy Watch can tracks heart rate, and provides breathing exercises to help users stay focused. In addition, the Galaxy Watch's advanced sleep tracking monitors all levels of sleep, including REM cycles, to help users get the rest they need to take on their day. The Galaxy Watch's advanced fitness tracking automatically tracks six of the most popular exercises - walking, running, cycling, elliptical, training, rowing, and dynamic workouts - and features 21 new indoor exercises from a selection of 39 activities.
The Galaxy Watch is offered in 46mm version in Silver, as well as a 42mm option in Midnight Black and Rose Gold. The smartwatch has a certified military-level durability with Corning Gorilla Glass DX+ and 5 ATM water resistance, so users can use it while swimming or while having a shower. The Samsung Galaxy Watch Bluetooth 42mm version will be available for $329.99, and the 46mm version will be available for $349.99 in the US at Amazon, Best Buy and Samsung.com from August 24. Pre-orders begin on August 10 till August 23 on Samsung.com. Consumers who preorder or order Galaxy Watch before September 8 on Samsung.com will receive a free Samsung watch band.
The South Korean major also launched Galaxy Wireless Charger Duo that can charge two supported phones or a phone and smartwatch, simultaneously.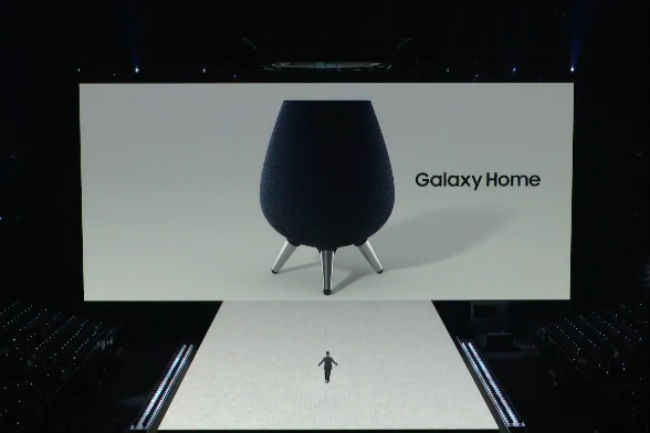 Better late than never, Samsung also introduced Bixby-powered smart speaker, the Galaxy Home. Samsung will pit the speaker against the Google Home, Amazon Echo, and Apple HomePod. The bowled shaped speaker stands on a tripod like legs and lights at the top. It is tuned by AKG and has eight microphones for Far-Field Voice Recognition.