Retailer leaks photos of Samsung's upcoming flagship phone on Twitter.
The Samsung Galaxy S IV may just be the worst kept secret in the world right now. After numerous leaks about its features and hardware specs, marketing images depicting what is supposedly the Galaxy S IV have been leaked on Twitter. The images were posted by retailer Expansys on Twitter and have since then been deleted.
The first of the two images show the Galaxy S IV and also gives some information about the phone's specs. The second image shows what the Galaxy S IV looks like when compared to the previous Galaxy S phones. The images show that the Galaxy S IV will have a large display with no hardware buttons on its face and that it will larger (at least vertically) than all previous Galaxy S phones.
If the first image is to be believed then the previously leaked specs of the Galaxy S IV were mostly true. The Galaxy S IV will probably have a Super AMOLED display with a resolution of 1920x1080 pixels. It will have a 13MP camera with an LED flash and will come with Android 4.2 (Jelly Bean). The phone will be powered by 2GB of RAM and will come in multiple variants offering storage of 16, 32 and 64GB.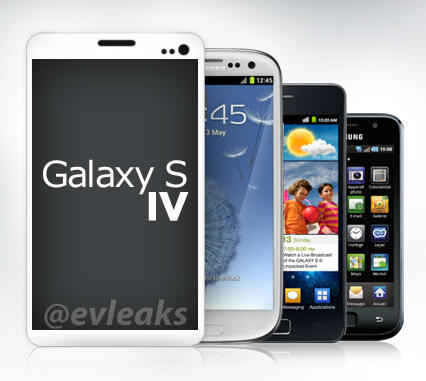 Apart from these images suggest, other rumours state that the Galaxy S IV will also have wireless charging, NFC and 'Eye Scroll,' a feature that scrolls pages according to the way the user is reading text on the phone.
The Samsung Galaxy S IV will be unveiled at an event in New York on March 14.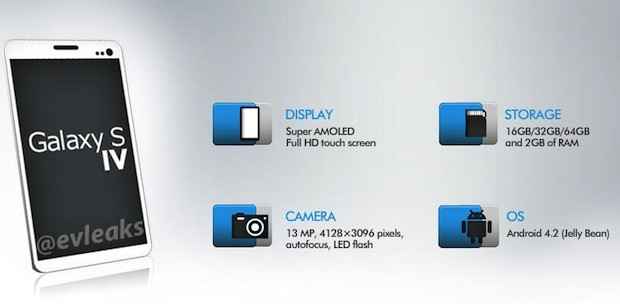 Source: Engadget