Highlights:
Poco F1 leapfrogs OnePlus to become top selling phone online in Rs 15,000 and above segment in Q42018.
It captured 22.4% share while OnePlus captured 17.9%.
Xiaomi's Poco F1 has become the top selling smartphone in online market space in the Rs 15,000 and above segment with 22.4 percent share in the fourth quarter of 2018. Citing International Data Corporation (IDC), Manu Jain, Managing Director at Xiaomi India, tweeted the development taking potshots at its Chinese rival OnePlus that captured the second spot with 17.9 percent share in the same quarter.
When Digit reached out to IDC, the market research firm confirmed the development. "The Poco F1 brought all the specifications that OnePlus has at a very affordable price. People were looking for a powerful device and they didn't want to spend much on it. Poco F1's specs are on par with the OnePlus' latest flagship, and when a customer goes online, price as well as the performance is considered by a customer. Being the first model of the series, I think this is an achievement for Poco," Navkendar Singh, Research Director, IDC India, told Digit.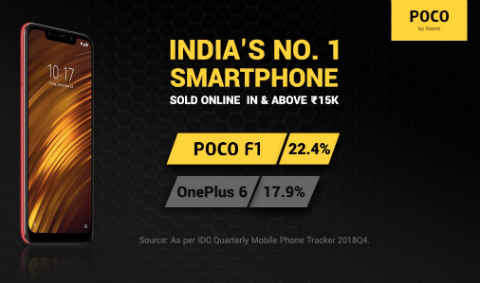 Meanwhile, Jain also offered people a chance to win a Poco F1 device. "Now it's settled! As per @IDC, #POCOF1 is India's #1 Smartphone in online smartphone market of ₹15k & above. The Champion of Speed doesn't settle for 2nd place. Nor should you! RT my tweet + Tweet with #POCOF1, tell me why you love this beast (tag me). 1 fan to win a POCO F1!", the executive said in his tweet.
This is not the first time that Xiaomi has targeted a rival smartphone brand. Last year, the company trolled OnePlus at OnePlus 6T launched event in Delhi with 'Do the math' campaign. It highlighted how the Poco F1 is a much better buy than the "overpriced" OnePlus 6T. Poco F1 was launched as the cheapest Snapdragon 845 smartphone in the world starting at Rs 20,999. Xiaomi announced the "OP bundle" where users were offered the Poco F1, along with seven other Xiaomi products, at the price of ne OnePlus 6T smartphone.
The Poco F1 is offered in three variants 6GB RAM + 64GB storage, 6GB RAM + 128GB storage and an 8GB RAM + 256GB storage version. Earlier this week, Xiaomi introduced a temporary price cut on the 6GB RAM + 128GB storage version and sold the phone at a price of Rs 20,999, which is down from its launch price of Rs 23,999. The company also added the Game Turbo option in MIUI for the POCO F1.
The new Game Turbo mode was announced earlier this month, and is similar to the Game Booster mode seen on several other devices. The feature aims at delivering a consistent frame rate while gaming. It works by clearing background applications and freeing memory for the app running in the foreground. It also comes with options to capture gameplay footage or screenshots and there are quick toggle switches to enable/disable Wi-Fi and more.
Related Read:
Xiaomi gets largest market share in India, exits 2018 with highest ever shipments: IDC