Vostro 3501
Popular tech to stay connected anywhere. Save more on exciting Dell PCs.
Click here to know more
Advertisements
Highlights:
Oppo's VP has confirmed some key specs of an upcoming Oppo smartphone.
The handset will be powered by Snapdragon 855 and come with the company's 10x lossless zoom tech.
It will be backed by a large 4065mAh battery.
Oppo announced and showcased its 10x Lossless Zoom technology at MWC 2019. It also showcased its first 5G prototype device that was powered by the Qualcomm Snapdragon 855. The smartphone manufacturer announced that it will launch a new device with the 10x zoom tech in Q2, 2019 and the company's VP, Shen Yiren has seemingly confirmed that its next handset would be a flagship device that will not only come equipped with the 10x zoom tech but would also be powered by the Snapdragon 855 SoC. This comes via the company executive's Weibo post, which was first spotted by DroidShout.
While Yiren has confirmed that the upcoming phone would run on the Snapdragon 855, there is no information on whether or not it will support 5G. If the company decides to pair up the processor with Qualcomm's X50 modem, then it will be able to connect to 5G networks. However, we will get to know this for sure when the phone is once announced. Alongside the aforementioned specs, the company executive also revealed that the upcoming Oppo phone would be backed by a 4065mAh battery. This phone is rumoured to be called the Oppo Find Z and could be the device that Oppo has promised to launch in Q2, 2019.
Speaking of the 10x Lossless Zoom technology demoed by Oppo at MWC 2019, the company detailed how it works at the event. It uses a three sensor system module with a 48MP main camera, a 120-degree ultra wide angle lens and a telephoto lens. These three work together to capture images at varying focal lengths. The three lenses enable coverage of an overall focal range between 16mm (via the ultra wide angle lens) to 160mm (with the telephoto lens). However, incorporating the lenses would have caused increased device thickness, which the company circumvented by employing a periscopic module that is placed horizontally.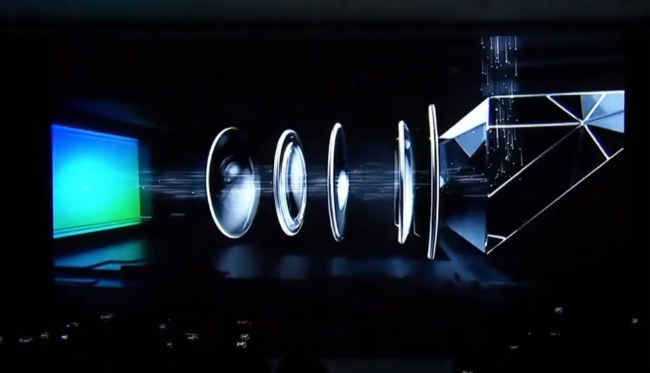 There are also a couple of D-cut lenses used for slimming down the camera bump. The tech gets two Auto Focus motors, one is for the main camera, while the other one is used on the wide angle lens.
Related Reads:
MWC 2019: Oppo smartphone with 10x Lossless Zoom technology, 48MP main triple cameras to launch in Q2 2019