Vostro 3501
Popular tech to stay connected anywhere. Save more on exciting Dell PCs.
Click here to know more
Advertisements
LG Application Store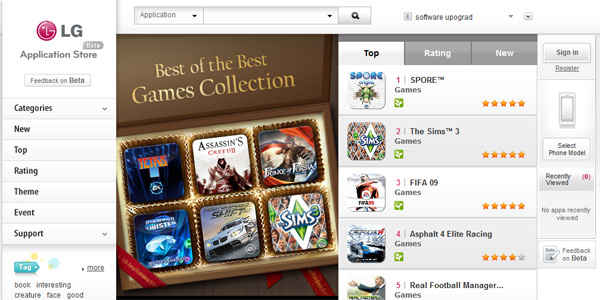 LG has gone ahead and officially opened up an online application store for its phones, supporting both its own proprietary A Class and S Class User Interfaces for feature-rich phones, and Windows OS smartphones, though it will extend this to encompass Android smartphones soon as well. Currently the types of applications being offered include VoIP, navigation, networking, gaming, and instant messaging, and it plans to offer nearly 4,000 applications by the end of the year. While the online app store is currently in beta, it already has some great games, such as Spore, Worms 2010, Assassin's Creed, and The Sims 3.

Registered users are also given the incentive of adding gaining points by adding reviews of the applications they've used. These points will allow them to download more applications. The application store, literally called the LG Application Store, is currently available in 22 countries including India, and will soon extend support to the UK, Italy, Spain, France, and Germany. Check it out here.
Toshiba Book Place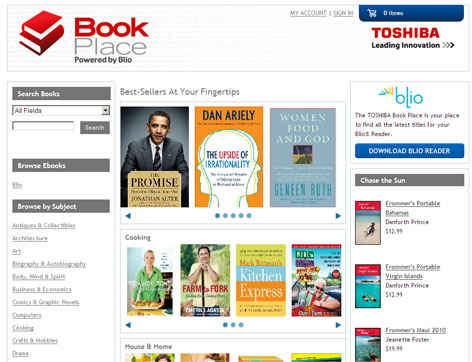 Toshiba Book Place uses the acclaimed Blio e-reader software, and will launch in the coming weeks, offering users thousands of full colour e-books. The main advantages of the Blio e-reader software is that it will allow users to interact with the content, and provide multimedia content as well, with the choice of book view or text-only views.

While Toshiba has been hinting at launching an online e-book store for a while now, and also has several e-reader devices on the market, it's only after the launch of the W100 Libretto, a snazzy dual touch screen notebook, that it has quickened its site. Check it out here.