For the first time ever, OnePlus has leapfrogged Samsung and Apple to gain the top spot in the Indian premium smartphone segment in the second quarter of 2018, market research firm Counterpoint Research has said. The Chinese smartphone brand captured 40 percent of the market driven by record shipments of its OnePlus 6 as compared to its previous flagships. OnePlus was also the fastest growing brand in the premium segment registering a 446 percent growth, while shipments for Apple and Samsung declined year-on-year (YoY).
Samsung captured 34 percent share in the premium segment and its shipments declined a massive 25 percent YoY due to a downward spiral in shipments of Galaxy S9 as compared to Galaxy S8. Apple's share in the premium segment reached its lowest ever at 14 percent due to decline in shipments for its iPhone 8 and iPhone X devices.
Counterpoint predicts that since OnePlus has now launched its offline and exclusive stores across key cities in the country, the brand will be able to reach out to a larger user base. As far as Samsung is concerned, the promotions related to S9 series helped to push sales in both offline as well as online channels towards the end of the quarter. For Apple, the research firm said that the increase in the import duty and absence of local manufacturing impacted the Tim Cook-led company's pricing strategy in India.
In terms of best selling models, OnePlus 6 was the best-selling model in premium segment in India followed by the Samsung Galaxy S9 Plus and OnePlus 5T. The S9 series sales remain skewed in favour of S9 plus as users didn't mind spending extra for the larger screen.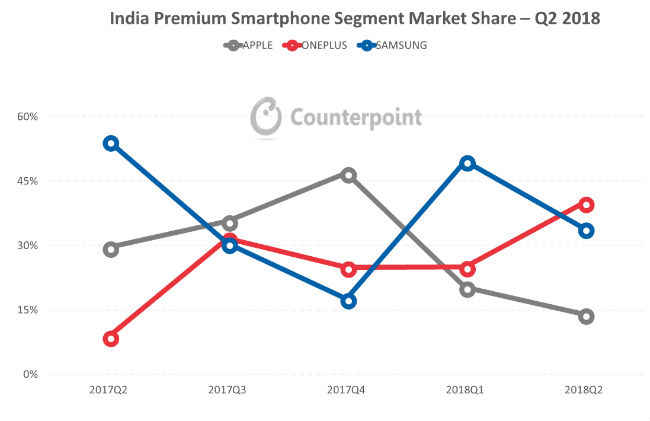 Overall Indian premium smartphone market segment
According to Counterpoint Research, the premium smartphone segment grew 19 percent annually and 10 percent sequentially during the second quarter as more consumers upgraded to the flagship launches. The uptick in consumer demand in the premium segment was driven by increasing offers around new launches as compared to a year ago. These offers comprised of cashbacks, EMI, data bundling and trade-ins. Moreover, although the Indian premium smartphone market grew, the demand was skewed towards sub-Rs 40,000 devices due to aggressive offering such as OnePlus and that through online segment.
The top three brands Samsung, OnePlus and Apple contributed to 88 percent of the overall premium market as compared to 95 percent a quarter ago. The reason for this is the entry of new players in the segment led by Huawei (P20), Vivo (X21), Nokia HMD (Nokia 8 Sirocco) and LG (V30 Plus). "This is a new trend where 'affordable ultra-premium' is wooing aspiring rich and young consumers away from more expensive offerings from likes of Samsung and Apple. With likes of OPPO, Huawei, vivo and Google looking to be aggressive in Rs 40,000-Rs 60,000 segment in coming quarters, pressure on likes of Apple and Samsung will be even higher," Tarun Pathak, Associate Director at Counterpoint Research, said.
Global smartphone market
When we see the bigger picture, global smartphone shipments declined two percent annually in the second quarter of 2018. The top 10 players now capture 79 percent of the market leaving over 600 brands to compete for the remaining 21 percent of the market. According to Counterpoint's Market Monitor service, the weak smartphone demand is due to a slow-down in developed markets like China, US and Western Europe where smartphone replacement cycles are lengthening. Huawei became the top brand in a declining China market and captured the second spot in the global smartphone shipment rankings for the first time in a single quarter.

"Huawei had a good second quarter in 2018 as it shipped more smartphones than Apple to capture the second spot in the global smartphone rankings, after seven years of Apple-Samsung dominance. Huawei achieved this by launching smartphones in the premium segment and capturing the mid-tier segment with its fast-growing Honor sub-brand. Huawei with its Honor brand is offering a broad and refreshed portfolio at affordable price which is driving growth in the overseas market. Honor, which is already strong in the e-commerce segment, is now adopting a multi-channel strategy through branded stores in the South East Asia market. We expect store counts to increase in the future," Pathak said.
Nokia HMD, OnePlus, Tecno, Xiaomi, Infinix and Huawei were the key fast-growing brands for the quarter. Lenovo, Gionee, Micromax and Sony registered the highest shipment volume declines in the quarter. Tecno entered the top 10 smartphone market for the first time. Together the three smartphone brands of Transsion holdings (Tecno, iTel and Infinix) accounted for over 9.4 million smartphones shipped during the quarter.
"Major Chinese brands like OPPO, vivo, Huawei are now focusing on increasing their ASPs through gradually upgrading their portfolio to higher price bands by bringing in features like Artificial Intelligence, bezel-less displays, dual cameras and with innovative industrial design and colors, materials and finishes in the affordable premium segment. Brands in the mid-tier segment now launch multiple variants of the same smartphone with different storage capacities, tempting customers to spend more on a higher spec'd device. This also helps drive sales by increasing the portfolio breadth as well increased margins by selling devices with a higher price point," added Research Analyst Shobhit Srivastava.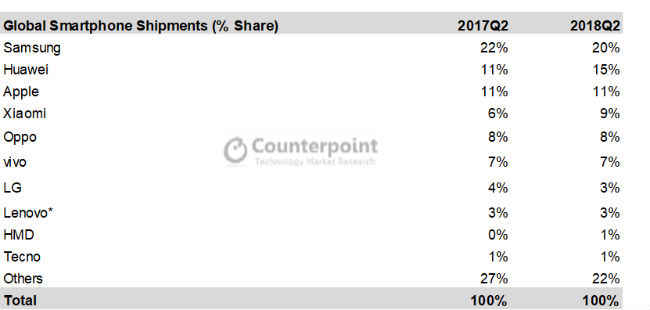 Samsung led the smartphone market globally by volume with a market share of 20 percent. Huawei surpassed Apple to become the second largest brand globally with a 41 percent annual growth in shipments. The company managed to be the fastest growing (21 percent) smartphone brand in China and grew 71 percent overseas. The Chinese brand registered a 75 percent growth in Europe , 67 percent in Middle East and Africa and in India it clocked a whopping 188 percent growth. The third spot went to Apple which shipped 41.3 million iPhones, up just one percent compared to the same quarter last year. iPhone X remains the top seller for Apple during the quarter. Xiaomi shipped 33 million smartphones, capturing only nine percent of the global market share.