Update: OnePlus has confirmed to GSMArena that the invite that spread the word about the OnePlus 5 launching on November 5 is "not a genuine invite."
OnePlus 5T, the updated variant of the OnePlus 5 will launch on November 5. The company has started sending out a media invitation for an event in China where it is expected to introduce the OnePlus 5 successor. The invite shows the outline of a smartphone with 'T' mark, further confirming it would be the OnePlus 5T.
The OnePlus 5T has been part of major leaks in the last two weeks and it is expected to be the first device from the Chinese vendor to feature a new bezel-less design. The smartphone had leaked in the form of renders last week, revealing that it will look similar to the Galaxy S8 in terms of design. The handset is expected to sport a 6-inch display with a Full HD+ resolution of 2160 x 1080 pixels. The resolution translates to an 18:9 aspect ratio, the new norm among smartphones launching this year.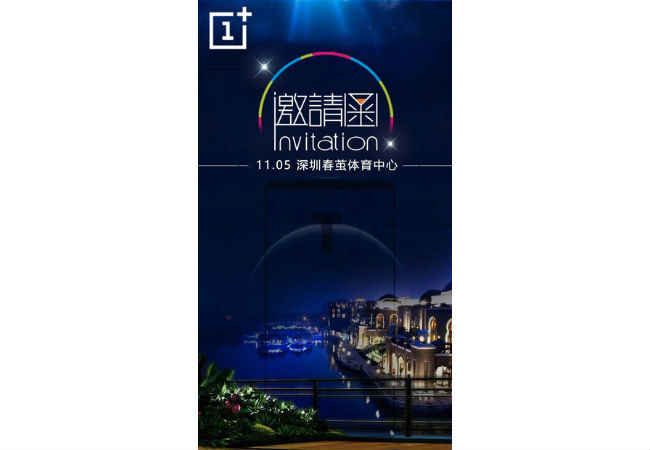 Source: GSMArena
The only major change between OnePlus 5 and OnePlus 5T is expected to come in the form of redesign with specifications remaining almost the same. With Qualcomm not planning to update its Snapdragon 835 chipset this year, the new OnePlus 5T is expected to use the same chipset also found on the existing OnePlus 5. It is likely to launch with an option for either 6GB or 8GB RAM and either 64GB or 128GB internal storage.
However, OnePlus 5T might see upgrades in the camera department and offer enhanced battery life. There is no clarity on the complete hardware specifications of the smartphone just yet, but now that the launch date has been revealed, the smartphone is likely to show up on different benchmarking platforms.
Previous reports suggested that OnePlus cancelled its plans to launch the OnePlus 5T and pushed up the OnePlus 6 launch in order to stay competitive with other premium smartphones. OnePlus 5 has gone out of stock in most markets globally further indicating that the smartphone might be discontinued soon after the launch of the OnePlus 5T. OnePlus continues to maintain the lead in the premium smartphone segment with its latest flagship smartphone. OnePlus 5 offers commendable hardware for its price, but its design feels dated in front of competition like Xiaomi Mi Mix 2 and other premium devices from Samsung and LG.