OnePlus took to Twitter to tease some colour variants of its upcoming flagship device, the OnePlus 5. The tweet shared by the company shows four colour shades. The first one is clearly black, the fourth one is gold and the third one is probably red or maroon. In the second placeholder, however, there is no particular colour, but a colour gradient instead. When someone commented at the colour looks like Slushii (an Amerian DJ), OnePlus replied back saying ,"Hahahaha didn't notice this! Actually it's unicorn (winking emoji) Perhaps Slushii is also inspired by this mythical creature". The image was accompanied by text saying "What 5hould the color of your next phone be?"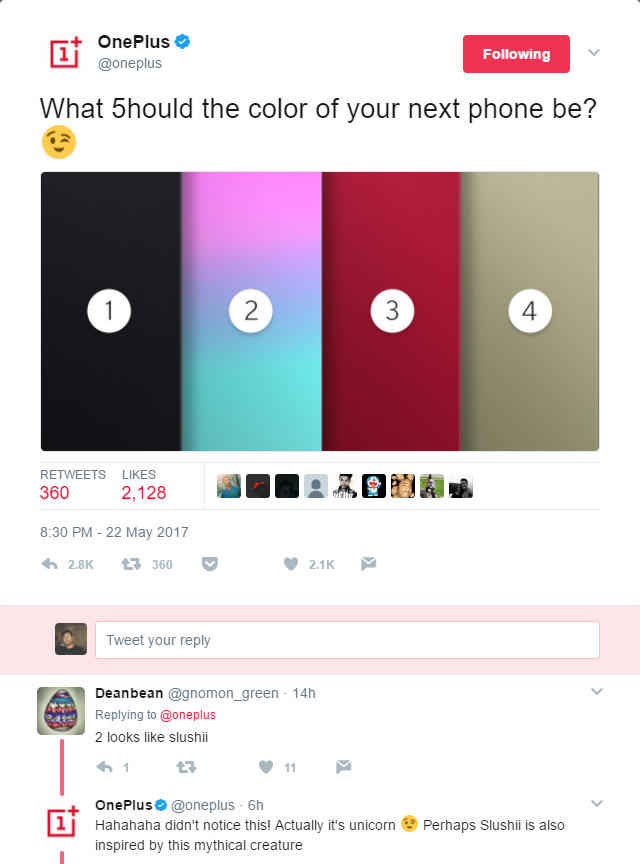 Till now, the company has confirmed that the next phone will be called OnePlus 5 and is partnering with DxO to improve the camera prowess of the device. Images of the device have been leaked multiple times and suggest that the device may come with a dual-rear camera setup. Rumours suggest that OnePlus will be using a dual 12MP camera setup with f/1.7 aperture and dual-pixel autofocus technology.
As for the SoC, it is more than likely that we might see a Snapdragon 835 at the helm. The device is rumoured to offered in two variants, one with 6GB RAM and 64GB storage, and a higher variant with 8GB RAM and 128GB storage. It was previously reported that OnePlus 5 may ditch the headphone jack, but that seems unlikely. The display on the device is likely to remain the same, offering a 5.5-inch 1080p AMOLED panel.