Want to modernise your banking loan application?
Build an application that analyses credit risk with #IBMCloud Pak for Data on #RedHat #OpenShift
Click here to know more
Advertisements
The rumored Nokia Android smartphone, dubbed Normandy was on Twitter again. @evleaks this time has posted an image which shows couple of screenshots which might be the potential user interface of the phone.
The screenshot revealed shows what appears to be homescreen and notification area of Normandy. The left of the screenshot shows the homescreen, similar to Windows Phone 8 live tiles. At first it looks very similar to the Windows Phone OS, however a closer look reveals a BBM app icon that clearly suggests it is an Android OS.
However, sources believe that the most interesting aspect of the leaked screenshot is the date set which looks like 25th of March. Some sources also claim that the date points to February 25th, which would mean it could be in time for MWC. However, previous Normandy leaks points to March rather than February.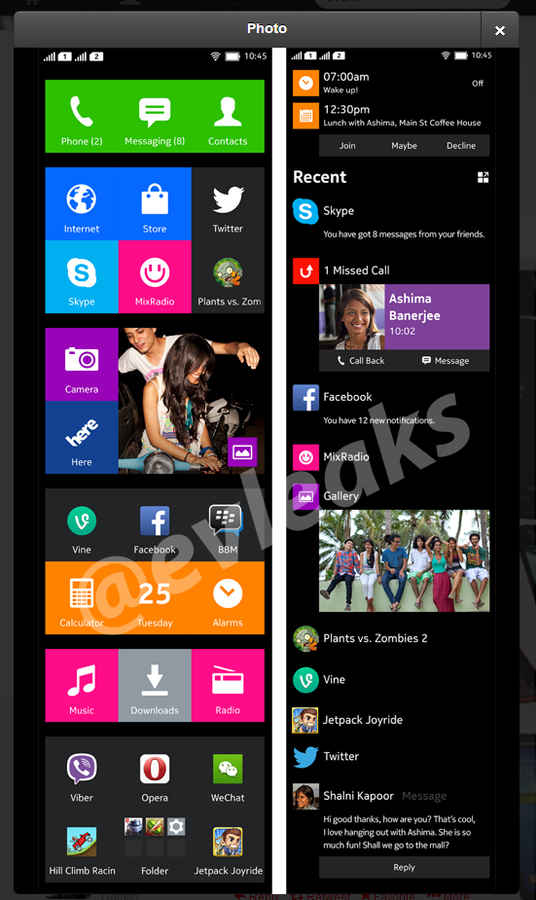 It's second time leaks have hinted at the Windows Phone Live tiles, though this might actually mean nothing. The new leaked screenshot also reveals that the rumoured Nokia Normandy is going to be available in a dual-SIM version.
According to GigaOM's Kevin Tofel, it doesn't make sense for Nokia to build Android powered phone, or does it? The company's Asha line still runs on S40. Perhaps an overhaul of the engine powering Asha is in order and Android could easily fit the bill.
Source: @evleaks