OnePlus TV 32Y1 - Smarter TV
Android TV with superior craftsmanship and elegant design - Buy Now
Click here to know more
Advertisements
The Moto G6 is about to launch, but the company is releasing a completely redesigned version of its camera app prior to the launch. Motorola has changed the app inside-out, starting with the app icon itself. The new app icon is less aggressive and looks a bit flatter. The new icon is likely to be a part of the new icon theme Moto may launch with the upcoming phones. Inside, the app is now divided into three sections, which can be toggled between by swiping. The default mode is the photo mode which has four options at the top. There is the HDR toggle, flash toggle, timer and the toggle to switch between auto and manual camera mode.
Jumping into the manual camera mode, users will have the option to toggle metering, white balance, shutter speed, ISO and exposure setting. Swiping to the left, the camera will take you to the video mode and swiping to the right will take you to other camera options like panorama and slow motion. Motorola has also changed the settings menu within the camera app, which is not opaque anymore. We are expecting Motorola to launch the app shortly to its older / current devices.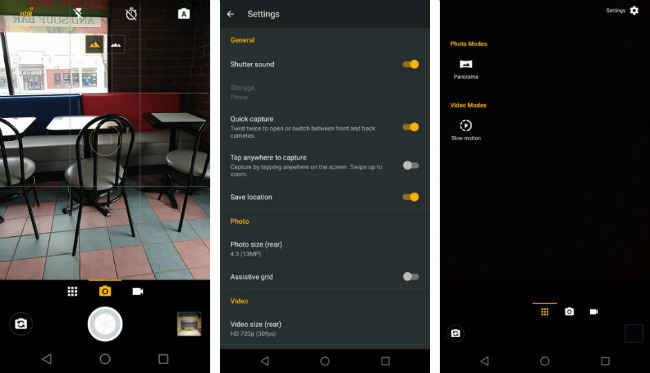 As for the Moto G6 family, it is reported that the company might launch the phone on April 19. According to previous leaks and rumours, the Moto G6 family will consist of three new phones - Moto G6 Play, Moto G6 Plus and the standard Moto G6. The Moto G6 is rumoured to sport a 5.7-inch HD+ display of 18:9 aspect ratio and will be powered by the Snapdragon 427 coupled with 3/4GB of RAM or 32/64GB of storage. The Moto G6 and the G6 Plus, on the other hand, will reportedly be powered by Qualcomm Snapdragon 450 SoC and Snapdragon 630 SoC respectively. Both phones are likely to carry a 12MP + 5MP camera setup at the back and a 16MP camera at the front.
Source: 9to5Google