The year has just begun and leaks of upcoming hardware have started pouring in. MediaTek, which is one of the major chip makers besides Qualcomm is expected to introduce two new P-series SoCs this year, according to a report published by GizChina. The two new SoCs from MediaTek, namely the Helio P70 and P40 are both expected to make their way into Xiaomi's full-screen Redmi devices. The leak also suggests that smartphone makers such as Oppo, Vivo, and Gionee will also include the two SoCs respectively on their select devices. There is no news about an X-series SoC from MediaTek this year though as in 2017 only two phones (Meizu Pro 7, Meitu V6) employed the Helio X30 SoC. The leak suggests that MediaTek is hence putting its focus on the more mass market P-series SoC line.
Both the new MediaTek Helios P40 and P70 SoCs feature octa-core configurations comprising of two quad-core clusters of ARM A53 and A73 cores. However, things change from here. On the Helio P40, Both the A73 cores and A53 cores are clocked at 2.0GHz. On the Helio P70, the A73 cores are clocked at 2.5GHz and the A53 cores remain at 2.0GHz. Both SoCs also utilize the same Mali-G72 MP3 GPU, but they are clocked a little differently. The one on the Helio P40 is at 700MHz and the one used on the Helio P70 goes up to 800MHz. However, what seems like a more important improvement over the last generation is that both SoCs extend support for AI and Tensorflow technologies. Both SoCs also support cameras up to 32MP.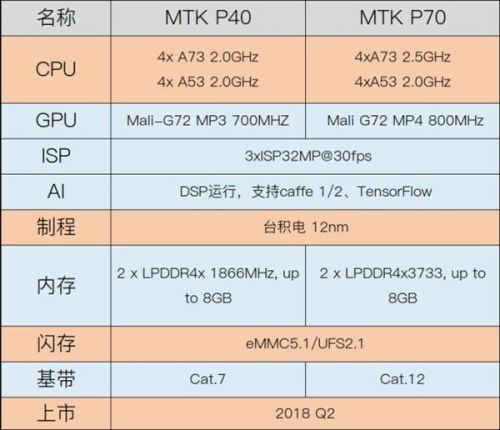 Both SoCs will reportedly support up to 8GB of RAM, but the Helio P40 can support up to 2 x LPDDR4X RAM at 1866MHz and the P70 can support the same class of RAM with clock speeds going up to 3733MHz. A difference in the class of modems packed in the two SoCs is also reported as the Helio P40 uses a Cat.7 type modem and the P70 offers a Cat.12 type modem.
These are built by TSMC using its 12nm process and likely to make their way into the market in Q2 2018.