The liquid cooling technology is expected to manage the heating issues of the Snapdragon 810 more efficiently, thereby boosting performance
Microsoft announced its flagship smartphones, the Lumia 950 and 950XL, yesterday. Among other aspects, both the new Lumias feature liquid cooling. While that may sound like an overkill, it is actually a decent way to tackle the Snapdragon 810's thermal throttling woes. However, the details are a bit sketchy about how Microsoft may have implemented the technology on a smartphone.
Microsoft had previously used phase-changing liquid cooling technology in the Surface tablets. With its new flagships, Microsoft may have decided to bring that same technology to a more compact form factor in the Lumia smartphones. The Surface Pro 3 used a horseshoe-shaped water-filled copper pipe that covers the CPU. The emanating heat turns the water into vapour, which then travels to the fan and condenses back to a liquid state. It is then circulated back to the processor. Currently, smartphones use passive cooling solutions like graphite foil sheets on the CPU, to dissipate the heat from the cellphone casing. In larger liquid cooling systems that are used for PCs, there is a pump that circulates the water through the water block. However, it is technically impossible to fit a fan on a smartphone. So, it has to resort to some other method of condensing the liquid. There might be a thermal diffusion plate, located away from the processor to dissipate the heat. In the absence of any further details, we are not really sure.
.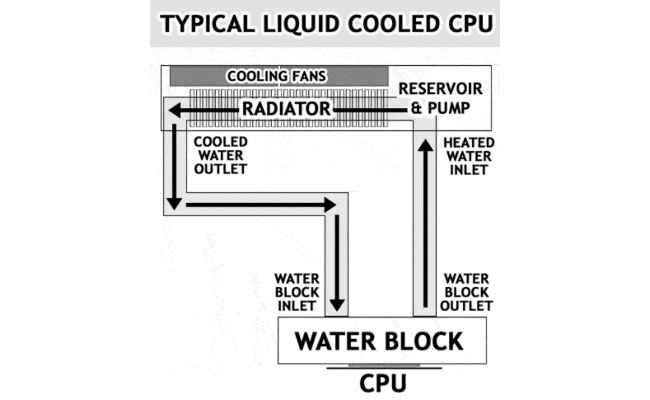 Liquid cooling is often used by enthusiasts for overclocking their PCs to achieve better performance without frying the processor. A liquid cooling system consists of copper heat pipes connected to the processing unit, which circulate water. It also has a heat exchanger unit that condenses the vapour. The heat emanated from the processor vaporizes the liquid inside. The vapour then moves to the heat exchanger, where it condenses back to liquid water. A simpler liquid cooling technique is employed in laptops. It contains copper heat pipes, attached to the CPU and the GPU, which is connected to the radiator fan that dissipates the heat.
The heating issues of the Snapdragon 810 may have forced Microsoft to employ liquid cooling in the Lumia 950XL. You might ask, is liquid cooling actually required in modern smartphones? The answer to that depends on a number of factors. Given the pace of advancement in mobile processing power, more powerful processors may pose thermal throttling issues. In this case, liquid cooling makes perfect sense. There are also overheating issues in entry-level SoCs, but it might not be economically feasible to incorporate liquid cooling in budget smartphones. If the new Lumia flagships turn out to be successful, expect more manufacturers to jump on to the liquid cooling bandwagon. If not for anything else, just for the novelty of it, until it wears off eventually.