LG has filed a patent for a smartphone that will have a triple camera setup on the front, as well as on the back. Arguably, this will make LG the first company to launch a phone with three selfie cameras. According to the patent filed with the Hague International Design System, the phone will ship sans the headphone jack - a trend that Apple started with the iPhone 7 and other OEMs later followed.
The LG patent, however, does not mention the respective functions of the triple front camera system. It is speculated that the phone will have a regular camera, a wide-angle lens and a ToF sensor. LG included a ToF sensor in the LG G8 ThinQ that was launched at MWC earlier this year. The sensor is housed in the notch and can accurately measure an object's distance by measuring the time taken by a ray of infrared light to reflect back to the sensor.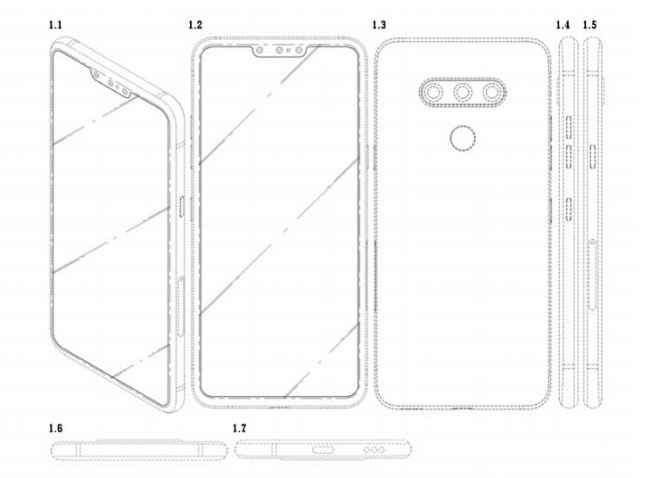 The main use of the sensor in the phone was to unlock the phone using just one's hand with a feature called Hand ID. LG calls the ToF sensor the Z camera, and it is also used to offer Air Motion. Air Motion is basically using contactless gestures to perform different tasks. A user can hover the hand over the camera to issue commands like answering calls, adjusting volume, snapping screenshots and switching between apps.
Now coming back to the patent, the overall design is like the V-Series of LG phones. The diagrams in the patent show a triple camera setup at the back, with cameras aligned horizontally in a similar fashion as in the V50 ThinQ. There is a fingerprint sensor on the back as well, which suggests the phone won't be using the in-display fingerprint sensor tech on this device. The volume keys and the Google Assistant button are on the left edge, and the right side has the power key. The bottom edge schematics show a speaker grille and a charging port that looks like a USB Type-C.