Working from home?
Don't forget about the most important equipment in your arsenal
Click here to know more
Evleaks (2evleaks) has brought us yet another leaked image of the next rumoured Nexus phone, the LG Nexus 4.
This time, it's a shot of the front of the LG Nexus 4, which essentially just looks like a black frame. Look close enough, and you know it's not a shoddy job in MS Paint, as you can see what looks like the reflection of the person shooting.
Looking at the image, it's really hard to discern any detail as the shot looks slightly underexposed. All you see is a black slab, free of any markings of buttons, but there does seem to be a front facing camera on the top-right edge of the camera. In terms of specs, new information is revealed in terms of the size and weight of the upcoming phone. LG Nexus 4 (as it is purportedly named) measures 9.1mm thick and weighs only 139 grams, all while housing a 2100mAh battery.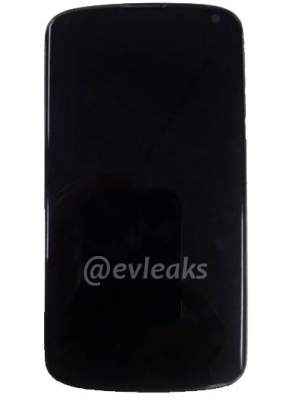 We already know that the LG Nexus 4 (well, provided that the previously leaked information is true) will run a quad-core processor along with 2GB of RAM to power its 1280x768 resolution screen spanning 4.7 inches of real estate. There's an 8 megapixel camera on the back and a 1.3 megapixel camera on the front of video chat, or self-portraits, if that floats your boat.
Google has an event scheduled for October 29, where we're hoping the new Nexus phone is finally revealed along with the rumoured 10-inch premium tablet, a 32GB Nexus 7 with 3G and a few other devices.
Also read,