Looking for a phone in the price range of Rs 5,000? LG Mobile has come out with three new offerings to tempt you.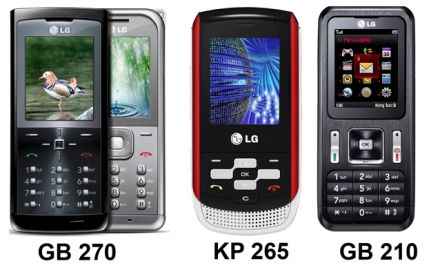 First up is the GB210, a simple candybar handset that features a 1.77-inch LCD screen (65K colours, 120x160 pixels) with 4MB of internal memory that can be expanded up to 4GB via microSD. The gadget also packs a 1.3-megapixel camera, FM radio, Bluetooth and a 950mAh battery that will give you up to 5 hours of talk-time.
The GB210 retails at Rs 4,399 in all of India except for Maharashtra, where the added VAT pushes the price up to Rs 4,625.
The most stylish of the three handsets announced is the KP265 – a slider phone with a red, silver and black colour scheme. This big brother of the GB210 also has a similar 1.77-inch screen, but this time, it can render 256K colours at the same resolution. The device is a little series about its music, coming with a built-in equaliser and a 3.5-mm audio jack to listen to FM radio or the tunes you store on a microSD card of up to 4GB. The rest of the specs are quite similar, although the battery is just 900mAh, which means only 3 hours of talk-time here.
Packaged with a 1GB memory card, the KP265 is available for Rs 5,225 in Maharashtra, and Rs 4,999 in the rest of India.
The third phone in the line-up is the GB270, which has a bit of a Jekyll and Hyde thing going on. It comes with two themes – 'Business' and 'Casual' – along with interchangeable covers, which LG claims gives the illusion of carrying two phones at once. The screen has been bumped up to a 2 inches and the battery stands at a solid 1000mAh, so a similar talk-time of around 5 hours would be expected. The camera, though, is just standard VGA (640x480 pixels) and the handset can support only up to 2GB of memory.
Still, for a price tag of Rs 4,599 (Rs 4,850 in Maharashtra), what more can you expect?