OnePlus TV 32Y1 - Smarter TV
Android TV with superior craftsmanship and elegant design - Buy Now
Click here to know more
Advertisements
Samsung's recently filed a patent with the World Intellectual Property Organization. Lets Go Digital has revealed that the patent is for a true bezel-less design of a smartphone. The fingerprint sensor on these future Samsung Galaxy devices will be embedded below the display, something that we have already seen in action on a Vivo smartphone. The fingerprint sensor on the upcoming Samsung smartphones is expected to be pressure sensitive.
The leaked images show that the Samsung smartphone have a truly bezel-less design. Samsung had applied for the patent on August 1 2017. The patent was granted to them on February 8 2018.

Samsung's current flagships available in the market – the Galaxy S8, S8+ and the Note 8 boast of an 18:9 aspect ratio on the display called infinity displays. It is expected that Samsung will retain most of the design found on the S8 and Note 8 family of devices for the S9 and Note 9. The new patent will possibly be for the Galaxy X series expected to launch in 2019. The leaked Samsung patent also reveals some functions of the "Recents" and "Back" buttons. Both the buttons can serve multiple functions, similar to what we have seen on OnePlus devices. can have multiple functions, while the home button can serve as a fingerprint scanner.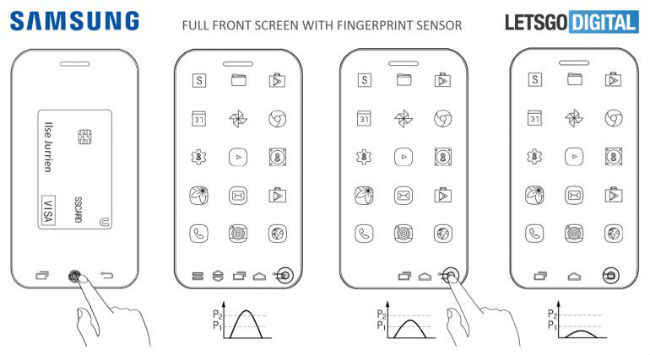 According to the leak, "when the home button is pressed a little deeper, the microphone will be activated. If the user presses even harder, a list of apps will appear." It seems that the technology will work with LCD, LED and OLED along with Samsung's AMOLED displays. The Galaxy S9 family of devices are expected to sport a 2K SAMOLED display.
The problem with Samsung's current flagship line-up is the awkward positioning of the fingerprint sensor on the device. It is rumoured that Samsung will fix this on the S9 family of devices.
We have seen a lot of devices aim to be bezel-less but there are some bezels that are present on the device. How this true bezel-less display works is something we would comment on when we see it in action.