Reliance Jio has finally started taking pre-bookings for its 4G feature, the JioPhone, on its website and MyJio app. However, their servers seem to have gone down within minutes after the pre-booking page went live. Even the app is not responding when we tried to pre-book the JioPhone.
The situation seems similar to the debut of Jio's 4G services in September last year, when there were long queues and a big waiting period to get the company's 4G SIM card. Reliance Jio has not shared any statement on whether there is a bottleneck issue with its servers due to the huge demand for their 4G feature phone. We have reached out to Jio for an official confirmation.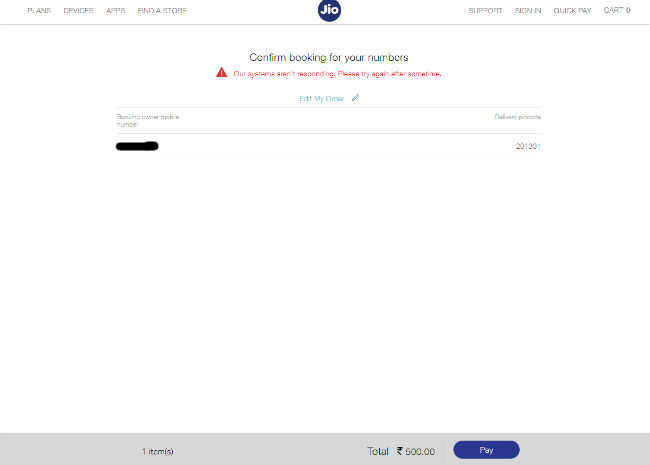 To recall, the JioPhone is a big bet from Reliance Jio to attract more subscribers to its 4G only network. At the launch last month, Reliance Industries Chairman Mukesh Ambani dubbed the handset as "India Ka Smart Phone" and detailed the company's ambition to convert 500 million feature phone users into 4G feature phone users.
The JioPhone is available for pre-booking by paying Rs 500 today and another Rs 1,000 when the handset becomes available in September. The company is taking a one-time refundable deposit of Rs 1,500 which will be refunded after three years when the user returns the device. JioPhone users get unlimited data, voice and 300 free SMSes as benefits with a monthly recharge of Rs 153 and the phone also allows for streaming from the device on a big screen by using an optional cable.
Reliance Jio has over 123 million subscribers, but its subscriber addition has slowed in the past few months. The company hopes to re-invoke growth in its subscriber base with the launch of JioPhone, but for now, its tough to pre-book the device.