Make 2021 your best year with IBM Developer
Make 2021 the year where you truly shine, grow, build & Code. Get support and motivation from the IBM Developer community. #IBMDeveloper #CodePatterns
Click here to know more
Advertisements
The Indian mobile phone market has seen a decline in sales for the first time in 20 years due to increased competition, unexciting phones, increased taxes and online 'flash sales'.
According to a report by CyberMedia Research, mobile sales dropped 14.5 per cent in the first quarter (Q1, January-March) 2015, compared to Q4 (October-December) 2014. 62 million handsets were shipped in Q4 2014 compared with 53 million handsets in Q1 2015. Decline in smartphone sales quarter-to-quarter was 7.14 per cent, with cheaper "feature" phones seeing a decline of 18.3 per cent in the same period. Experts state that the reason for the downturn in mobile-phone sales could be attributed in unexciting phones, increased competition and even extended Chinese new-year festivities. "With major announcements of new handsets and entry of some new brands happening in a big way in Q4 2014, there wasn't really something very exciting in the market for customers that could push up sales in Q1 2015," said Faisal Kawoosa, lead analyst, Telecom Research at CyberMedia. "At the same time, a change in duty structure and the longer continuation of Chinese new year festivities which generally conclude by mid-February each year, affected the supply chain and inventories."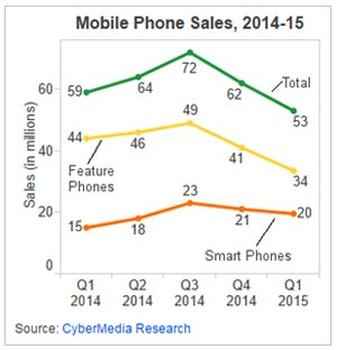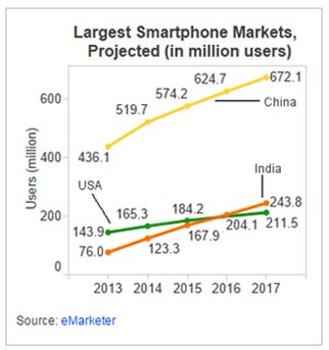 Researchers claims that mobile phone sales decline could also be attributed to, "a maniacal focus" on online flash sales as well as sales have fluctuated for vendors, with one vendor dominant in one quarter and another in the next. "Though there is an Internet revolution in India and brands do need to focus on building their online base, it only works well for new brands (for example, Xiaomi) willing to enter the Indian market," said Kawoosa. "Established brands, such as Micromax and Samsung, should focus on their existing legacy. The differentiating strength of these brands lies in their distribution network, built and invested in over the years across India, which they should leverage to increase sales."
The report states that Samsung remains the top mobile phone vendor with 18.5 pc market share, followed by Micromax with 12.1 pc share. In the last year, India has seen many new Chinese firms enter in the mobile phone segment. In the smartphone segment, Samsung leads with a market share of 27.9 percent, followed by domestic manufacturers Micromax and Intex with 16.2 percent and 9.2 percent share respectively.Previous reports had stated that India is the fastest-growing market for smartphones in Asia-Pacific and is expected to overtake US as the second-largest smartphone market globally in 2015.