Last year in October, Huawei launched the Mate 10 series of smartphones to compete with iPhone 8, iPhone X, Samsung Galaxy Note 8, among other flagship devices. This year, the Chinese conglomerate is expected to launch the successor(s) to these smartphones bearing the 'Mate 20' name. According to a report, the company has filed a trademark application for numerous names, including the Mate 20. An image of the application was found on the internet that showed the details of the document submitted to the European Union Intellectual Property Office (EUIPO).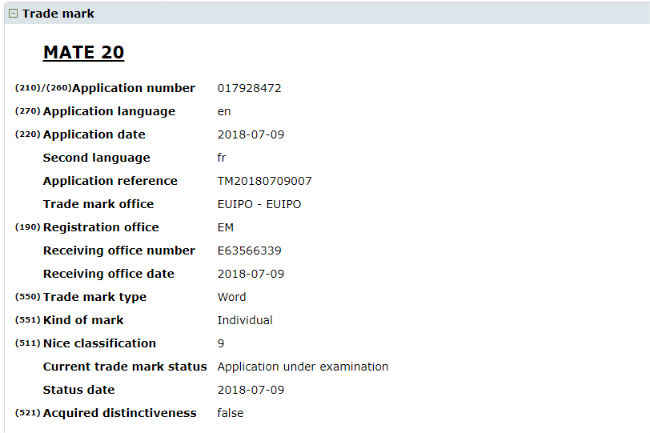 The image shows that the company submitted the application on July 9 and as per the status date mentioned on the document, the "application is under examination". Trademark application for the 'Mate 30' name was also found, suggesting that the company has long term plans as far as the Mate series is concerned. Earlier, a report claimed that Huawei is expected to launch its next flagship by the end of this year or in early 2019. It was tipped that the company would start production of the panels of the phone in the third quarter this year. The company is expected to launch this phone in competition with the upcoming Galaxy Note 9, the next generation of iPhones and Pixel phones that will launch in September and October, respectively.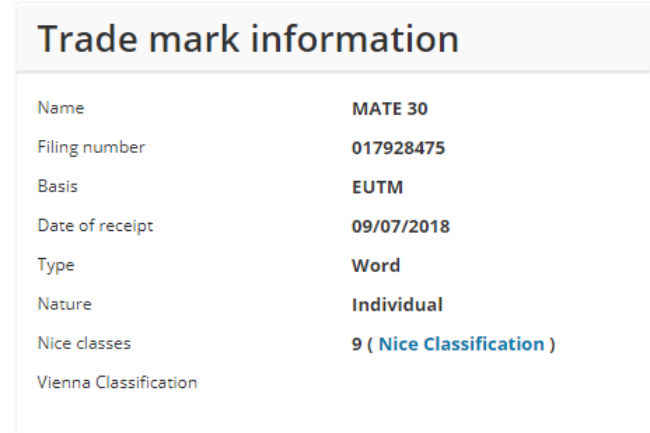 As per a report by The Bell, Huawei is procuring 6.9-inch AMOLED panels from Samsung for the 'Pro' variant of its upcoming flagship and if the phone comes with this display size, it is expected to be bigger than its competitors. In contrast, the Samsung Galaxy Note 9 is reported to sport a 6.3-inch display while the top-end variant of this year's iPhone devices is likely to feature a 6.5-inch screen.
According to market research firm Gartner, Huawei became the third best smartphone vendor in the first quarter of 2018, thanks to its refreshed portfolio that included the P20, P20 Pro and Honor 10 phones. The company sold over 40,000 smartphones and captured 10.5 percent of the global smartphone market in the first quarter of this year.