So HTC has just announced their new flagship, the HTC One and while its svelte all-aluminium build is causing quite a bit of excitement, but the one feature that's hogging all the limelight is the camera which features a sensor with a resolution of 4 megapixels, but these aren't just any pixels, they're Ultrapixels! Just like Nokia before it, HTC has introduced a new term to our daily imaging vernacular, but fear not, because we are going to break the term down for you and explain just how effective (or not) it is going to be.
For starters, the physical size of the sensor in the HTC One is the same as the sensor in the Nokia Lumia 920, a measly 1/3 of an inch. Going by regular definitions, this is definitely a very small sensor when compared to what we find in regular cameras, which is why cellphones have often yielded the least detailed images up until recently.
Pretty much every manufacturer, be it a camera maker or a phone maker has been heavily vested in perpetuating the megapixel race, and HTC is the first to break out of it, by focussing on delivering images that have exceptional detail along with rich vibrant colours. When a tiny camera sensor gets packed with big megapixel numbers, what happens is that the individual pixels become too small in size. When these individual photo-sites become too small, they're incapable ot capturing light in the most effective and efficient ways. So while you may end up with an image 6000 pixels wide, chances of it having any actual detail or vibrant colors and a good tonal range is unlikely.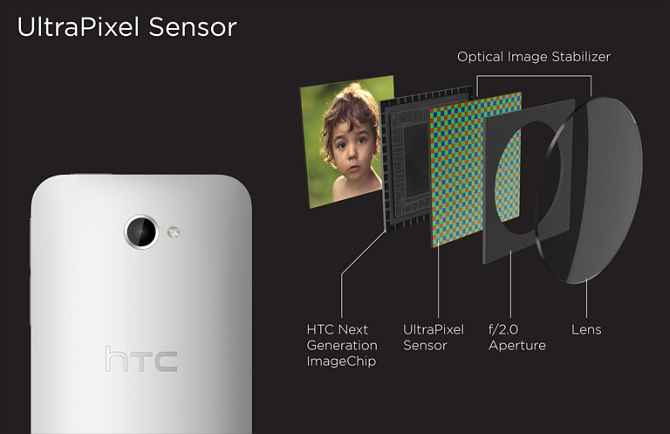 HTC has circumvented that issue by packing just 4 megapixels into a sensor the same size as Nokia 8.7 megapixel slab of silicon. This has allowed each individual photo-site on the sensor to span twice the area as compared to the Lumia's pixels. If you're number conscious, then each "Ultrapixel" on the HTC One measures 2-microns x 2microns while those on the Lumia 920 measure 1.4-microns x 1.4-micros.
With bigger individual pixels, a better result is definitely guaranteed, but that does not mean that the older 1 or 2 megapixel camera phones would yield a better image that today's camera phones. Bigger pixel pitch only helps to a certain point, as it comes with the trade off in megapixel count. If a sensor has too few a pixel count (to make each pixel bigger), then the tonal range of the image will severely dip, with the gradient becoming choppy. Therefore it's essential to strike the perfect balance between pixel pitch and the number of total pixels.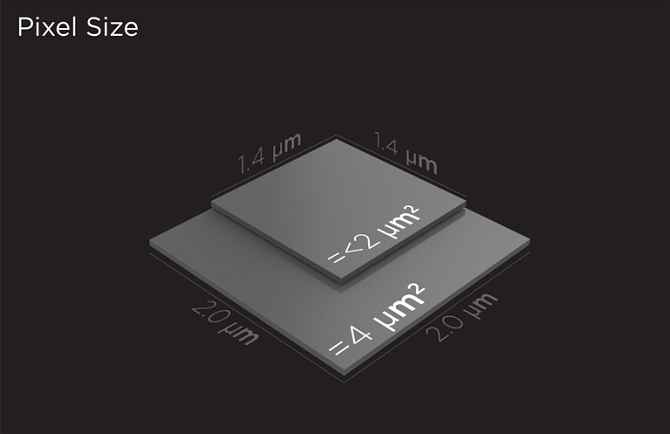 The "balance" is what HTC has tried to achieve with its "Ultrapixel" approach. It isn't that each pixel on the HTC One's sensor is blessed with magical powers, it's just that each pixel is a lot bigger than the competition's pixels. The sensor is also complimented by an f/2.0 fast aperture in a lens that is optically stabilized, making this setup theoretically an insane low-light performer. Of course 4 megapixels means a resolution of 2688 x 1520 only, leaving hardly any room for cropping in post-production. While the resolution is still good enough to make prints up to 6x8 inches and definitely adequate for any form of Social Network display, we feel that a 4 megapixel count which won't permit much of "Digital Zooming" in post is definitely not going to go down well with many consumers.
Regardless, it is mighty impressive to see HTC take this bold step, refusing to play ball with those perpetuating the megapixel myth. Focussing more on improving image quality at the pixel level and improving the optics could mean that HTC would over throw Nokia Lumia 920 as the reigning champion of cell phone photography, especially in low light. Couple that up with the fact that the HTC One would run Android 4.1.2 straight out of the box, those obsessed with putting their life up on Instagram would finally have a really nice camera to aid them in their addiction. While all this talk of HTC One's "Ultrapixels" is amazing, it is, as of now, all theoretical. At the end of the day, we can only give a final judgement on the One's performance when we put it through put extensive tests. But in the meantime, here is an interesting twisted fact. The 4.7-inch on the HTC One has a resolution of 1920x1080 pixels, giving it a pixel density of 469 ppi, the highest in a cellphone so far. The sensor on the HTC One, on the other hand, drops the number of pixels it is packing. Seems like while HTC is perpetuating more pixels in one aspect of its phone, it's banking on lesser pixels in the other aspect to help it sell. Go figure!