OnePlus earned itself some criticism when it confirmed that Google's Project Treble will not be supported on its current devices. The company has now given us an answer as to why this is so, and the problem has to do with partitions. The company didn't want to risk bricking existing devices.
The OnePlus 3/3T and OnePlus 5/5T were all made for the Android Nougat generation, and hence have only one partition. Project Treble, on the other hand, works by separating the system partition from the vendor partition. It does so to separate vendor code from the core Android framework, thereby allowing the Android version to be updated without affecting the vendor partition.
OnePlus explains
A OnePlus employee with the username OmegaHsu, confirmed the same on OnePlus' forums. Here's the complete forum post.
Yes, we are happy to share our rationale. Recently, we received requests from users and community members, some of which signed a Change.org petition to support Project Treble on the OnePlus 5 and OnePlus 5T. Project Treble is a really exciting technology, but it is not the right fit for us now. I assure you we're still updating our devices and will continue to deliver high-quality, stable software updates. That being said, we always welcome feedback, and I want to further shed some light on why we are not implementing Project Treble on these devices.
Project Treble requires a storage partition, by which the Android framework and vendor image are separated. However, because partitions were not required of Android N and previous versions of Android, all of our current devices do not feature a partition. According to our tests, if we were to modify the partition layout via OTA there is a risk that devices will brick during the partitioning. We feel this poses too great a risk for our community of users, which is why we have decided not to implement Project Treble on current OnePlus devices.
While Project Treble can increase the rate of Android OS updates, it mainly accelerates the Android framework updates. We were one of the first manufacturers to release an update to Android O. Our software team is committed to delivering high-quality and stable major OS upgrades, and we will continue to look for ways to improve the quality and rate at which we deliver software updates in the future. That being said, we look forward to the future of Project Treble, and how it will evolve to better support devices ahead.
A legitimate concern, but...
If you're wondering, OnePlus' concerns are indeed legitimate here. Project Treble compatibility requires the system partition and vendor partition to be separate. But while it is indeed risky for OnePlus to repartition existing devices now, it is not impossible. Also, most developers would agree that the chances of data loss are small, which may have been a risk worth taking for a company like OnePlus, which has always had an enthusiast-based customer base.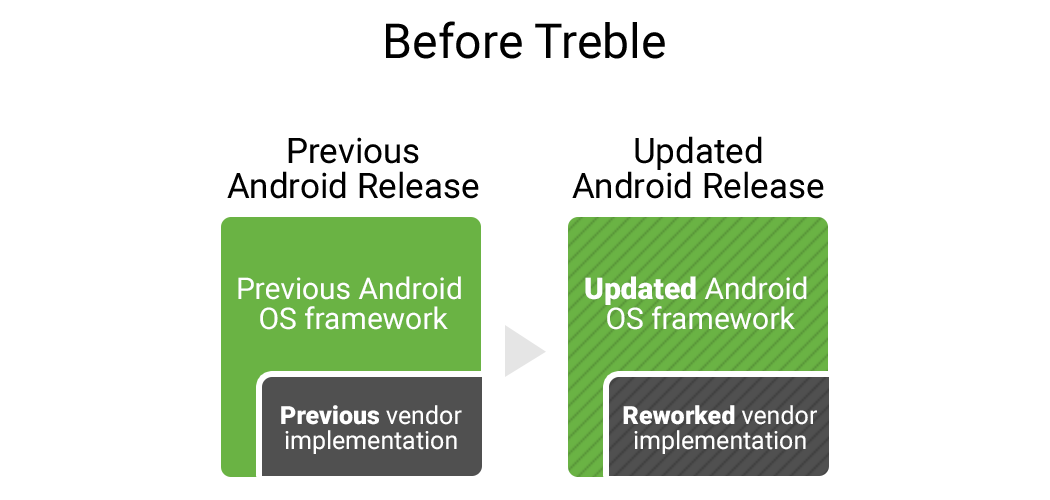 This is how Google explains Project Treble's implementation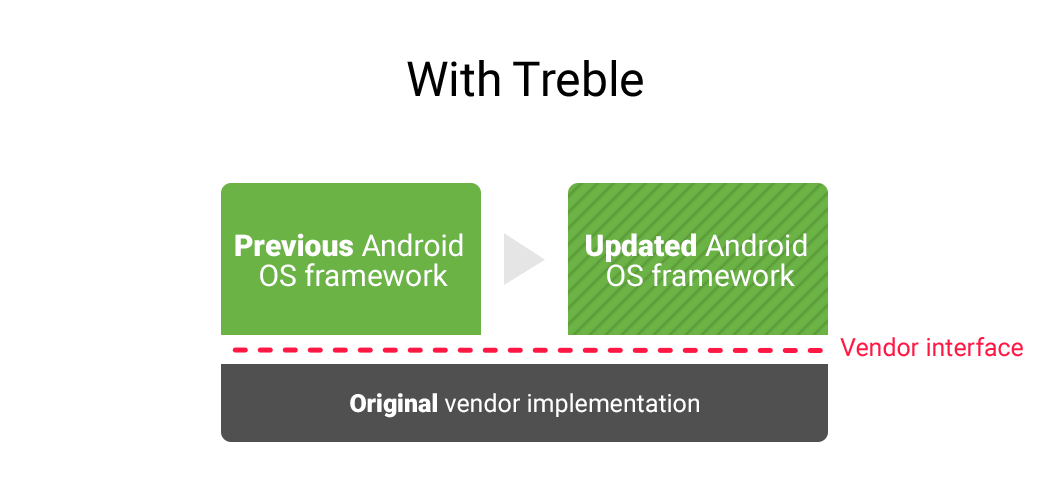 The same problem also affects Nokia's existing devices, while companies like Huawei and Xiaomi already have the separate partitions on many of their smartphones.
It's also worth noting while Project Treble does speed up software updates, an OEM could still be fast from its own end. This is where OnePlus users may have a problem though. The company has been speedy with updates, but its last two devices have landed in controversy.
The OnePlus 3T was announced well after the launch of Android Nougat but sported Marshmallow out of the box. OnePlus updated the device to Nougat shortly, but then announced that Oreo will be the last update for it, effectively giving it an under one-year update cycle. Similarly, the OnePlus 5T was launched with Android Nougat this year, though the company is yet to confirm what updates will be coming to it. Currently, both the OnePlus 5T and OnePlus 3T have been updated to Oreo.
For more technology news, product reviews, sci-tech features and updates, keep reading Digit.in or head to our Google News page.