The upcoming Pixel XL device could look a lot like the Samsung Galaxy S10+.
Highlights:
A leaked image from Slashleaks suggests a punch-hole selfie camera design in the upcoming Pixel device.
The Pixel 4 XL could end up looking like the Samsung Galaxy S10+.
Google was criticised and mocked for its decision to include a wide notch on top of the Pixel 3 XL's display, while it did not condemn the smaller Pixel 3 to the same notch treatment. A leaked image shared by Slashleaks from a few days ago suggests that Google is about to subject the upcoming Pixel XL model to more experiments on the display. To be more specific, the leaked image shows the outline of a Pixel device with a punch-hole design for the selfie cameras, which continue to be two in number.
If the image shared by Slashleaks is assumed to be legit, then the next Pixel XL device (most likely christened the Pixel 4 XL, if Google doesn't play with the nomenclature) will have a front face that's quite similar to the Samsung Galaxy S10+. It will sport a dual selfie camera setup within a capsule-shaped hole (commonly called a punch-hole design these days). If Google chooses not to equip the smaller Pixel device with a dual selfie camera, then its single selfie camera could sit inside a circular cutout, much like the Samsung Galaxy S10.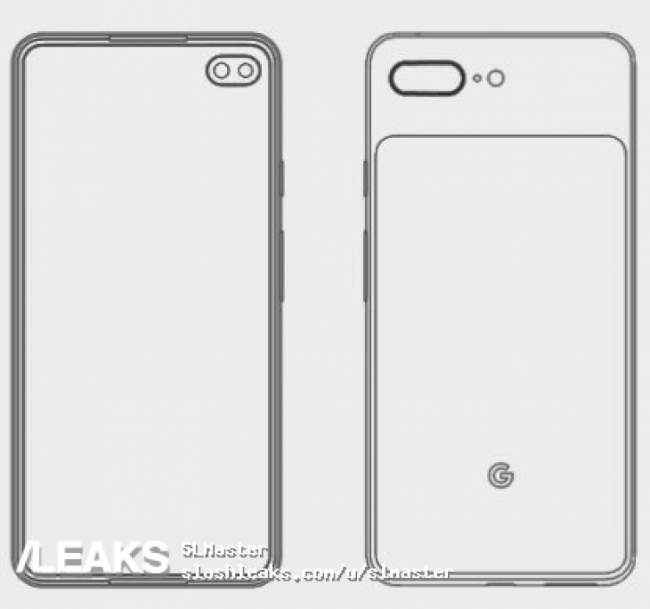 Since the image we got from Slashleaks is not confirmed, we can only speculate on the display and camera design of the upcoming Google Pixel device. In related news, we came across a report a couple of days ago that suggested that the much-discussed "Lite" versions of the Pixel devices could in fact be named Pixel 3a and Pixel 3a XL with their internal code names being "bonito" and "sargo" respectively. We'll just have to wait and see if Google actually decides to call them that.
Google's new "Lite" Pixel device was spotted in a leaked video a couple of months ago, which the smartphone bearing a 3.5mm audio jack and a plastic body. You may recall that Google had done away with the 3.5mm audio jack on its Pixel devices back in 2017 when it launched the Pixel 2 and Pixel 2 XL. If rumours and reports about the upcoming "Lite" Pixel device are true, then it may be powered by a Qualcomm Snapdragon 670 chipset with 4GB of RAM. Only time will tell what the Pixel devices of this year will look like.
Related Read: Google Pixel 3 Lite, Pixel 3 Lite XL may be called Pixel 3a and Pixel 3a XL: Report