Google, as promised, is rolling out a new update with UI changes to fix screen burn-in on Pixel 2 XL as part of November security update. The update also fixes the clicking noise heard on Pixel 2 phones.
Google has started rolling out monthly security update for its Pixel smartphones. Apart from the November security patch, the new update released for Pixel 2 and Pixel 2 XL also brings fix to some of the issues noticed by users in the past few weeks.
The most notable change arriving with this new update is the option to change colour saturation of the display on Pixel 2 and Pixel 2 XL. Google had promised to add an option to change colour saturation after users complained that the colours looked muted on the larger Pixel 2 XL. With the update, Pixel 2 and Pixel 2 XL owners can choose between three different colour profiles: boosted, natural and saturated. Earlier the smartphones came with "vivid colour option" out of the box and it is self-explanatory that selecting saturated provides huge difference in terms of colour rendering of the display.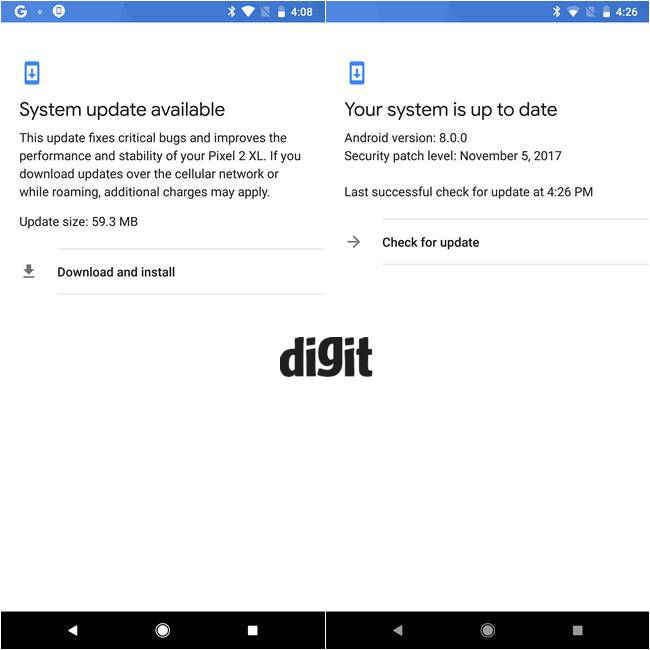 The update will not make the Pixel 2 XL's P-OLED display match that of the Galaxy Note8's AMOLED and Samsung-made OLED display on iPhone X, it will definitely be crisper and punchier than before. "Further enhancements will be included in our planned December software update and on an ongoing basis thereafter. Our goal is for your Pixel phone to get more useful and delightful over time," wrote Orrin, Community Manager in a blog post.
Another major issue reported with the Pixel 2 XL's display is the screen burn-in, which occured within two weeks on some review units. The update mitigates that by reducing the maximum screen brightness and by hiding the navigation bar after periods of inactivity. The update was initially rolled out as part of Android 8.1 Developer Preview and is now being made available as part of stable update. The update also fixes the faint clicking noise heard in some Pixel 2s but the major focus remains fixing issues with Pixel 2 XL. Google hopes the update will fix some of the issues with the LG-made display used on the Pixel 2 XL and should ensure the display deteriorates slower than usual.