All old enmities aside, Google has optimised many of its products for Apple's latest game-changing device, the iPad.
The entire world seems to be cashing in on the iPad craze - with websites optimizing their pages, app developers creating specific new products or upgrading old iPhone ones, and video streaming sites resorting to HTML5 for iPad viewing - and Google is no exception.
The first of its products to be optimised is one of world's favourite e-mail services, Gmail. While Google had already made a HTML5 iteration for Android and iPhone use, it has further customised the web app for the iPad by making it widescreen friendly, and providing the below pictured and quite handy 2-pane interface. It is to be used on iPad's native browser - Safari.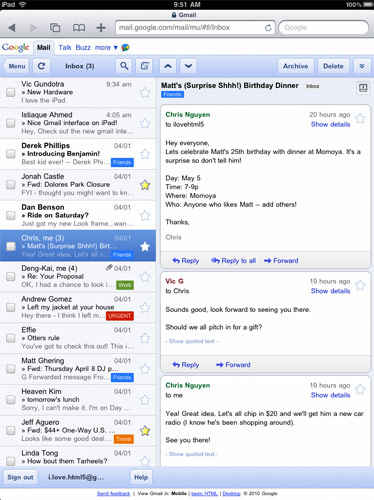 Other Google products optimised and available for the iPad include YouTube, StreetView, and GoogleMaps, apart from of course, GoogleSearch, which can be integrated directly onto the Safari browser (top-right corner). All these apps are available at Apple's App Store, and many feature special gesture-based multi-touch controls. In related news, Yahoo has also launched a portal for the iPad, called Yahoo Entertainment.