Working from home?
Don't forget about the most important equipment in your arsenal
Click here to know more
Highlights:
India leads in refurbished smartphone as well as feature phone markets.
The refurbished smartphone market saw a decline globally.
In next three years, over a billion feature phones are predicted to be sold globally.

India registered the maximum growth of 14 percent even as global markets cumulatively registered a decline in the refurbished smartphone segment in 2018, Counterpoint Research said in its Refurbished Smartphone Tracker. The firm said that the refurbished smartphones market slowed to 1 percent year-over-year growth in 2018, reaching close to 140 million units. It attributed the slowdown to the 11 percent drop in new smartphone sales in China and the US.
"The US and China markets saw lower upgrade cycles in 2018, which affected the flow of devices into the secondary market. In addition, China and US trade tensions held up devices in customs much longer than normal. This was especially true during the first half of the year," Tom Kang, Research Director at Counterpoint Research, said in a statement.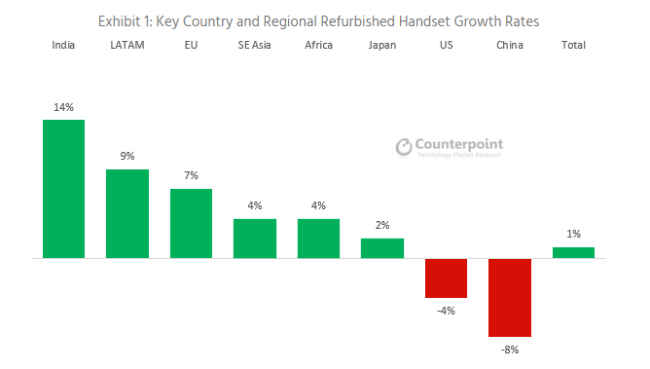 "The India market grew 14% to almost 14 million refurbished devices. This is an impressive number because the refurbished market ecosystem remains nascent in the country and 72% of devices in India do not go into the secondary market," Kang added. The research firm said Apple and Samsung dominated the refurbished market with 70 percent market share, and Huawei is growing in popularity.
Further, the market research firm said that globally, the feature phone segment is expected to generate around $16 billion cumulatively in wholesale hardware revenues over the next three years. "India remains the largest market in terms of potential feature phone volumes followed by Bangladesh and Nigeria," Counterpoint Research said, adding that in 2019, a little more than 400 million feature phones will be sold globally. Further, feature phone shipments are expected to cross one billion units by 2021.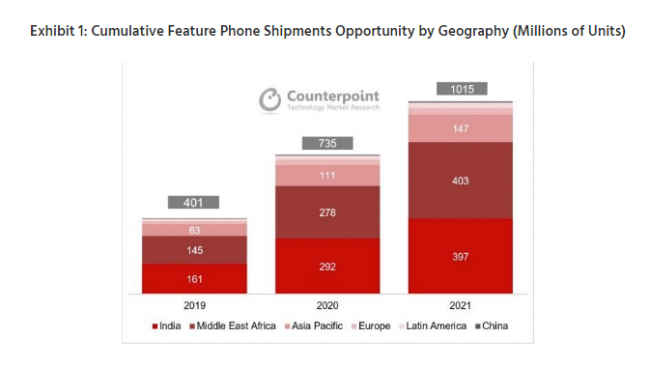 "India and the Middle East Africa region will see cumulative shipments of around 800 million feature phones out of more than one billion global feature phone shipments over the next three years," Peter Richardson, Research Director at Counterpoint Research, added. The firm attributes the growth to the revival of the Nokia-branded features phones and the popularity of the Jio Phone. The Jio Phone uses KaiOS as the operating system. KaiOS has also been expanding its reach in Africa.
"There are more than three billion people across the world who live on an income of less than US$2.50 per day. This segment can neither afford a smartphone nor the data services demanded by the growing advancement in smartphone use-cases. Thus, a feature phone, coupled with basic mobile services has been the go-to offering for these users to communicate and connect. Most of these users are prevalent across Africa, parts of Asia and Latin America," Tarun Pathak, Associate Director at Counterpoint Research, noted.
Related Read:
Smart feature phones to create $28bn revenue opportunity in next three years: Counterpoint