In addition to various leaked images, renders and rumours of the Samsung galaxy S8+ we now have some synthetic benchmarks of the phone. The Galaxy S8+ which is slated to launch later this month alongside the Galaxy S8 was spotted earlier today on Geekbench. The phone is seen sporting a Qualcomm Snapdragon 835 SoC, 4GB of RAM and Android 7.0 Nougat. According to the Geekbench 4 listing, the phone scored 1929 point on Single-core and 6084 points on the Multi-Core benchmark.
The Qualcomm Snapdragon 835 SoC is yet to launch commercially on consumer devices this year and other than Sony, no other company has claimed to be using the said SoC. Further, Samsung is likely to offer the upcoming phone duo in two variants, one with the Snapdragon 835 and another with a new Exynos 9 series chip. Rumours suggest that the upcoming SoC from Samsung will be made using 10nm FinFET technology and will have 27% performance gain over the last chip from Samsung. The power draw is also expected to go down by 40%.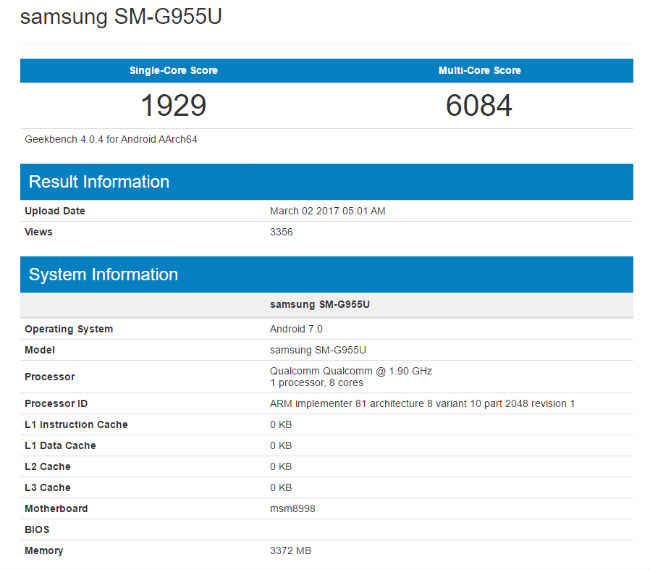 The Qualcomm Snapdragon 835 on the other hand is claimed to be 35% faster than the Snapdragon 820 SoC. Although, the chip will be made using the same 10nm FinFET technology.
Going by other rumours surrounding the phone, the device will be launched in 5.8-inch and 6.2-inch screen sizes. We can expect the phone to feature a Super AMOELD display and rounded edges. It is expected to have a 12MP rear camera and an 8MP front facing camera. Storage options will be starting at 64GB, which is likely to be paired with 4GB of RAM. Samsung may also feature the Iris Scanner, which was introduced on the Note 7 last year.