Dell Vostro
Power New Possibilities | Dell PCs starting at Rs.35,990*
Click here to know more
Advertisements
Samsung's new Exynos 5433 SoC scores an impressive 40303 to the 37780 of the Snapdragon 805, this means that the new Exynos chip is not only faster than the Snapdragon 805 but is also the only one (besides the Tegra K1 chip) to touch the 40,000 mark on Antutu. This also means a 15 percent increase in performance from the current iteration of the note family, the Galaxy Note 3. As suggested by the benchmark's listings the new Exynos could be featured on the upcoming Samsung Galaxy Note 4 which will come with a eye-watering QHD (2560×1400) display, 32GB of internal storage and 3GB of RAM. The phone will also sport a 16MP rear facing camera, just like the Galaxy S5.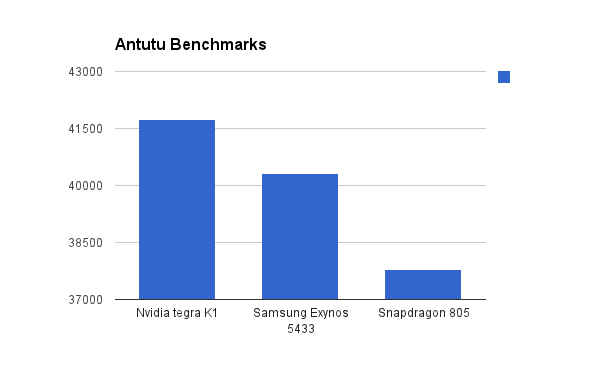 Chip on Chip Performance
Snapdragon 805 boasts improved versions of its old 400 Chips namely Qualcomm's 450 CPU cores. Whereas the Samsung's new A-57 and A-53 CPU cores are the latest generation of the ARM chips Samsung has been developing under its Exynos wing. We might see these chips in other upcoming Galaxy flagship devices. Apparently the Exynos 5420 and Exynos 5433 is running at just 1.3 Ghz with ARM's big.Little configuration. If that is as true as we think it is Samsung will showcase major foot forward with energy efficiency without cutting down the performance of the chip. This means the initial display of performance from ARM is very promising and impressive.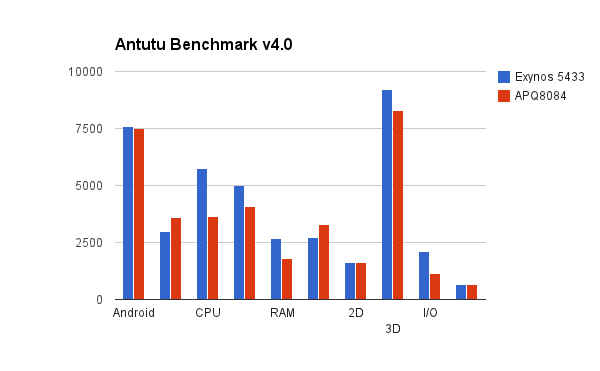 GPU face-off
Based on AnTuTu scores, the two SoC's GPU scores stack up similarly, the new ARM Mali-T760 GPU of the Exynos 5433 decimates Snapdragon 805′s Adreno 420 GPU. But both these high performing GPU's are no match for the mighty Tegra K1's GPU which outperforms all in everything. This means Nvidia's Tegra K1 is still in the lead as far as benchmarks are concerned.