#IBMCodePatterns, a developer's best friend.
#IBMCodePatterns provide complete solutions to problems that developers face every day. They leverage multiple technologies, products, or services to solve issues across multiple industries.
Click here to know more
Advertisements
New images of the rumored first ever dual-SIM Windows Phone codenamed Moneypenny have resurfaced, as @eveleaks has posted a screen shot that is believed to reveal the start screen of the rumoured Nokia Moneypenny, a name familiar with the James Bond movies.
The leaked screen shot shows the dual-SIM functionality of the device, indicating that the device will have support for 3G network on both SIMs. The leaked screen shot also includes on-screen navigation controls for the back.
Earlier reports also suggested a dual-SIM variant of the Lumia 720. Other reports also suggest that the screen size of the MoneyPenny should be 4.5-inch, the same size as the Lumia 92x series, and a bit smaller than the 4.7 inch Lumia 625.
The price of the device is listed as $130 (Rs.8,000), the same price as the Lumia 520, however much cheaper than the $245(Rs.15,000) price of the Lumia 625. There are two listings of the phone with the same model number the second version is marked as 'dual-SIM', could this be the Nokia MoneyPenny, is it Lumia 520's equivalent of the 625 - same specs , bigger screen.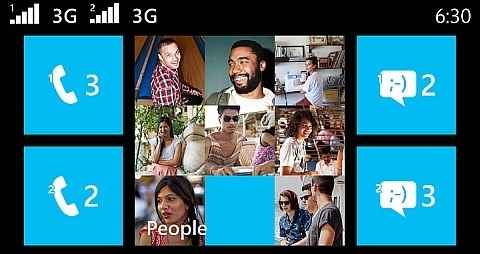 Nokia MoneyPenny will be the first smartphone to feature Windows Phone 8.1 out of the box, the new release will eventually bring support for dual-SIM smartphones to the platform This would allow Nokia to compete effectively in developing markets.
Source: PhoneArena