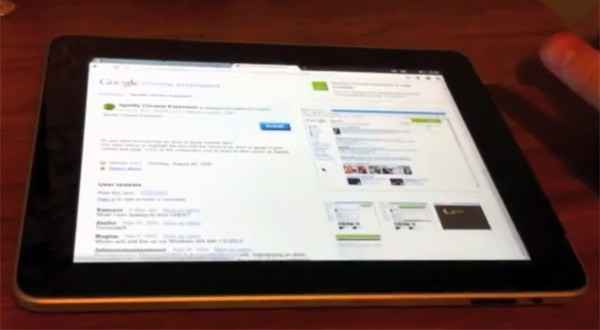 While the Chromium OS or Chrome OS has been expected on tablets and other mobile computing devices like netbooks for sometime now, no real evidence of its implementation has been seen yet, that is, until this video of it running on an Apple iPad sprouted up, a couple of days after the first image of it was seen.
[RELATED_ARTICLE]For now, from the video, it's quite obvious that the port was not optimized, and notable performance jitters are visible. However, as these definitely are the early days for the OS in the real world, and considering that it is running on competing hardware, we can definitely give the operating system some leeway. The interface certainly looks clean and friendly, and we hope we see some dedicated devices out there one day soon, a move that would certainly make the tablet market a much more lively place, if only for the squabbling competition, with BlackBerry Tablet OS, iOS, Android, webOS, Windows, and now Chromium (Chrome OS) all out for each other's throats.
Check out the short video below, which is hacker Hexxeh's attempt to port the Chromium OS to the Apple iPad, with not so perfect results. His attempt has led people to call the hybrid device the ChromePad, a name that's certainly sonorous. Many though are sceptical, saying the video doesn't prove that the port is not actually just a remote-desktop emulation. Others think that the A4's kernel source would be required for this hack to work, which is hardly easily available. The mouse cursor does kinda show that we're no longer in iOS land for sure.