It was a rather exciting day for Research in…oops, BlackBerry. There were a bunch of announcements that were expected, but a few that weren't. All in all, the company has a fair right to feel confident about 2013. For our readers, we compile all the information from the BlackBerry event, for the sake of avoiding any confusion that may be caused by the constant stream of information coming in.
First up, CEO Thorsten Heins announced that Research In Motion will be rebranded completely to BlackBerry. "From this point onwards, RIM becomes BlackBerry. This is our promise of one brand," he said. "Our employees already work for BlackBerry, so from this day on we'll be known as BlackBerry." We believe it makes sense, considering the brand unification makes it stronger over a period of time.
Next were the main attractions of the event – the BB10 devices. As expected, there were two BB10 smartphones that were showcased. The first was the Z10, which is a full touch BB10 device. The second was the Q10. With this phone, BlackBerry stayed loyal to its majority demographic of users by offering the physical QWERTY keypad along with a touchscreen. The slim phone has a glass casing to protect against nicks and scratches.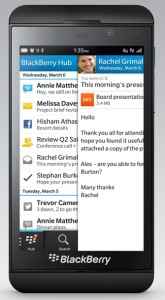 BlackBerry Z10
Just to run you through the specifications of the Z10, it sports a 4.2-inch 1280 x 728 pixel display and is powered by Qualcomm Snapdragon S4 Plus dual-core 1.5GHz processor. The device has 2GB of RAM, and there is 16GB internal storage along with a microSD card slot up to 64GB. BlackBerry has packed in an 1800mAh battery. The phone will run on LTE in certain markets only. The Q10, on the other hand, is the more traditional BlackBerry device we are used to. It has a 3.1-inch 720 x 720 pixel touchscreen with a full physical QWERTY keypad. The optical trackpad has been done away with. This phone also has a dual-core processor and 2GB of RAM. The Q10 also has an 1800mAh battery.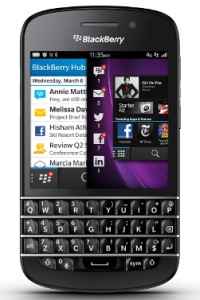 BlackBerry Q10
Along with the hardware, certain software features were shown off as well. The popular BlackBerry Messenger now has Video Chat and voice calling, as well as the screen sharing features. This will be very useful if your colleague is in another location, and there is a need for collaboration. The much awaited profile feature, BlackBerry Balance, can let you use the same device as two separate devices – one with a profile for work and one with a profile for home.
The application ecosystem was one thing that BlackBerry needed to get into shape before the launch of BB10. And it seems to have full control over that. BlackBerry has announced Kindle support. The Reminder app gets Evernote integration. Twitter, LinkedIn, Skype, Foursquare, Whatsapp, Dropbox, TuneIn Radio are all there. The list of released apps is as follows: Facebook, LinkedIn, Twitter, Foursquare, Whatsapp, Amazon Kindle, New York Times, The Economist, ESPN Scorecenter, CBS Sports, PGA Tour, NHL Gamecenter, SportsTracker, ATP, UFC Cisco Webex, eMusic, Slacker, Songza, TuneIn Radio, Paper Camera, Box, DropBox, ooVoo ,Bloomberg, Evernote, SAP, Citrix, Soundhound, The Weather Channel, BBC Top Gear, United Airlines, Delta Airlines, Dictionary.com, Flixster, and Stubhub. The pessimists will surely look at this and remark, "where is Instagram"? We shall not nitpick on those lines!
Existing BlackBerry PllayBook owners would be delighted to know that they have not been forgotten. On stage, CEO Heins announced that all PlayBook tablets will get the BlackBerry 10 upgrade. No time frame was announced for the same. We will keep you posted as we get the latest news on that.